Is It Worth Selling on Amazon in 2023? Let's Discuss!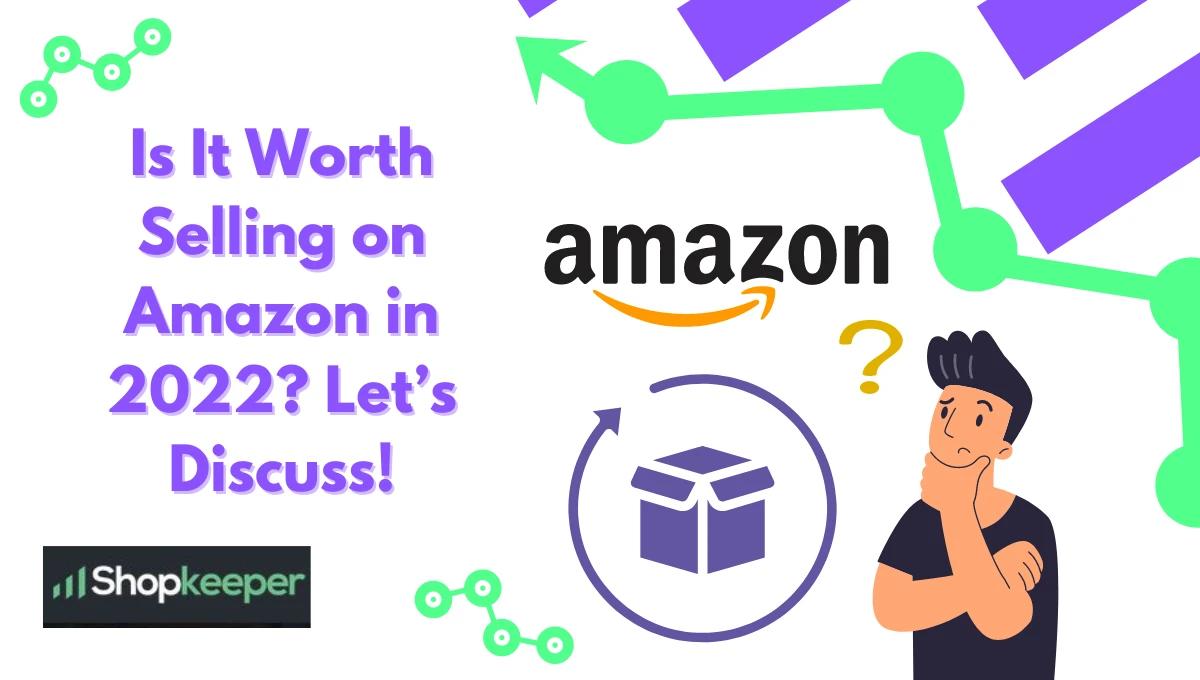 You've probably seen it all—the profits, the sales, the revenue smashing charts. Tons of Amazon seller success stories are shared all over social media every day. With over 200,000 sellers joining Amazon in the past year and 7,800 products being sold every minute by independent sellers in just the US, you're dying to be a part of it too.
So, is selling on Amazon worth it in 2023?
Absolutely! On average, a new seller makes $30,000 a year in profits on Amazon. To put things into perspective, that's more than what 22% of US households earn in a year. And these sellers do it on their own terms, working less than 20 hours a week on average. 
Don't listen to the naysayers claiming it's too late to become a seller, Amazon is the future.
Still not convinced? Keep reading!
Can You Become a Millionaire Selling on Amazon?
In the past year, just under 4,000 Amazon sellers surpassed $1 million in sales in the US alone. And more than 27,000 American sellers had over $500,000 in sales, up 10% from the year before, which shows the opportunity on Amazon is still growing.
Meanwhile, Ryan Grant and Ryan Daniel Moran of Freedom Lane have proved that doing 7-figure on Amazon is more than possible. 
However, selling on the smiling A is not a walk in the park and requires grit, determination, and a whole lot of effort. 
Before you dive in, make sure you know what you are getting into and familiarize yourself with the pros and cons of selling on Amazon. 
Today, we're here to guide you through it all.
Table of Contents

The Benefits of Selling on Amazon
Let's start by highlighting the pros of selling on Amazon and why it's the eCommerce platform of choice.
Customers trust Amazon
Eighty-nine percent of buyers agree that they are more likely to buy products from Amazon than any other online marketplace. By listing your products on Amazon, you automatically gain credibility and buyers' trust.
Leads galore
Amazon is one of the biggest e-com giants out there. Millions of customers shop at Amazon each month. In 2022, Amazon's sales passed half a trillion dollars, and they have hundreds of millions of Prime members worldwide.
This means you have a ton of warm leads ready to purchase. All you have to do is convince them to choose your product and hopefully turn into loyal customers.
Anyone can sell on Amazon
Amazon puts little to no restrictions on who can use its platform and has a low barrier to entry. You just need to sign up, fill in some details, choose a selling plan, and you're ready to list your product.
Easy international expansion
When selling on Amazon, you have access to all of its twenty marketplaces. Expand your store at the click of a button to target international customers across Amazon UK, Mexico, Canada, Sweden, Australia, Japan, India, and more.
No shipping hassle
With more than 180 fulfillment centers worldwide, you can ship your products in bulk to Amazon, and Jeff and his team will store, package, and ship your inventory directly to your customers with Amazon FBA, allowing for an incredibly convenient selling experience.
Is it worth selling on Amazon global?
Definitely! By making a listing on your local Amazon marketplace, you can easily test if your product will sell well in the global market. Amazon handles everything—from international order fulfillment to around-the-clock local-language customer support.
It takes the heavy lifting off your shoulders, and you don't need to rack your brain figuring out the payment systems, logistics, or operations.

Cost of Selling on Amazon
Assuming you're still interested (and who wouldn't be after coming across all of these benefits?), let's take a look at the costs and fees of selling on Amazon.
How much money do you need to start selling on Amazon? 
For a product within the $15-20 price range, we would suggest you keep a budget of $3500-4500 in mind. Sourcing the inventory would cost you $2,500. Add a further $500 in inspection and shipping charges. Professional product photography can sometimes be expensive, but you should be able to find a decent service provider for around $300. Lastly, expect the sponsored ad spend to be around $1400, with a portion of it to be covered by your revenue. Here is our full guide to better understand the budget requirements for selling on Amazon.
What is the fee for selling on Amazon?
Amazon offers two selling plans: Individual and Professional. The Individual selling plan is free, but there is a fee of $0.99 on each item sold. The Professional selling plan costs a fixed $40 per month regardless of how many products you sell. 
The latter also has some extra features that give you added advantages on the field. For example, you can manage your inventory through special spreadsheets, get access to in-depth business reports, create promotions, run sponsored ads, and use special listing features.
Of course, this selling fee can increase if you choose Fulfilled by Amazon (FBA) for your store.  
How much does FBA cost?
Amazon FBA fees include: 
the referral fee, which is often 15% or less of the selling price, 

the monthly storage fee, which ranges between $0.75 and $2.40, and 

the fulfillment fee, which can be $2.50 or higher depending on your product's dimensions, weight, and category. 
Things You Can Sell on Amazon
You can sell many things on Amazon, but the categories you can sell without restrictions are Cell Phones & Accessories, Camera & Photo, Electronics, Musical Instruments, Tools & Home Improvement, Home & Kitchen, Clothing, Shoes & Jewelry, Books, Sports & Outdoors, Computers, Toys & Games, Office Products, and our favorite Patio, Lawn and Garden. 
Other categories like Baby Products, Pet Supplies, Beauty, and Health & Personal may need prior approval from Amazon at the sub-category level.
What should I not sell on Amazon?
We recommend avoiding the following products as these could bring a lot of complications for you:
Alcohol

Animals and animal products

Fine Art – Sculptures or works without artist names.

Automotive and Powersports

Composite Wood Products

Collectible Coins

Dietary supplements

Drugs

Explosives, weapons, export controls, or related items.

Food and beverage

Hazardous and dangerous items

Precious gems

Laser products

Lighting

Lock-picking and theft devices

Medical devices and accessories
Is it worth selling books on Amazon?
For all the effort and hassle that goes into selling books, we are not big fans of the Amazon business model. That being said, many sellers are profitable selling them with the right strategy. However, expect some tough times before you become profitable.
Is it worth selling clothes on Amazon?
You can make reasonable money selling clothes on Amazon. Customers love buying clothing items because the variety is huge, and they are easy to return. 
Is it worth selling handmade items on Amazon?
Amazon Handmade can prove to be quite profitable for small businesses. You can create an artisan profile, get access to Amazon's enormous customer base, and promote your products via different campaigns.
Is it worth selling a product on Amazon with multiple sellers?
When selling private label products on FBA, then you are protected and will be the ONLY seller on your listing. If you're going towards the wholesale or arbitrage model, however, then multiple sellers do mean increased competition which can drive the price down.
The Challenges of Selling on Amazon
Customers prefer shopping on Amazon due to low prices, reliable and speedy delivery, and the assurance that they can return their order if it's wrong. Keeping that in mind, here are some challenges of selling on Amazon.
High competition
Amazon may generate a lot of sales and revenue, but with great profit comes great competition. There are tons of sellers and products on Amazon, because of which the market ultimately dictates your pricing strategy. Pricing can be even more challenging to deal with if you are a wholesaler or drop shipper. So make sure you choose a viable product.
Order management for non-FBA sellers
With FBA, there are many benefits; you don't have to worry about shipping and inventory. But when it comes to FBM (fulfillment by merchant), managing your orders can be a tedious job. You cannot afford any lapses.
Risks of account suspension
Amazon has a book full of strict (and ever-changing) policies that you need to comply with. If you don't, the company can ban you straight away. Some examples include getting reviews illegally, making false claims on your listings, and trying to increase the sales velocity of your listing using Black Hat techniques. 
Sellers waiting to hijack your listing
Nefarious sellers are also a significant problem on Amazon. Your competitors can attach to your listing and steal the buy box from you. What's worse, they can trademark your account name and kick you off from your own listing. 
To counter this, it is recommended to trademark your brand from the very beginning and sign up for the Brand Registry program. Then there are some sellers that may try to get your account suspended by hiring a service that leaves negative feedback (or negative reviews) on your listing. 
But even if you've done all of this, it's very important to monitor the health of your listings. And that's where Shopkeeper, the #1 Amazon seller software, comes into play with its automatic listing monitor and alerts.
Direct competition with Amazon
Amazon sellers face another challenge when Amazon starts selling a similar product to theirs under its brand name. This brings them in direct competition with Amazon, and it can get tough for them to drive traffic to their listing. Therefore, always choose a product that Amazon is not selling.
Does Amazon steal your product ideas?
Amazon has reiterated many times that it does not steal data from third-party sellers, and doing so would be a clear violation of its policies.
Amazon versus Other Marketplaces 
So how does Amazon fare against other eCommerce marketplaces? Let's take a look.
Is it better to sell on eBay or Amazon?
Amazon is obviously the more popular eCommerce site, at least in the US. It offers convenient fulfillment options along with great shipping discounts. On the other hand, eBay is the easiest marketplace to sell with no minimum quantity. Amazon is much more secure as compared to eBay, especially when it comes to getting paid as a seller. Both marketplaces are buyer-centric and heavily saturated.
Verdict: If you're looking to establish a stable online business, Amazon is clearly the better choice.
Is it better to sell on Amazon or Shopify?
Shopify requires building your own website, doing a lot of marketing, handling emails, fulfillment, reviews, SEO, social media, and plenty more. On the flip side, selling on Amazon is much easier, mainly because of the fact that you don't have to work too hard to acquire customers.
Verdict: Shopify is best for sellers with a good amount of investment who want to build up a separate brand. In comparison, Amazon gives you a ready-made platform to sell on.

Do I Need an Amazon FBA Course to Sell on Amazon?
While we recommend taking an Amazon FBA course to speed up your learning curve and get clear, organized, and structured information, we also fully understand that these courses may not always fit your budget. As an alternative, you can use the tons of free stuff available online. Go check out YouTube videos, visit seller forums, join Amazon-related Facebook groups, and read industry blogs.
What is the best Amazon FBA course?
The internet is filled with many good Amazon FBA courses. One very affordable one is Amazon Sharks by the ever-popular Amazon FBA blogger from the UK Andrew Minalto. But there are many others with varying levels of hand-holding and personal interaction. Do your due diligence before investing in any course.
How Long Does It Take to Become Profitable on Amazon?
Considering you have a product that you sell at a minimum profit of 25%, and your monthly sales volume is around 150 units, you can become profitable on Amazon in months 6-7 of your selling journey. 
How Much Time Do You Need to Start Selling on Amazon?
You can expect to take about 4-8 weeks before you're well prepared to sell on Amazon. This time frame includes finding your product, negotiating with suppliers, and getting your inventory shipped to Amazon.
Get Started with Amazon Selling Today!
Is selling on Amazon worth it? It is if you start off in the right way and follow each step carefully. Do your research, build an optimized listing, and watch the sales rolling in. Check out our Amazon Seller Guide to get started!