The Ultimate Amazon FBA Guide for Beginners (2023)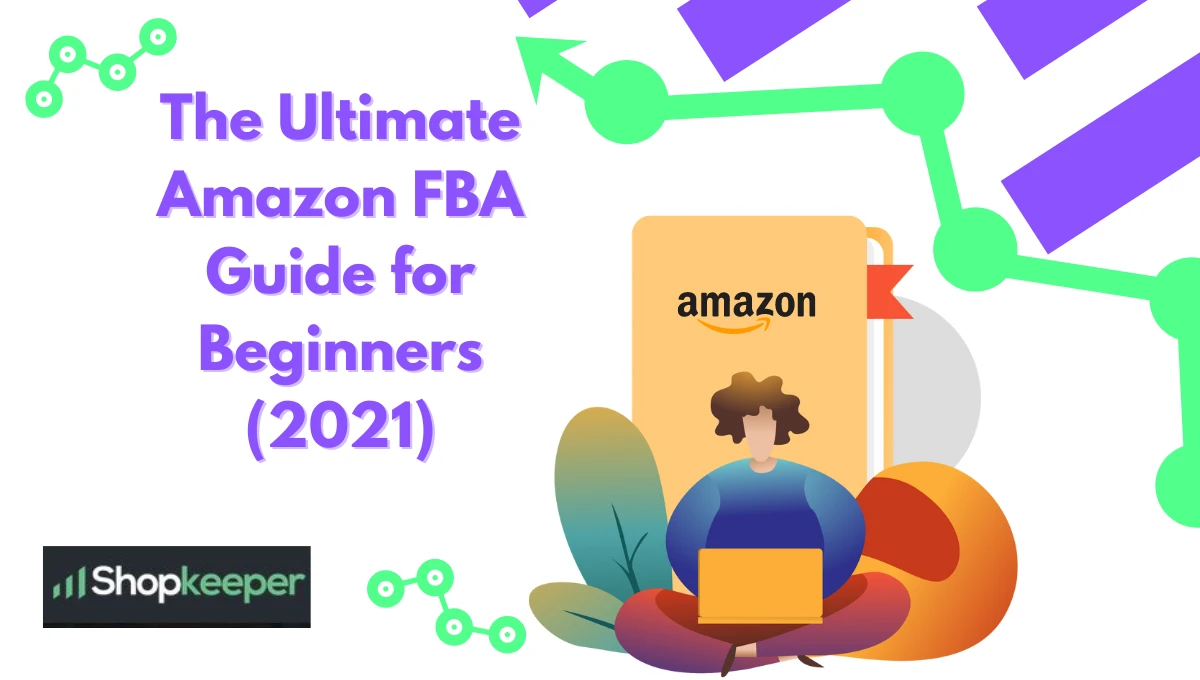 Amazon has over 1.9 million active sellers and quite a fair few of them make six figures in sales annually. Interestingly enough, 73% of these sellers use FBA for fulfillment. What is FBA, why do so many sellers prefer to use this service, and how do you go about it? We'll cover all of this and much more in this Amazon FBA guide. 
Table of Contents
What is Amazon FBA?
FBA refers to Fulfillment by Amazon. It's a service offered by Amazon to third-party sellers operating on its platform to outsource their entire fulfillment process. 
Sellers send their products to one of the many Amazon warehouses scattered across the country for storage. When an order comes in, Amazon employees pick, pack and ship the item(s) to the customer. Even the returns and customer support are handled by the company staff as part of the service. 
How Does Amazon FBA Work?
Let's get into the meat of things and discuss what's needed for Amazon FBA and what the process looks like from start to finish.
To enroll in FBA, you first need a seller account, an active listing, and some inventory. Amazon provides you with the warehouse address you need to ship your product. You then finalize the shipment plan and dispatch the inventory to its destination.
Once the inventory reaches Amazon's fulfillment center, the staff accepts and safely stores it. All the corresponding entries are made in the system, and the stock levels are updated in your Amazon listing. Anyone who searches for your product on Amazon can now locate your listing in the search results.
When a customer places an order, Amazon immediately gets to work. It packs your product, puts a shipping label on it, and sends it off to your customer using the fastest mode of delivery available. The final payment is remitted to your account. Later, if there are any return or refund requests, Amazon takes care of that too.
Your Responsibilities Under FBA
While it may seem as though Amazon does all the work for FBA sellers, that's certainly not the case. You still have to prep your product, where needed, and arrange item and box labels before you can send in the inventory to an Amazon warehouse. Also, you must monitor and replenish the stock levels as they get low. 

Can You Do Amazon FBA from Another Country?
Amazon has 18 different marketplaces, and it offers FBA in all of them. If you don't have an Amazon marketplace in your country, that's not an issue. Amazon US and UK accept sellers from over 188 countries worldwide. 
If you're located in one of the eligible countries, you can make an account, list your product, and get your supplier to ship directly to an Amazon warehouse.
Learn how to become an Amazon seller in the US in our comprehensive guide.
Does Amazon FBA Have a Minimum Order?
Amazon FBA has no minimum order requirements. You are free to fulfill any order quantity. That said, some sellers like to set an MOQ for their products as part of their sales and business strategy. 
Are All FBA Products Prime?
Most certainly! One of the main reasons sellers choose FBA is because it helps them obtain a prime badge for their product. The moment your products are checked into the warehouse, they automatically become prime eligible.
Difference Between Amazon FBA and Seller Fulfilled Prime
There are two ways to get the prime badge as a third-party seller; through FBA or SFP. We've already discussed FBA. But what is SFP?
SFP, or Seller Fulfilled Prime, is a relatively new yet popular fulfillment program that enables sellers to sell their products under the prime badge while carrying out their own shipping.
However, unlike FBA, you need to fulfill certain requirements to qualify for SFP. These include:
On-time delivery success rate of 96% or higher

Shipping tracking rate ≥ 94%

Offer premium shipping options to customers using Amazon approved carriers

Order cancellation rate of 0.5% or less

Comply with Amazon's return policies

Permission to allow Amazon to handle all customer inquiries
Once you are deemed eligible for SFP, you must go through a trial period. Passing the trial gets you into the program.
Pros and Cons of FBA
Let's talk about the benefits of Fulfilment by Amazon.
Easy access to the Prime market: This is probably one of the most significant benefits of FBA. When you use FBA, you're allowed to market your products to over 100 million prime members, who on average spend around $1400 a year.

Hassle-free operations: FBA is a complete "done for you" service. It allows you to focus on more critical areas of your business and leave the storage, shipment, packaging, and customer support to Amazon. 

Automatically establish trust with customers: When you sell through FBA, you automatically earn customers' trust. Your customers know that their order will reach them no matter what, and they can always return it with no questions asked. 

More chances of winning the Buy Box: The Buy Box is the 'Add to Cart' button on the right side of a product detail page, which amounts to more than 83% of all sales on Amazon. Through FBA, you have more chances of grabbing the Buy Box than your non-FBA competitors.
Of course, FBA isn't a bed of roses. There are some drawbacks too if you opt for the service.
High fees: Amazon charges various fees for FBA, including the storage fee, fulfillment fee, removal fee, etc. These can quickly add up if you are not careful. 

Product handling mishaps: With so many products going in and out daily, accidents are bound to occur, and items can get lost or damaged during the fulfillment process. The good news is that Amazon reimburses the sellers for any errors on its part. However, sometimes these cases can go unnoticed too.

Strict packaging guidelines: Amazon requires you to package your products according to their strict guidelines. If you make a mistake, your inventory might not be accepted. In that case, Amazon will repackage the items and charge you extra for them.

More Returns: With FBA, customers have the option to return an item if they don't like it. However, some customers exploit this opportunity and return items after using them, even when there's nothing wrong with the product. 
How Long Has Amazon FBA Been Around?
Fun Fact: Amazon FBA has been around for as long as Twitter has.
When Amazon launched its Fulfillment by Amazon (FBA) program on September 19th, 2006, it changed the logistics game. Fast and easy delivery was no longer a luxury; it became an expectation. 
Businesses could leverage Amazon's vast network of fulfillment centers and its specialized customer infrastructure to increase operational efficiency. They started making huge profits by selling the 'Amazon Way.'
FBA has come a long way since its beginning. It has over 185 warehouses globally and a workforce of 1.2 million employees. The program has also evolved in terms of offerings and continues to do so. 
As a seller, you should always keep up with the updates and changes made to FBA to ensure you're getting the best out of it.
Is Amazon FBA worth it in 2021?
Even after being around for well over 16 years, FBA still continues to be profitable in 2021, and you can make decent money out of it. The Amazon market is steadily growing, with approximately 3.6 million orders being shipped each day. 
The platform may be crowded overall, but there's still a lot of space for new sellers to make their mark. However, you can't just dive right in.
One of the main reasons most new sellers fail on Amazon is they decide to march straight into the battle without adequate tools and weapons. Before starting your selling journey, you have to be well-equipped with extensive knowledge and good strategies.
In that regard, few tools are able to offer as much help to new sellers as Shopkeeper--the perfect FBA toolkit and profitability dashboard. With Shopkeeper, sellers have access to key insights needed to make sound decisions and ultimately edge that much closer to success!

Who is Eligible for FBA?
So you're interested in trying out Amazon FBA? But are there any requirements? How old do you have to be to do FBA? It's time to find out.
As of writing this guide, there are no eligibility criteria for using FBA as a seller. All you need is a Seller Central Account—Individual or Professional, any plan will do. Furthermore, you need to have a bank account and a credit card. You also need to be 18 years or older to enter into the contract.
Do I Need a Company for Amazon FBA?
No, you don't need to have a business license or LLC to sell via FBA. You can register yourself as a sole proprietor and start selling on Amazon right away. 
Amazon FBA Fees Explained
All good things come at a price, and so does FBA. In this section, we'll give you a complete breakdown of the updated Amazon FBA fees.
Amazon charges the following fees to FBA sellers:
Amazon FBA Referral Fee
Amazon charges you a referral fee between 8% and 15% of your selling price, depending on your product category.
Inventory Storage Fee

The FBA storage fee is the basic fee you pay to Amazon to store your inventory. The company charges you a fixed price per cubic foot depending on the month and your average daily storage volume.
The formula to calculate the fee per product is average daily units x volume per unit x applicable storage rate. 
Fulfillment Fee

It is the fee Amazon charges for pick, pack, and ship services. It varies based on the dimensions and weight of your product. 
All items fall within one of the following categories based on their size and dimensions:
a) Small Standard: All products with dimensions of 15 x 12 x 0.75 inches or minor fall under this category. 
For products that weigh 6 oz or less, the fulfillment fee is $2.70 per unit item. 

For products that weigh between 6 oz and 12 oz, the fulfillment fee is $2.84 per unit item.

For products that weigh between 12+ oz and 16 oz, the fulfillment fee is $3.32 per unit item.
b) Large Standard: All oversized products for Small Standard but have maximum dimensions of 18 x 14 x 8 inches fall under this category.
For products that weigh 6 oz or less, the fulfillment fee is $3.47 per unit item.

For products that weigh between 6 oz and 12 oz, the fulfillment fee is $3.64 per unit item.

For products that weigh between 12+ oz and 16 oz, the fulfillment fee is $4.25 per unit item.

For products that weigh between 1 lb and 2 lb, the fulfillment fee is $4.95 per unit item.

For products that weigh between 2 lb and 3 lb, the fulfillment fee is $5.68 per unit item.

For products that weigh between 3 lb and 20 lb, the fulfillment fee is $5.68 (+ $0.30/lb for the first 3 pounds).
c) Small oversize: Products with dimensions of 60 x 30 x 130 inches (length + girdle) and weight less than 70 lb fall under this category. Each unit will cost $8.66 + $0.38/lb above the first lb.
d) Medium oversize: Products with dimensions of 108 inches x130 inches (length + girdle) and weight less than 150 lb cost $11.37 + $0.39/lb above first lb.
e) Large oversize: Products weighing less than 150 lb with 108 inches x 165 inches classify in this size tier. Each unit will cost $76.57 + $0.79/lb above first 90 lbs
Pro Tip: If all this feels confusing, don't worry; you can calculate the total FBA fees for your product through the Amazon FBA calculator here.
Why Are My Amazon FBA Fees So High?

Your FBA fees can be high if you sell bulkier products, use FBA during the holiday seasons, or have slow-moving inventory.
But there are ways to reduce these costs. FBA fees can be reduced by:
Optimizing your packaging size and weight 

Making changes to your product to reduce its dimensions

Carefully plan your inventory using accurate sales forecasts

Is Amazon FBA Fee Tax Deductible?
Yes, it's possible to deduct Amazon fees when filing tax returns and save some extra cash to invest in your business.
Can I Sell Anything on Amazon FBA?
No, you can't. While some items are ideal for selling through FBA, others are not eligible and prohibited by Amazon.
Items Restricted on Amazon FBA
Products that cannot be sold via FBA include:
Likewise, when it comes to hazmat products, only a few make the cut. Items like flammable and non-flammable gases, solids, and liquids must be enrolled in the Dangerous Goods Program before they can be sold through FBA.
Products to Sell on Amazon FBA in 2021
According to the latest Search Terms report, the most popular categories on Amazon FBA are Toys & Games, Electronics, Books, Clothing, Shoes & Jewelry, and Home & Kitchen. Make sure to choose a product that fits somewhere in there.
Steps to Convert Your Items to Fulfillment by Amazon Items

Are you ready to make the jump to FBA and sell your products using Fulfillment by Amazon? Just follow these three simple steps to get started: 
Inside Seller Central, go to the Inventory tab and select "Manage Inventory". It will display a page with all your active and inactive listings.

Locate the SKU that you want to sell using FBA. At the far right of that SKU, find the Edit tab. Click on the arrow next to it. 

Select "Change to Fulfillment by Amazon" and voila! You have successfully converted your product to FBA. 
Amazon FBA Shipment Process Details
Now that you know how to enroll your product in FBA, let's learn how to make a shipping plan. After all, without a shipping plan, you won't be able to send your inventory to an Amazon warehouse.
Sign in to Seller Central and navigate to the Inventory tab. Select "Manage Inventory".

Choose the SKU you want to create a shipping plan for. Click "Edit" on the far right side and select "Send/Replenish Inventory" from the drop-down menu. You can now create a new shipping plan or add your product to an existing shipping plan.

If you are creating a new shipping plan, enter your source (ship-from) address. This could be your house address, manufacturer's address, or office address. Next, confirm the packing type. You can select individual or case-based, depending on whether you are doing Amazon FBA private label or Amazon FBA wholesale. Finally, choose the number of products you wish to send to Amazon.
How Do I Ship to Amazon FBA?
Once the shipping plan is created, approve your shipments, and click "Work on Shipment". Determine the number of item and box labels you need, print the labels, select your shipping method and carrier, and proceed with the payment. Schedule your shipment and send it off via your preferred carrier.
How Much Does It Cost to Send Items to Amazon FBA?
Shipping items to an Amazon warehouse can cost anywhere between $2 and $3 per kg if sent them through the ocean. Airfreight expenses can be higher and range from $7 to $8 per kg.
How Many Units Do I Need for Amazon FBA?
There is no minimum number of units you can send to Amazon. However, the company has recently applied inventory restrictions on FBA sellers to use its storage space better. These inventory restrictions are defined by your IPI (Inventory Performance Index) score. Generally, you should not send in more than 90 days of stock to Amazon.
What Labels Do I Need for Amazon FBA?
You will need to affix FNSKU labels to each unit item before sending them to FBA. The labels should adhere to the packaging guidelines and be sized between 1 x 2 and 2 x 3 inches. Try to keep the print resolution at 300 dpi or higher.
Can I Deliver to Amazon FBA Myself?
No, you cannot deliver your products to an FBA warehouse yourself. You must use an Amazon-approved carrier to send your inventory to Amazon. They must make an appointment before dropping off your product at the fulfillment center.
When Does Amazon FBA Pay You?
Typically, Amazon FBA pays you every two weeks. All payments include orders that were successfully delivered in the last 14 days. Amazon may hold some reserve amount in the case of returns. Remember that the actual transfer can take 3 - 5 days to show up in your bank account.
Tips to Succeed with Amazon FBA

We're about to conclude our Amazon FBA business guide. But before we leave, here are a few parting tips to help you succeed with FBA:
Tip No. 1: Research, research, and research
Before you start selling, make sure you know your stuff. If you are not well prepared, you won't survive for long.
Tip No. 2: Be careful in your product selection
The product you decide to sell can either make or break your business. Find one with good profit margins.
Tip No. 3: Create an optimized listing
If you want to generate sales on Amazon, your listing needs to be super optimized. It should have a proper title, detailed bullet points, an easy-to-understand product description, and high-resolution images. Make sure you optimize for the backend keywords too.
Tip No. 4: Run strategic PPC
Running sponsored ads is a great way to increase your visibility on Amazon and drive more sales. With the proper research, you'll be able to increase both sales and profitability.
Tip No. 5: Leverage Amazon's review programs
If you've launched a new product and struggle to get reviews, try enrolling in the Amazon Vine program. Not only will you get honest feedback on your listing, but you'll also get the Vine badge, which creates a connection of trust between your brand and your future customers. 
Conclusion
And this brings us to the end of our guide. We've discussed all things Amazon FBA in detail. And while we do endorse the service, we also understand that it may not be the right option for everyone.
Therefore, it's up to you to decide which way you want to go. Just remember; selling on Amazon isn't a get-rich-quick scheme, and you have to work hard to get the results. 
What next? 
We recently wrote a guide on How to Find Items to Sell on Amazon. It is the ultimate guide, covering all the tips and tricks in the book to find the winning product for Amazon. Go check it out!