How to Find Items to Sell on Amazon – The Only Guide You'll Ever Need!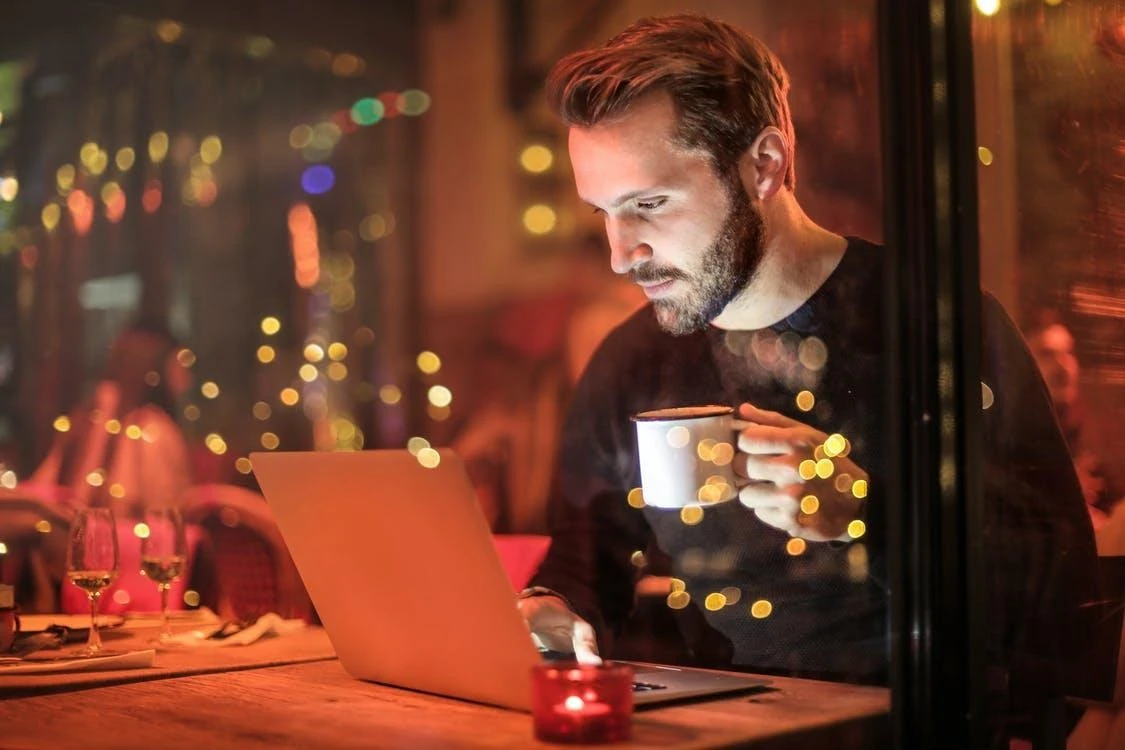 With over 12 million products listed in Amazon's catalog, there's no shortage of products to sell online. The eCommerce giant features product categories ranging from Food & Grocery to Automotive & Industrial and everything in between. However, despite the breadth of options available, selecting the 'right' product can prove to be a real challenge.
Realistically speaking, just about anything can be sold on Amazon. But as an aspiring seller, you don't want to invest your time, effort, and resources into sourcing, advertising, and selling a product with low-profit margins. 
An ideal product faces low competition, experiences high demand, and has the potential for high-profit margins. Finalizing a product that fails to meet these criteria might result in being stuck with thousands of dollars worth of inventory that no one wants to buy. 
To ensure our readers go on to become big-time sellers, in this blog, we're going to share a few tips and tricks on how to find items to sell on Amazon!
Strapped for Time?
Strapped for time and can't go through the entire blog? Here are the best product hunting strategies for Amazon in 2021:
Method #1: Use Popular Third-Party Tools
Method #2: Look to Amazon
Method #3: Leverage Social Media Platforms like Pinterest and YouTube
Method #4: Check Out Other Marketplaces like Alibaba and 168.com
Table of Contents
Here are the topics we plan on covering in this blog:
How to Choose Items to Sell on Amazon

One of the most commonly asked questions we get from aspiring Amazon sellers is: what are the best products to sell on Amazon? To answer that question, sellers must engage in product research.
Products that match the following criteria can be deemed as items worth selling:
Has a monthly search volume of more than 5,000

Competing products should not exceed 30,000

The majority of sellers (around 70%) should be selling via FBA

Amazon should not be a direct competitor

The subcategory should not be dominated by one brand

The product must feature at the very least a 20% profit margin

The average seller rating should be above 4.3 (acts as an indicator for low product returns)
Now you're probably wondering how to determine whether a potential product meets these criteria? It's done through the use of automated third-party seller tools—more on that later. 
4 Ways to Find Profitable Products to Sell on Amazon

There are plenty of ways to go about finding profitable products to sell on Amazon, some more effective than others. In this section, we're going to list a few time-tested methods of finding ideal products with the least amount of hassle.

Use Popular Third-Party Tools

Anyone serious about making a living by selling on Amazon should consider investing in a monthly subscription package to any one of the leading third-party tool providers in the market. We're going to recommend 3 tools that we think offer the most bang for your buck.
Amazeowl

Helium10

JungleScout

Why these three? Because all three toolkits boast accurate product and keyword research functionality along with the insights needed to make the right decisions. For example, both JungleScout and ZonGuru can rate product niches on a 1-10 rating to determine viability. This is done based on key metrics such as average monthly and daily sales, keyword search volume, average revenue, average review rating, fulfillment methods, and more.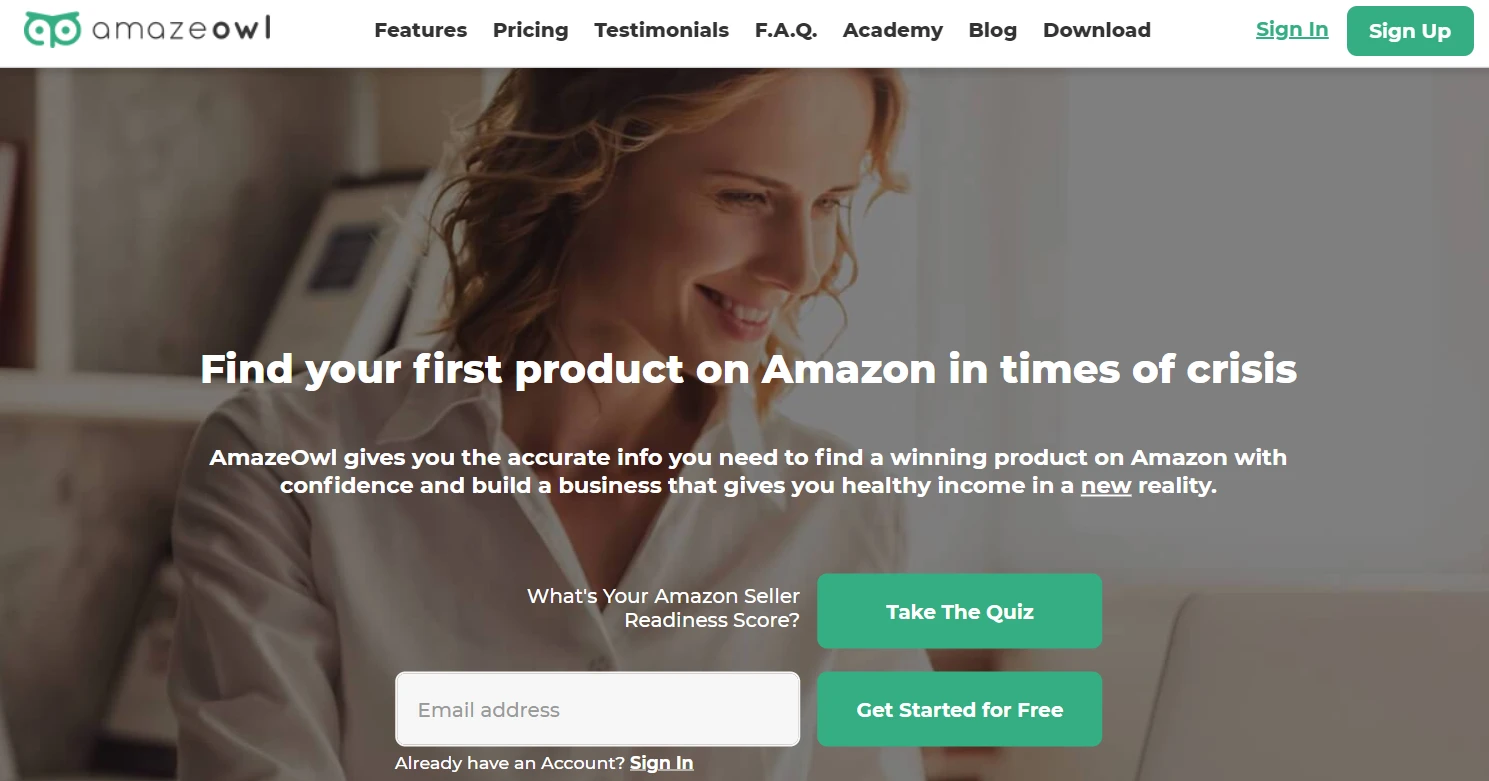 Amazeowl landing page
Just tally the numbers against the above-listed criteria and soon you'll be able to pick out promising products.
Look to Amazon


If you still aren't ready to subscribe to third-party tools and want to go about researching products manually then there's no better way than searching on Amazon using its search filters. It's a free and easy way to find out what products are trending on Amazon in 2021.

Amazon filters to search for viable products

Let's go over each one to understand how it can help us unearth sell-worthy products.

Best Sellers: As the title implies, the Best Sellers category boasts Amazon's most popular products based on sales. The results are updated hourly, and sellers can narrow down the search to explore each department, including its subcategories. 
New Releases: Features both new and feature releases. This category can prove to be a valuable resource for sellers looking to capitalize on new trends or uncover the hottest items on Amazon.

Movers & Shakers: Shows sales gains for products across various categories. You could try to shortlist a few products from Best Sellers and then use Movers & Shakers to discover trending products within a targeted niche.

Most Wished For: Simply put, it displays products that are most commonly added to buyers' wish lists. It's an effective way of determining which products have the potential to sell well in the future. 

Gift Ideas: More or less beneficial for the same reasons as 'Most Wished For'.
Manual Keyword Research
Manual keyword research is by far the easiest method of finding products to sell on Amazon. Whenever a visitor types in a keyword in Amazon's search bar, a drop-down menu appears featuring suggestions related to the keyword similar to Google's auto-suggest. These suggestions appear for a reason—they're high-volume search terms that buyers are typing in.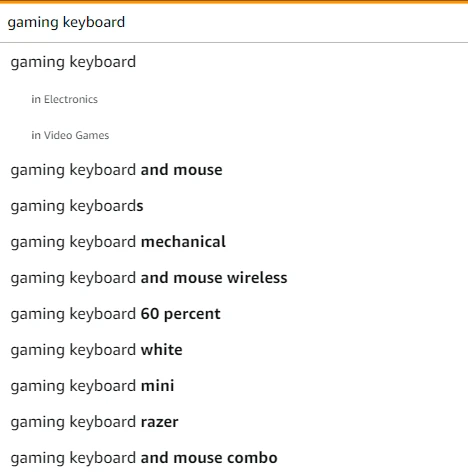 Amazon's auto-suggest feature
Other convenient methods of product research include analyzing the Brand Analytics report (only available to Brand Registered sellers), spying on the competition, and also checking out the 'Customers also bought' section as means of generating new ideas. 

Items frequently bought together or Customers also bought
Now, let's try to look for inspiration in places other than Amazon.
Leverage Social Media – Pinterest 
Social media platforms like Pinterest can prove to be a product idea goldmine. Compared to third-party tools and manual research methods, social media is a lesser-known alternative to product hunting—but that's precisely what makes it so valuable. 
Start by taking a picture of a product belonging to a category or subcategory you're interested in. Let's assume your category of interest is Home & Kitchen. Take a picture of, let's say, your frying pan. Pinterest will automatically begin sharing 'pins' of similar or related products. You can browse the images or narrow down your search by selecting a sub-category. 
Sooner or later, you're bound to land on a product that seems interesting. And that's basically it—one of the easiest ways to generate new product ideas.
Leverage Social Media – YouTube

Another easy way of discovering great products hidden in plain sight—YouTube! 
Did you know that viewers aged 18 and above spend around 42 minutes daily watching YouTube videos? The only reason sellers aren't rushing to it is because the video-streaming platform is used primarily for entertainment purposes and not for expanding an Amazon business.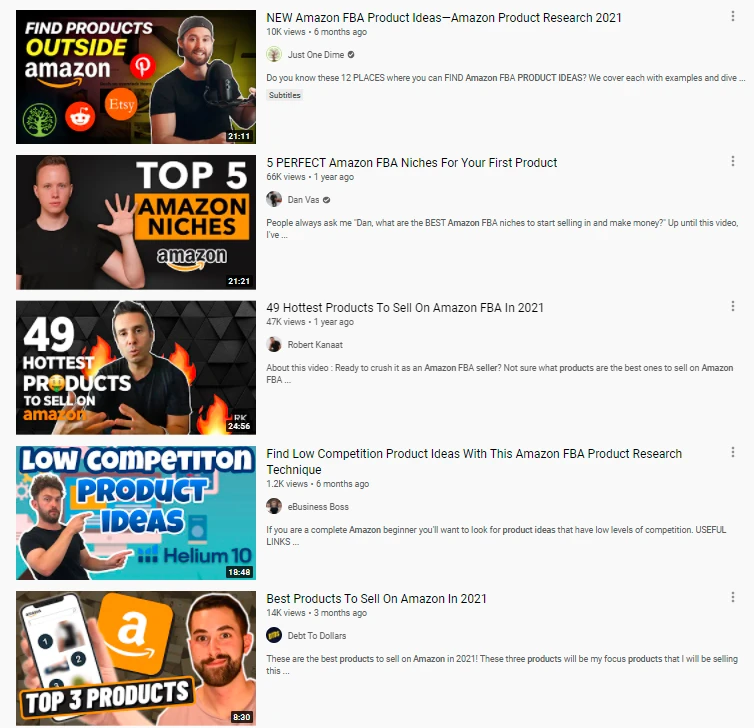 YouTube as a medium to generate Amazon product ideas

Hop onto the website and begin your search. There are plenty of influencers on the platform willing to share best-selling products.
Check Out Other Marketplaces

We've spoken about the potential other marketplaces hold in terms of providing insights into hot new products in another blog. There, we discussed how B2C and B2B eCom platforms like Alibaba and AliExpress offer glimpses into popular products being sold on Amazon. In this blog, we'll be taking a look at eBay.
Similar to Amazon, eBay also lets users browse through thousands of goods being sold on its website.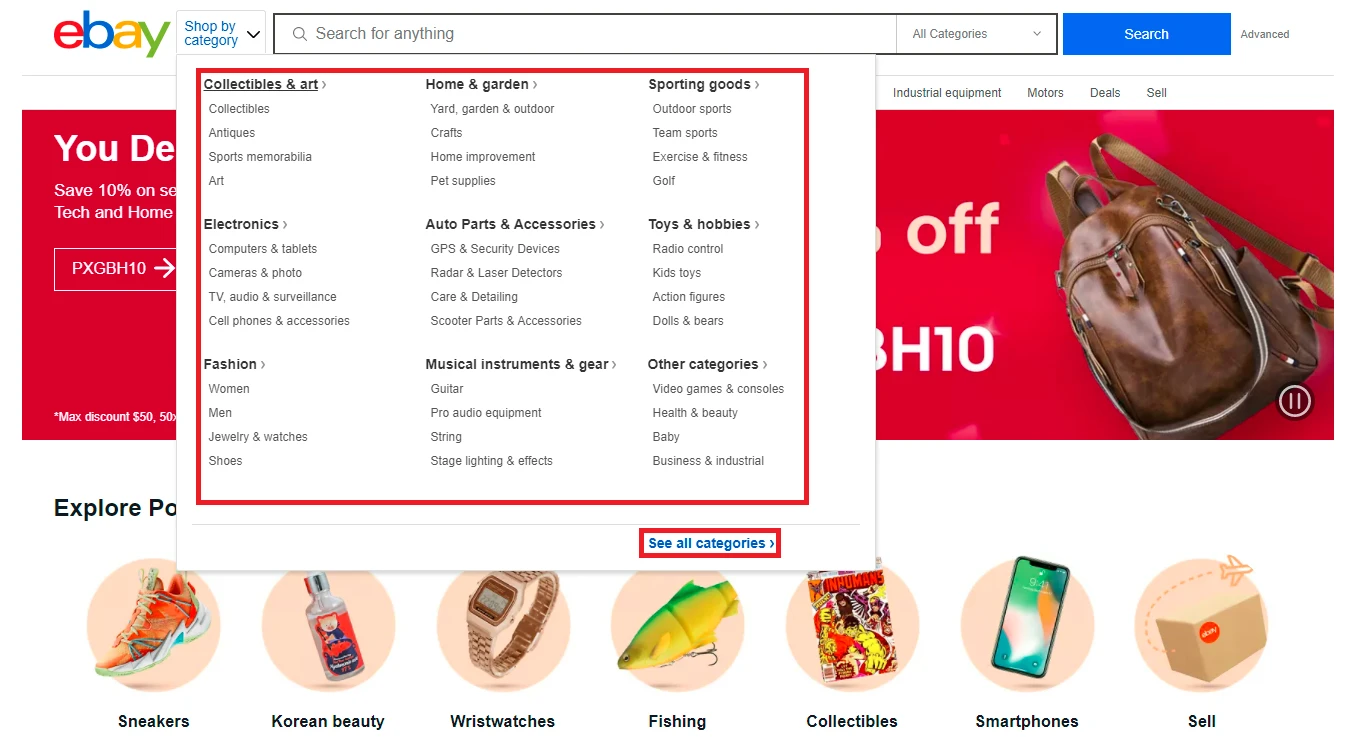 Various product categories on eBay.
There is also a separate section for popular and trending products that you can shortlist and later explore with third-party tools to determine viability. 

 Explore popular product categories on eBay
This raises an obvious question: Why not just stick to Amazon? That's because eBay is a less popular alternative which makes it a great place to find products that go unnoticed by the majority of Amazon sellers.
What About Product Hunting Services – Are They Any Good?

Product research or hunting isn't everyone's cup of tea (or coffee). Perhaps you're already selling products on Amazon and wish to outsource the task to someone else, maybe Amazon is a side hustle, and you can't invest more time into hunting viable products. Whatever the case, the product-hunting industry is thriving, and many sellers wonder whether it's worth hiring a researcher.
Well, as with all service providers, you get what you pay for. Product hunters can charge anywhere from $100-$500 for a single product based on their experience. If you're strapped for time and just don't want to engage in product research, then hiring the services of a product hunter might be the right move to make.
Product hunting can seem intimidating, but it's not as difficult as some make it out to be. Keep the above-mentioned criteria in mind and give it a go. That way, even if you hire a product hunter, you'll be able to verify whether the services they provide are up to the mark or not. 
Where to Buy Products to Sell on Amazon

The global hub of sourcing products for Amazon is China and in particular, Alibaba. Here, you can sift through an endless list of manufacturers that offer products at reasonably low rates. We recommend brushing up on your negotiation skills before getting into a conversation with local suppliers. 
1688.com is another great place to find items to sell on Amazon. The only downside is that the website is entirely in Mandarin and offers no English support as of yet. If you can form a partnership with a local or native speaker, your chances of securing quality suppliers increase drastically!
Conclusion

And that is all on how to find items to sell on Amazon. The goal of sharing these tips is to empower sellers and teach them how to discover products that sell well on Amazon. But sourcing a great product is just one part of the equation. Knowing how to list and optimize a product detail page is equally, if not more important.
To get you up to speed on how to create the perfect product listing, here's an expert guide on How to Successfully List a Product on Amazon. Read the guide and become a listing expert in no time!