Is It Easy to Sell on Amazon? Expert Tips for a Successful Amazon Journey
Here are 8 Tips to Help You Get Started!
Selling on Amazon is "the" buzzword on social media these days. People see it as a legit way to build a full-time income and escape the shackles of the 9-to-5 grind.

Last year, more than a million new sellers joined the platform. Plenty of old—and new—ones made a significant contribution to its growth in sales. So, is it easy to sell things on Amazon? We asked our experts.
How easy is it to sell on Amazon?
There are some challenges and risks of selling on Amazon. These range from dead launches to account suspensions to unaffiliated sellers hijacking your listing.

However, if you choose your product carefully, thoroughly research your competition, optimize your listings, effectively market your product, and follow Amazon's guidelines, you too can successfully sell on Amazon without any difficulties.

Table of Contents
Is it Easy to Sell on Amazon? Yes—If You Know How!
So, is it easy to sell on Amazon?
In an interview with Shopkeeper TV, Liz Fickenscher of ecomEngine recalled her experience with a client who had their listing suspended for violating Amazon's TOS for ASIN variations.
In Liz's own words: "This is something that most people think they are doing right. And I talk to my compliance friends in the industry—Chris McKay, Lia Mchugh, and others—and realize that's actually not the case. Not everybody knows that there's a certain way that you're supposed to list your variations on Amazon."
To shed light on how beginners can sell on Amazon problem-free, we came up with some detailed tips with the help of our expert seller community.
What Makes it Easy to Sell on Amazon? 8 Tips to Make Selling on Amazon a Breeze
As is the case with any business, achieving success on Amazon isn't a walk in the park. You need to invest time and effort in the hopes of building a successful enterprise. However, it isn't as difficult as some people want you to believe. When you take the right factors into consideration, selling on Amazon becomes easy. 

Tip #1: Choose Products Carefully
Failure to hunt the right product is perhaps the biggest reason for failure.
Not everything sells well on Amazon. In fact, there are a few product categories that are barred from new sellers. We call them prohibited products. These include alcoholic beverages, firearms, vehicle tries, hazmat items, gift cards, and items obtained from threatened or endangered species.

Amazon FBA prohibited products
Then there are products that require Amazon's approval to sell. You may need to submit test reports, quality certifications, and sometimes even an additional fee to get them ungated. These are typically listed under the Beauty, Health & Personal Care, Baby Products, Pet Supplies, Jewelry, and Fine Art categories. You can learn more about them here.
What can I sell on Amazon without approval?
There are many things you can sell on Amazon without approval. Some examples include kitchen items, home décor, furniture, consumer electronics, office supplies, and DIY hardware and tools. That being said, product-level restrictions can change quickly on Amazon. A product that may not require approval today may become gated tomorrow. Therefore, it's best to check with the Seller Central support team to know the latest on what you are allowed to sell on Amazon as a new seller. 
What sells on Amazon the most?
Based on the Search Terms report for the month of March 2023, these were the most popular products on Amazon:
Of course, being popular doesn't mean you should start selling these products. There are many other things you need to consider when choosing a product to sell on Amazon. The most important ones are:
The takeaway: Assess your product thoroughly. Study the available data using product research tools and then make a decision.
Tip #2: Market Your Product Wisely
Competition is fierce on Amazon. You are up against hundreds and sometimes even thousands of sellers, all of who are vying for customers' attention. If you want to rise above the noise, you need to start thinking outside the box.

Utilize both internal and external marketing to promote your Amazon product listings. Examples of internal marketing include running sponsored ads, enrolling your product in the Vine program, launching Lightning deals, etc.

On the other hand, you have external marketing, which includes promoting your product on social media, using SEO, and partnering with influencers to drive traffic to your listing.
But which one is the superior strategy?
Internal marketing vs. External marketing
There are pros and cons to both internal and external marketing. The former yields result much faster but can prove to be expensive. Also, it is much safer to execute. On the flip side, external marketing is more cost-efficient but needs time to yield results.
Furthermore, there is always a chance that you may end up violating Amazon's TOS if you are not careful with what you are doing on external platforms. 
The takeaway: Focus on internal marketing efforts at the start. Once you are comfortable selling on Amazon and manage to build some traction, you can then incorporate external marketing channels into your business. 

 Tip #3: Create Optimized Listings

Your listing needs to be optimized with the right set of keywords. Otherwise, it won't rank in the search results on Amazon. Both front-end and back-end optimization are important here. However, many sellers choose to ignore the latter. 
Craft a keyword-rich title but make sure it reads naturally.

Write bullet points explaining how your product can benefit customers and help them solve their problems. Don't repeat the keywords already used in the title.

Keep the description short and to the point. Avoid using promotional words. 

Populate the backend with appropriate search terms and field values. Use the category Browse Tree Guide (BTG) and keyword research tools like Helium 10 to find relevant data.
Of course, images are vital to the success of your listing too. They are part of the optimization strategy and help convert. Use high-quality, high-resolution images. Keep the background of your main image white. Don't use your brand name (or logo). Avoid offensive and sexually explicit material. Read more about Amazon listing image requirements here. 
How long can an Amazon title be?
In most categories, Amazon restricts sellers to a title length of 200 characters, including white spaces. However, you should try to keep your product title between 130 and 150 characters.
How long can Amazon bullet points be?
Each bullet point can be 500 characters long. That doesn't mean you should use all the characters though. Keep your bullet points under 250 characters.
How many characters can you have in an Amazon description?
You can use up to 2000 characters when writing an Amazon product description. This includes white spaces.  
The takeaway: Understand your customers and come up with a listing that resonates with them. Leverage effective copywriting and high-quality photography to improve conversions on your listing.
Tip #4: Research Your Competition

Study your niche to check for brand dominance. If a single seller is responsible for generating the majority of the sales or has multiple listings ranked on the first page, you could struggle to compete against them. You will already be at a disadvantage unless, of course, you can find a way to break their dominance. This is where social listening can help.

Go through the reviews and find out what customers are saying about your competitor's product. Is there a weakness or deficiency in the product that's responsible for negative reviews? If so, you can use that to your advantage and launch a much superior product. Turn your competitor's weakness into your strength and gain the upper hand.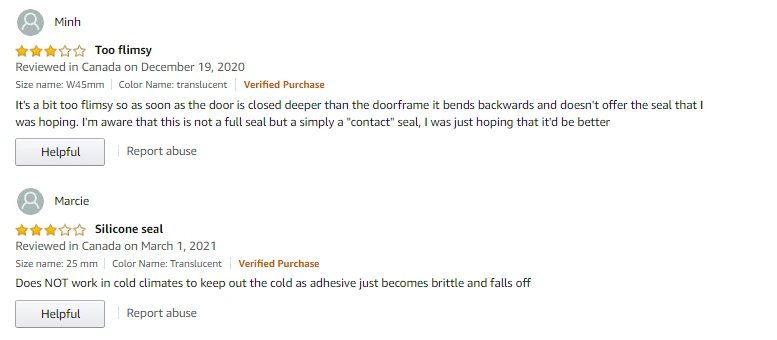 Read negative reviews on your competitors' listings to get an edge in the market.
The takeaway: Try to avoid brand-dominant niches. Learn where your competitors are failing and try to provide a well-rounded solution to your customers.
Tip #5: Understand Amazon's Rules and Fees
Rules are important in the world of Amazon. If you try to break them, Amazon will quickly notice. It can take down your listing+ or worse – suspend your entire account.  
While this may sound a bit scary, Amazon does not approve of sellers who try to intentionally cheat customers either by selling low-quality products or manipulating the system. After all, it's 'Earth's most customer-centric company.'
Adhering to Amazon's TOS is crucial if you want to have a peaceful time on the platform. Follow its guidelines through and through. Avoid Black Hat techniques and understand its seller policies before you start doing business.
You can use Amazon's Seller University to learn about how the platform works and the things you need to be aware of as a seller. It's arguably the most complete online resource for both newbies and experienced sellers.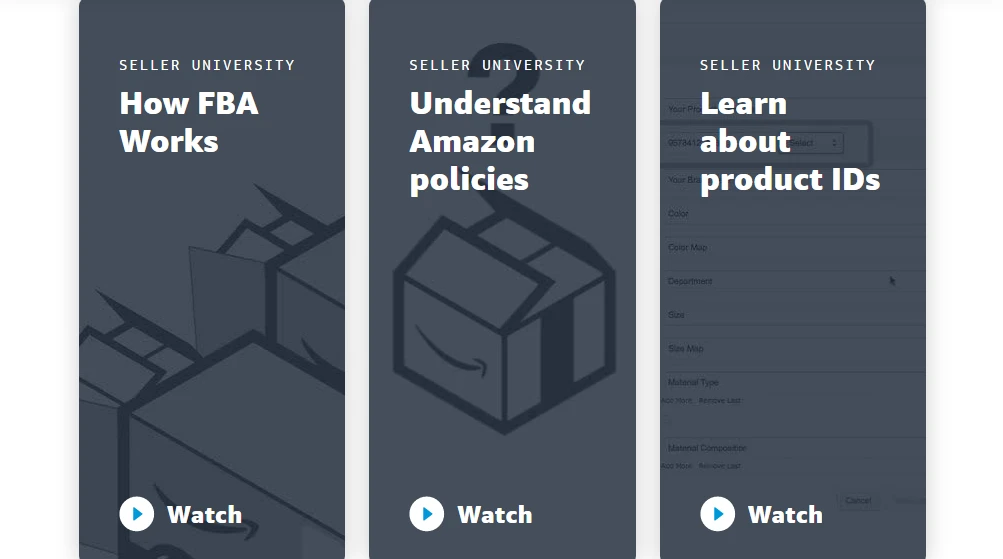 Seller University is the ultimate resource for newbie and experienced sellers

Furthermore, before you start selling on Amazon, you must also know the different types of fees Amazon charges to sellers. That way, you can adjust your launch budget accordingly and avoid any last-minute surprises. 

How much does Amazon charge for selling?
Amazon charges a flat $39.99 per month to sellers on the Professional plan and $0.99 on each unit sale to sellers on the Individual plan. Then there are other selling fees which include referral fee, storage fee, and FBA fulfillment fee. To learn how much money you need to start an Amazon FBA business, check out this guide.
What is the Amazon referral fee?
The referral fee is a type of selling fee that Amazon charges you for every sale you make on the platform. It varies from 6% to 45% of the selling price, depending on the product category.
The takeaway: Follow Amazon's TOS and guidelines and make sure to budget for selling fees when calculating the cost of doing business. 
Tip #6: Get Amazon's Choice Badge
Getting the Amazon's Choice badge can give your listing a decisive advantage over the competition. Customers see you as a symbol of trust and quality and are more likely to buy from you than other sellers.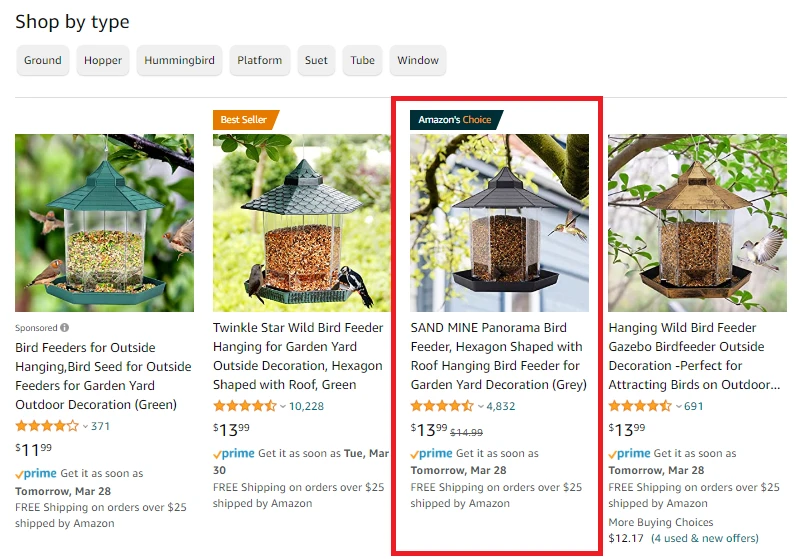 Winning the Choice badge can make it easier for you to sell on Amazon

So, how do you get that little dark blue badge for your listing?
While there is no set list of criteria for the Choice badge, there are guidelines which if followed, can help increase your chances of landing the coveted vote of confidence from Amazon. These include:
Sign up for the Professional plan

Become a Prime-eligible seller

Set competitive prices

Maintain healthy sales

Get good feedback 

Always make sure you have enough inventory in the stock

Keep return and order defect rates low

Improve your customer ratings   
Keep in mind; however, winning the Choice badge can take some time. 
The takeaway: Focus on satisfying your customers to get Amazon's Choice badge. Ensure fast delivery, maintain competitive pricing, and source quality products from a reliable supplier. 
 

Tip #7: Utilize Amazon Promotions

Promotions are another great way to boost your sales on Amazon. People love a bargain, so using promotions is an excellent strategy to grab their attention. 

Amazon promotions also help you increase your average order value (AOV), sell slow-moving items quickly, and climb up the organic rankings swiftly.

There are different types of promotions you can target on Amazon. These include Percentage Off, Buy One Get One (BOGO), and Free Shipping. The latter may not be of much help if you are already a Prime-eligible seller.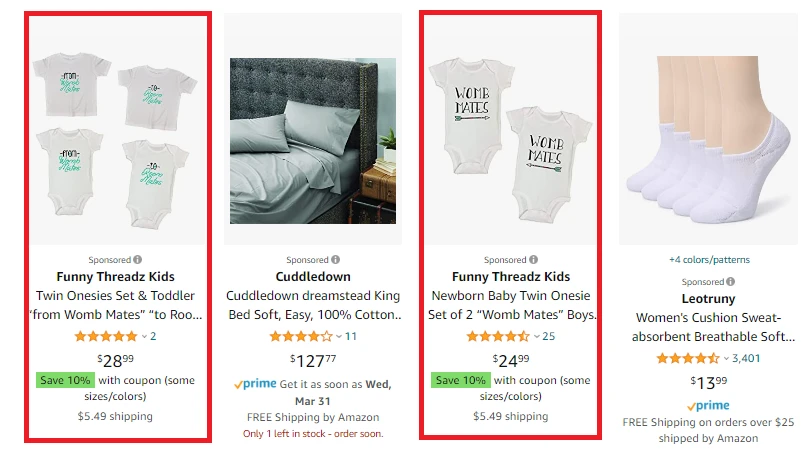 Use Amazon Promotions to increase your sales
How do I set up a promotion on Amazon?
You can set up promotion by logging in to your Seller Central and going to the Promotions page under the Advertising menu. From there, select the ASIN(s) you want to run the promotions for. Choose the kind of promo offer you want to set up. Hit "Submit". 
The takeaway: Use Amazon Promotions to give occasional sales and ranking boosts to your listing. Offer discounts, giveaways, and free shipping depending on your product.
Tip #8: Track Your Business Insights
Check your daily, weekly, and monthly sales

Monitor your operations costs and profit margin

Track your PPC expenses

Scan your daily impressions, page views, and conversion rate

Follow your BSR closely

Perform regular pricing and keyword checks in your niche 

Keep tabs on your inventory levels

Read customer reviews
Keeping track of each metric can feel a bit overwhelming at first. Don't worry; set up a planner and everything will slowly become part of the routine.
The takeaway: Track the performance of your business. Be proactive, adapt, and optimize as you go.
Is it Easy to Sell Things on Amazon? With Shopkeeper, Becoming an Amazon Seller Just Got Easier!
Selling on Amazon doesn't have to be hard. All you need to do is:
 Assess your product carefully before placing the order with your supplier,

 Invest time in your marketing strategy, work on creating an optimized listing, 

Research your competition, 

Understand Amazon's rules and fees, 

Get Amazon's choice badge, 

Utilize Amazon Promotions;

And track your business metrics regularly.
We hope that this guide shed light on whether it's easy to sell on Amazon or not. We offered tips on how to do things the easy way. But we want to go a step further by equipping you with tools that make your Amazon selling journey even easier!
What if we tell you that there is a way you can access all your Amazon business insights inside a single dashboard? 
That's exactly what the Shopkeeper Amazon dashboard has to offer. It's helped plenty of sellers propel their Amazon business to the next level and we're confident it can do the same for you! 
And no, you don't have to pay to try it.
We are offering a 14-day free trial with no credit card. Register now and experience a whole new realm of selling opportunities!