Why Is My Amazon Listing Suppressed And How Do I Fix It?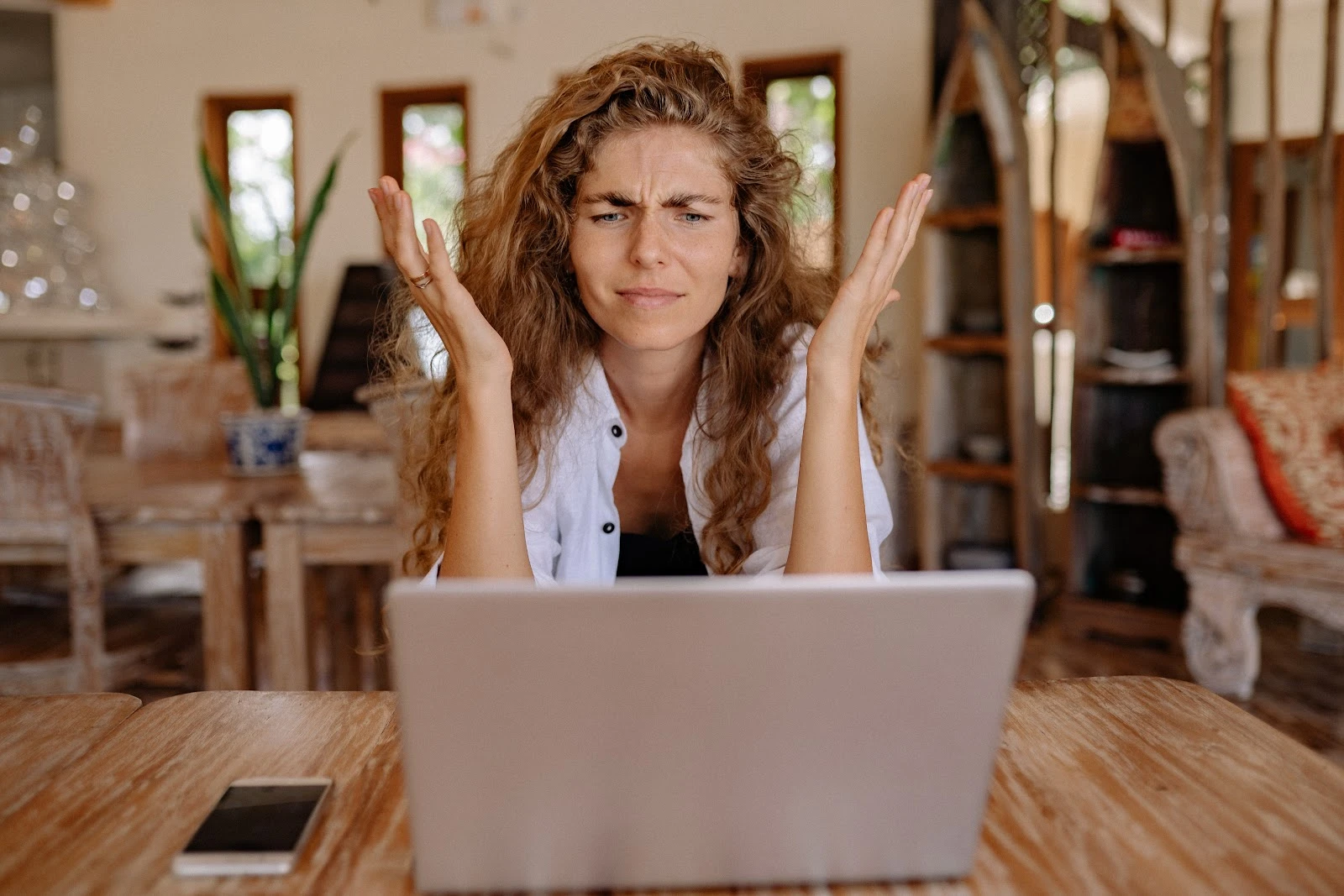 A suppressed or deactivated listing can mean disaster for any Amazon seller! Not only do you lose sales and profit, a suppressed listing can also have long-lasting negative effects on your Amazon business. 
However, all is not lost, as it's still possible to restore a suppressed listing and reverse its effects.
In today's post, we'll cover exactly how to restore a suppressed Amazon listing and how to prevent it from ever happening again.
How Does a Suppressed Amazon Listing Affect an Amazon Seller?
When an Amazon listing is suppressed, it means the listing has been removed from Amazon's search results. This can happen for a variety of reasons, including high prices, poor customer reviews, or incorrect product information. While a suppressed listing may not seem like a big deal, it can have a significant impact on an amazon seller's business. 
Firstly, suppressed listings are less likely to be seen by potential customers, which can lead to a loss of sales.
Secondly, suppressed listings can often have their buy box price suppressed, losing you even more sales and eating further into your profit.
Finally, suppressed listings can damage a seller's reputation, overall search visibility, and IPI score, hence making it very difficult to run a profitable Amazon store. 
What Caused My Amazon Listing to Be Suppressed?
There are several reasons why an Amazon listing might be suppressed. The most common reason is that the listing violates one or more of Amazon's Policies. 
For example, a listing may be suppressed if:
It contains inaccurate or misleading information

It's selling Amazon-restricted products

It's missing important information such as product descriptions and customer reviews

The listing image does not meet the image requirements

It has a high number of customer complaints or if it has a history of being suspended for policy violations
In some cases, Amazon may also suppress listings to improve the overall customer experience, for example, if your listing is causing confusion or is irrelevant to customers' search queries. 
How Do You Restore a Suspended Amazon Listing?
Whatever the reason is, if your listing has been suppressed, it's important to take action and quickly restore it.
The first step is to identify the reason for the suppression, which you can do by downloading the suppressed listing report from within Seller Central:

How to download the Amazon suppressed listing report:1. Login to Seller Central 
Click on Inventory > Manage All Inventory 

Select Search Suppressed and Inactive Listings 

Under Fix Your Products, select Search Suppressed 

Download the Suppressed Listings report 
Now that you have identified any suppressed listings and the reason for the suppression, the next step is to fix your listings!
In your seller account, click the Inventory tab, and select Manage All Inventory.

Select Suppressed from the horizontal menu.

View all suppressed listings on the Fix your products page, or click on Attribute to filter by specific type of issue.
There are 2 ways to fix a suppressed listing:
Option A: Fix suppressed listings in the Issue(s) to fix column by entering the missing values in the editable cells or selecting missing values from the drop-down list and clicking Save.
Option B: Fix suppressed listings that are not fixable in the editable grid (Option A) by clicking Edit and going to the Edit product info page. In Edit product info, the missing product details will be highlighted and you will see an informational message that further details the issue. 
For non-image issues, enter the missing value and click Save and Finish. 

For image issues, follow the guidelines on the Product image requirements page and then upload valid product images.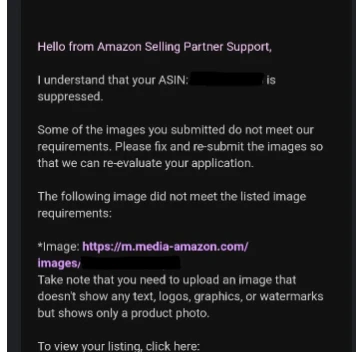 If your listing is still suppressed after taking these steps, don't give up! You can appeal the decision by providing additional information to Amazon. With persistence and a little luck, you'll eventually get your listing back up and running.
How to Avoid Amazon Listing Suppression  
Fortunately, there are a few things you can do to avoid having your listing suppressed. First, make sure that your product information is accurate and up-to-date. Second, pay attention to customer feedback and take steps to resolve any negative reviews. And lastly,  stay vigilant and check your Amazon seller Central dashboard frequently. 
But let us make it easier for you with Shopkeeper.
Shopkeeper New Feature Alert
For our Shopkeeper members, we have great news for you as we are currently developing a new Alert feature that gives you alerts on everything Amazon - including Suppressed Listings! 
That's right, Shopkeeper can send you an alert via email if you have any suppressed listings, so no more checking Seller Central every day to make sure your listings are all healthy. 
You can find this feature on Shopkeeper.com under the new Listing Health page (currently in Beta).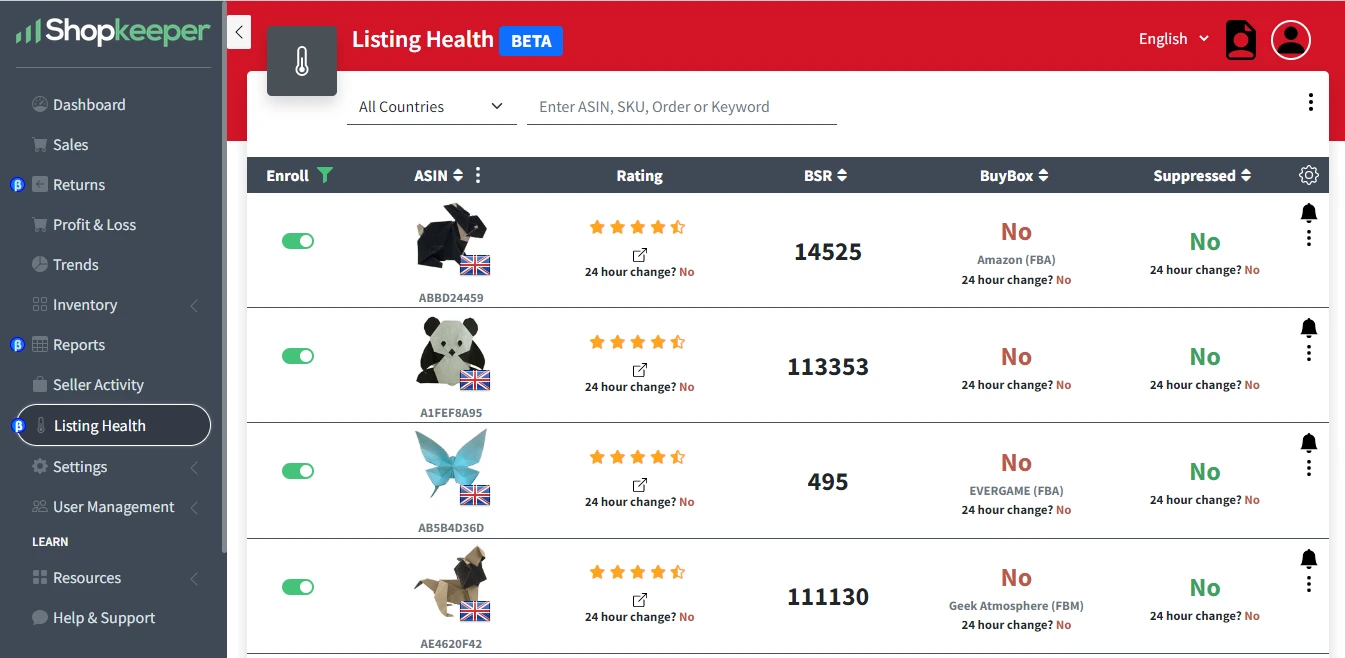 To set up alerts for each listing, simply click the bell icon on the right side of the page.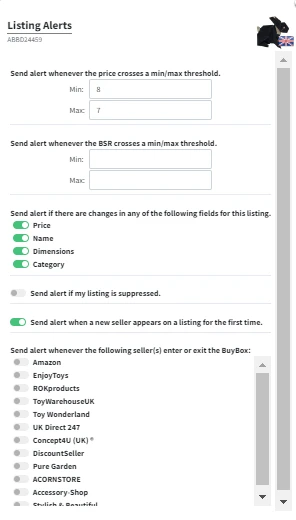 Shopkeeper alerts are also used to notify you of any changes to your listings. 
For instance, you can set a price and BSR minimum and maximum threshold alert. You can set an alert for changes in price, name, dimension, and category for any of your listings.  
And for Amazon flippers, a very useful feature is an alert when a new seller appears on a listing for the first time and when a specific seller enters or exits the BuyBox - so you can be the first to find out if a well-known bricker enters your listing!
These alert features are currently in development and still being improved and added to, but any of our valued Shopkeeper members can request early access to these features. Simply send us a message and we'll be happy to enable the Listing Health Beta on your account.
Shopkeeper vs Other Suppressed Listing Software 
To give you a real-life example of how Shopkeeper outperforms compared to other Amazon software available, let's do a quick feature comparison when it comes to Amazon alert software. 
| | | | |
| --- | --- | --- | --- |
| Feature | AMZAlert | Seller Sonar | Shopkeeper |
| Price (Basic Plan) | $.95/ asin per month | $10 -10 asins | $20 |
| Suppressed Listings Alerts | ✅ | ✅ | ✅ |
| Hijacker Alerts | ✅ | ✅ | ✅ |
| Smart Product Listing alerts | ✅ | ✅ | ✅ |
| First-time Seller Alerts | ❌ | ❌ | ✅ |
| Buy Box Alerts | ❌ | ❌ | ✅ |
| Business Dashboard | ❌ | ❌ | ✅ |
| Sales, Inventory & Seller Overview Report | ❌ | ❌ | ✅ |
| Free Trial  | ❌ | ✅ | ✅ |
As seen on the table above, Shopkeeper offers alerts and so much more compared to the two Amazon monitoring softwares.
Everything you love about your business dashboard, profit tracking, and inventory forecast just got a lot better. Not a Shopkeeper member yet? Join over 5,000 Amazon Sellers that use and love Shopkeeper as their profit dashboard. 
Click here to start a 14-day free trial.