Amazon FBA Grade and Resell: A Total Disaster?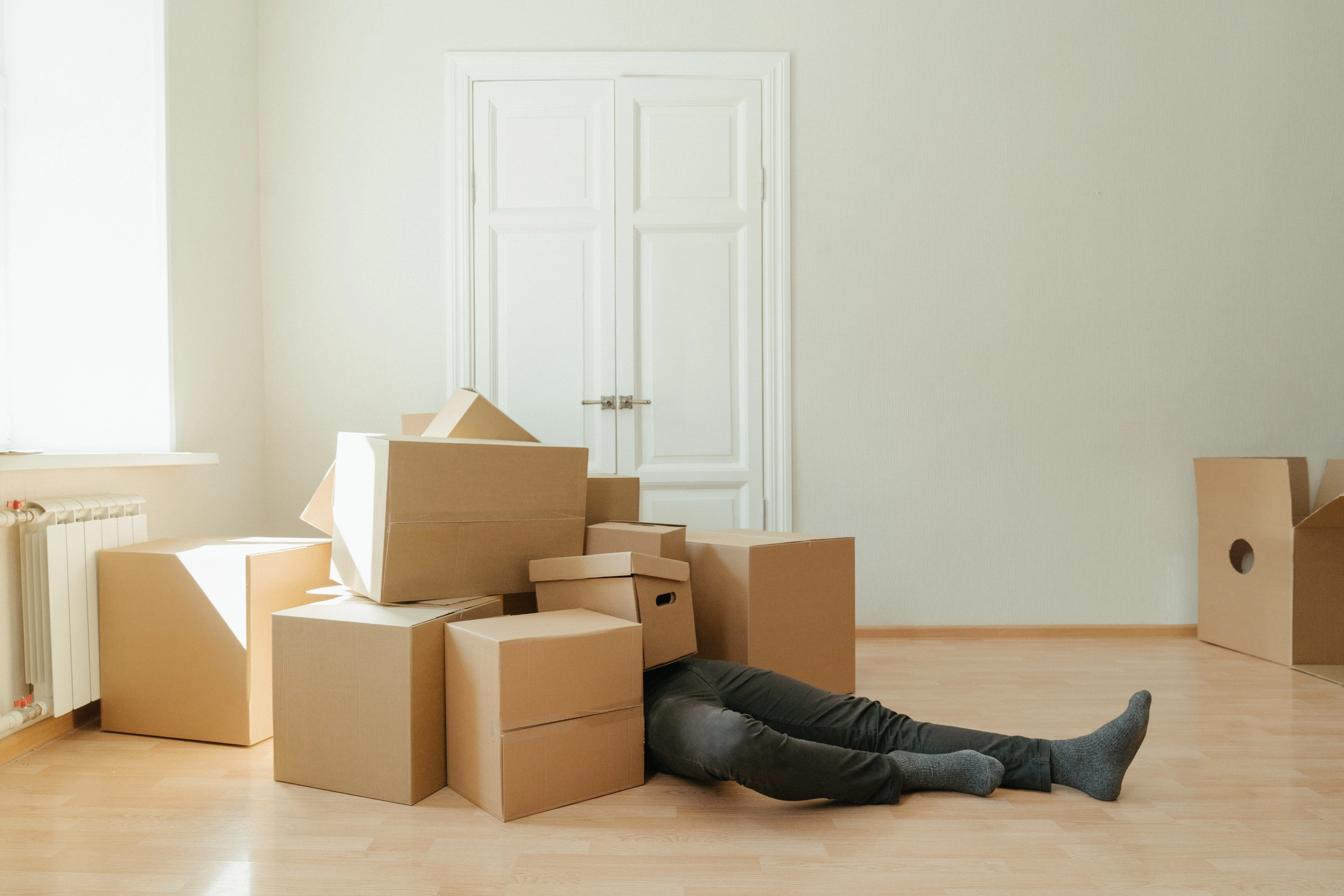 In this blog post, we take a deep dive into Amazon's FBA Grade and Resell Program - we cover what it's all about, how the process works, its pros and cons, and look at real feedback from actual Amazon sellers who have taken part in the grade and resell program. 
We also introduce Shopkeeper's new Returns Page and show you how it can help maximize your profit from Amazon returns.
Sounds great? Let's get started!
What Is the Amazon FBA Grade and Resell Program
The FBA Grade and Resell program is an "invitation-only"  program by Amazon, open to both US and non-US sellers, and its main purpose is to re-grade returned items that are unfulfillable and relist them as "used".
The program is specifically for returned FBA inventory in Amazon fulfillment centers. ASINs enrolled in Amazon's grade and resell program are automatically graded and added back to your inventory, without you having to assess the returns yourself.
And this is really the main benefit of the grade and resell program - it allows you to relist and sell returned inventory without having to pay for removal orders from Amazon and receive the returns yourself, or send them to a 3PL to deal with.
The Grade and Resell Process
How do you know if you are eligible for this program? First, you need to confirm if your account qualifies - the quickest way to do so is through your Automated Unfulfillable Settings in Seller Central.
There you will see all of Amazon's "value recovery options" and can choose which ones to enroll in: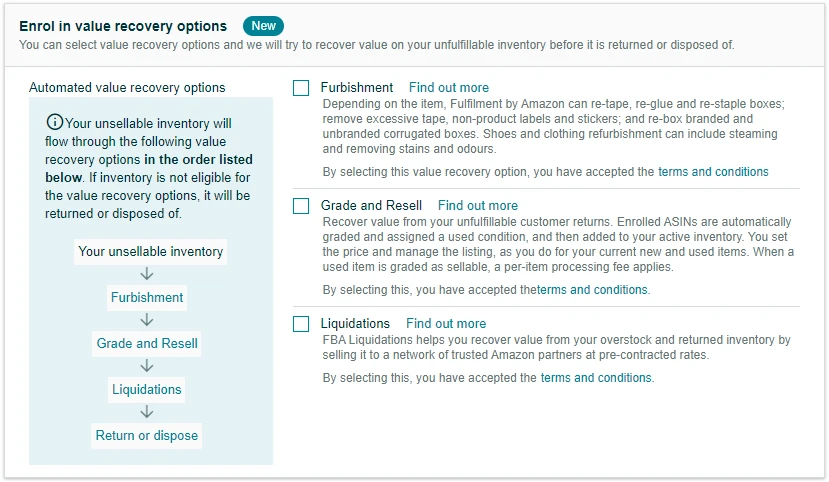 1. Furbishment 
This is where Amazon refurbishes an item or more specifically, its packaging, to improve its condition. 
2. Grade and Resell 
The program we're covering in this post. 
3. Liquidations 
This is Amazon's final value recovery option, which allows you to recover some revenue from overstock and returned inventory "by selling it to a network of trusted Amazon partners". 
You can choose to enroll in any or none of these programs, and any items that aren't eligible or that you've excluded will then either be Returned or Disposed of, depending on what you select.

So to find out whether you're eligible for the grade and resell program, simply head to the Automated unfulfillable settings page and see if you can check the box or not. 
If you can, a "set your price" box will appear and this allows you to set a percentage discount for each condition vs your new price.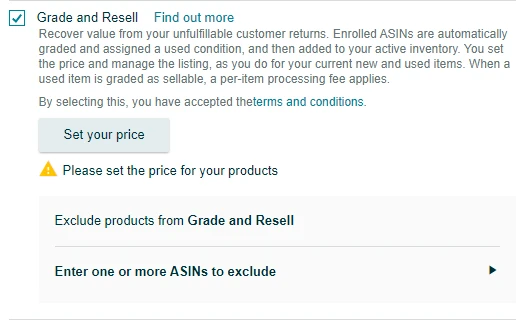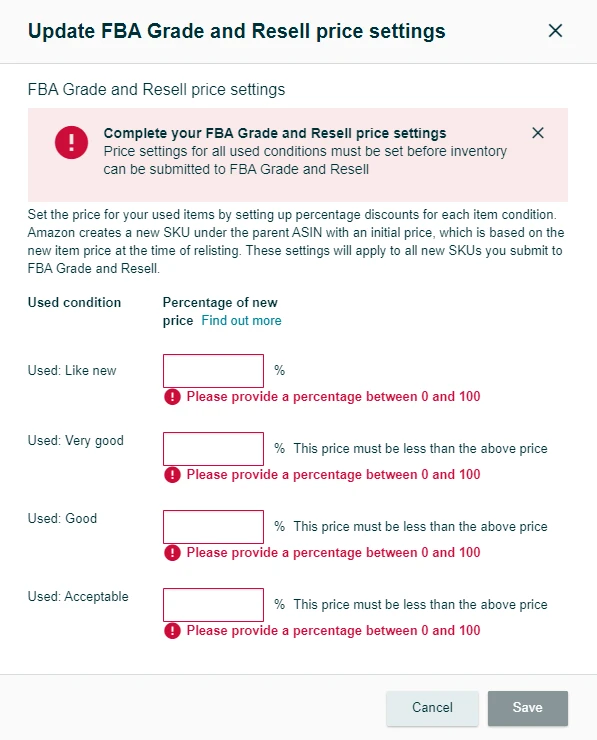 Amazon has 4 used condition ratings for grade and resell items: 
Used: Like new 

Used: Very good 

Used: Good 

Used: Acceptable
And you'll need to set a price percentage for each one.
For example, "used: like new" might cost 85% of the original list price (or 15% off), while "used: very good" might cost 75% of the list price (or 25% off), etc. Just keep in mind that each condition level must cost less than the one above it.
Pros and Cons of the FBA Grade and Resell Program
Now that we have discussed the process, let's get into the pros and cons of the Amazon grade and resell program.
Let's start with its pros.
Pros:
It removes the cost of removal orders for returned inventory 

It removes the cost of disposable orders for returned inventory 

It removes the time and hassle of assessing returned inventory and sending it back to Amazon (or selling on another marketplace like eBay)

It's good for high-volume ASINs

You have the chance to resell potentially lost inventory and recover some money
And while the program appears very beneficial to sellers, it also has some drawbacks.
Cons:
Grading and relisting returned products can take up to three weeks and even longer during busy seasons

There is still a grade and resell processing fee that occurs per unit

Fees are high for products with a price of $15 or below

It typically takes longer to sell used items vs. new
But these are only the "on paper" cons, and in real life, there are some much more serious negative considerations to keep in mind.
You're relying completely on Amazon grading your returned inventory correctly.
The grade and resell program depends entirely on returned stock being correctly graded. But how reliable, and more importantly consistent, is this going to be? 
After all, it will be some random Amazon warehouse worker taking a quick look over your product and we know how often they make mistakes with simple labeling and product selection. 
Anybody who has ordered used products from Amazon will know firsthand from a customer's point of view how random the condition received can be. Sometimes a used: very good item comes brand new and sometimes a used: like new item looks like it's been used for 2 years and then returned!
Do you want your customers taking part in that condition lottery when ordering your products?
2. You're risking your listing's health
Which brings us perfectly on to point no.2 - all grade and resell items are sold on the same listing as your new stock, meaning any product reviews will go towards your overall product rating.
Every Amazon seller knows how important reviews and ratings are, and it goes without saying that feedback will be more mixed for items in used condition. 
At Shopkeeper, we've seen firsthand, with real seller data, how the return rate for used items can be significantly higher than for new (more on that at the end of this blog post where we reveal our new Returns page and report). 
3. You're cannibalizing your own sales
Last but not least, the fact that used items are sold on the same listing as new also means that any sales you do make from the grade and resell program are potentially just cannibalizing sales from yourself anyway, just at a lower selling price and with less profit.
When you start to think about these points and really look at the grade and resell program in practice, then suddenly it doesn't seem like such a good idea anymore
Seller Feedback on the FBA Grade and Resell Program
But if you're not convinced, let's also look at some real-life seller feedback on the grade and resell program, taken from the Amazon seller forums: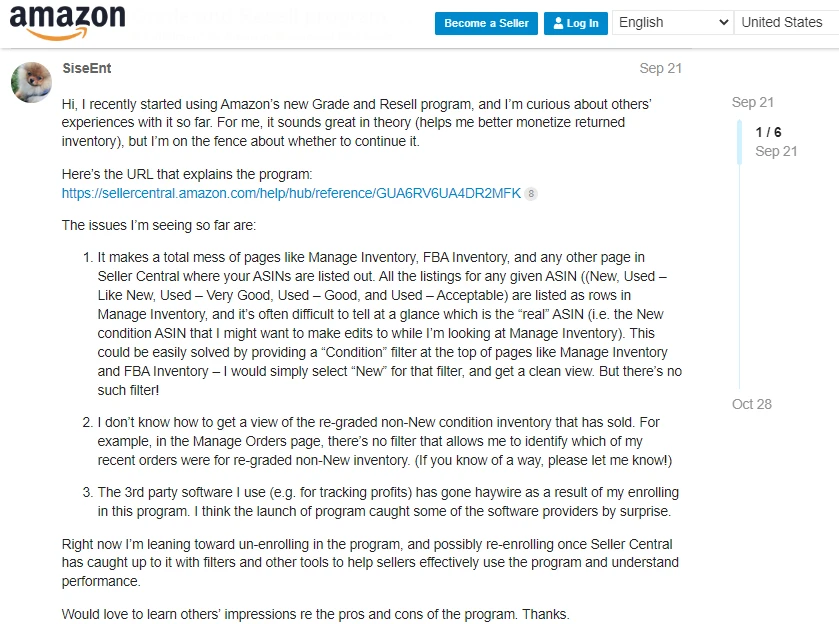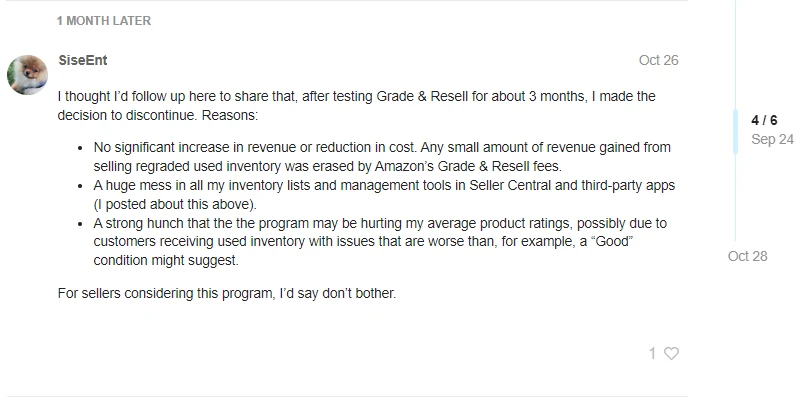 Anecdotal evidence, sure, but hopefully the above feedback will help you decide if the program is right for you or not.
If you're still undecided about whether to participate in grade and resell or not, and need some help with assessing your returns and their impact on your business, then Shopkeeper is here to help. 
How Shopkeeper's Returns Page Solves Returned Inventory Issues
Shopkeeper has a dedicated Returns page, designed specifically to help you assess the return rate of different ASINs, view the condition (disposition) of returns, and most importantly show you the return reasons - so you can use that as feedback to improve your product.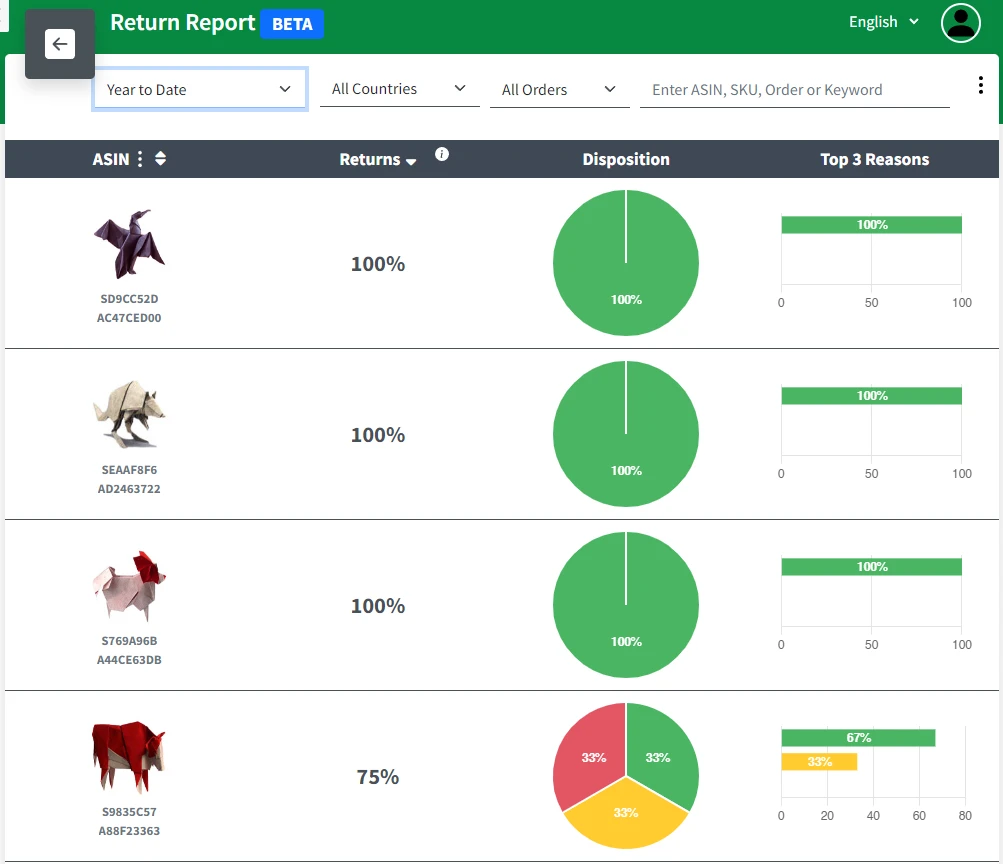 All this info is available at a glance with the great, easy-to-use Shopkeeper layout that you know and love, and can be customized using all our usual filters - including date range, marketplace, and order type. 
We also offer detailed Refund and Return reports via our Reports page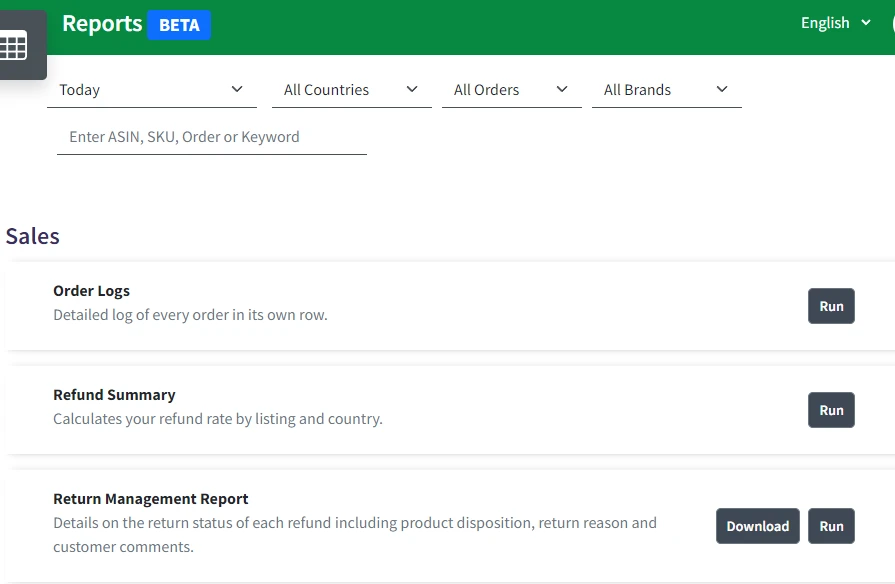 Click here to try out the Returns page now. 
Not a Shopkeeper member yet? Start a free 14-day trial. Join over 5,000 Amazon sellers who use and love Shopkeeper.