Amazon Account Health: How to Improve Your Rating in 2023
Are you struggling to understand what the Amazon Account Health page metrics mean or how to improve them?
This comprehensive guide on Amazon account health will cover what each metric means, your expected performance, and how to overcome any violations. A poor account health rating can get your account suspended or banned, so it's vital that you understand this page and stay on top of everything.
What is the Amazon Account Health Page?
Amazon sellers must maintain certain performance levels when selling products on the platform, which are summarized on the Amazon Account Health page. Failure to achieve the desired level of performance leads to warnings, suspensions, and in a worst-case scenario - account deletion.
However, Amazon has created this page to help sellers provide the best service for their customers. So think of it as a tool that helps improve your Amazon business rather than a way of punishing sellers.
The Amazon Account Health page is broken up into 3 categories:
We will provide a complete breakdown of each section and how you can improve your performance to maintain a healthy Amazon account.
How to Find the Amazon Account Health Page
You can find the Amazon Account Health page by logging into your Amazon Seller Central account, selecting "Performance" from the navigation menu and then "Account Health", as shown in the screenshot below: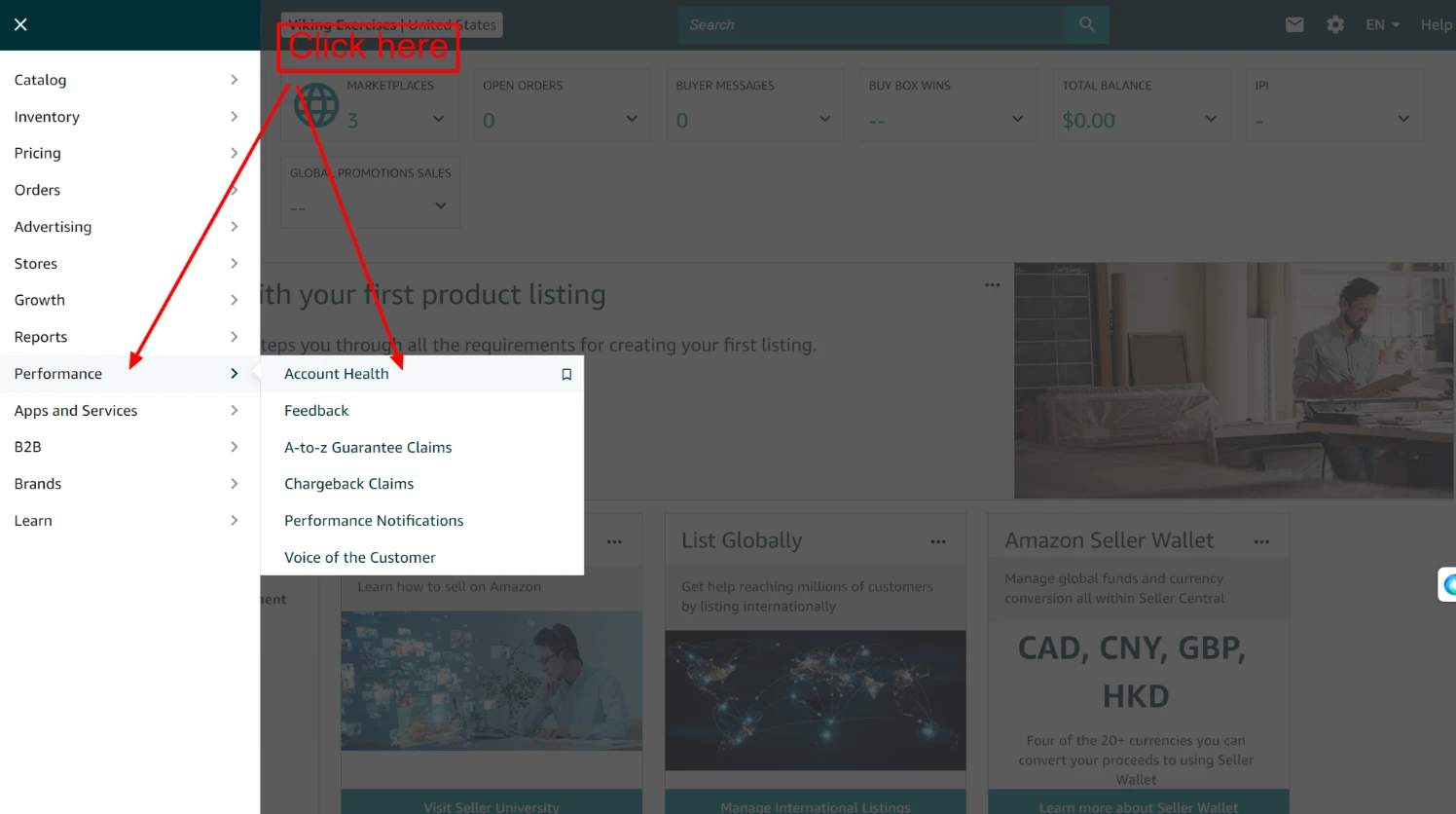 3 Key Recent Changes to the Account Health Page
Amazon constantly updates all aspects of its business to improve the level of service for customers (at least that's the idea!). And Amazon Sellers have been asking for a few changes to the Account Health page, and it appears they have been listening to the community.
Here are 3 key changes Amazon has made to the Account Health page:
1. Dedicated Account Health Specialists
Amazon has invested in supporting sellers by creating a team of dedicated account health specialists. They can be contacted via phone or email to help with any account health queries. Let's hope that the account health specialists can keep up with the demand as sellers figure out how to improve their AHR score.
2. AHR Holistic Metric
After landing on the Account Health page, you may immediately notice the Account Health rating. It's a score of 0-1,000, which allows you to see your Amazon performance at a glance.
You can see an example of where to find the rating in the screenshot below, and by default new accounts start at 200.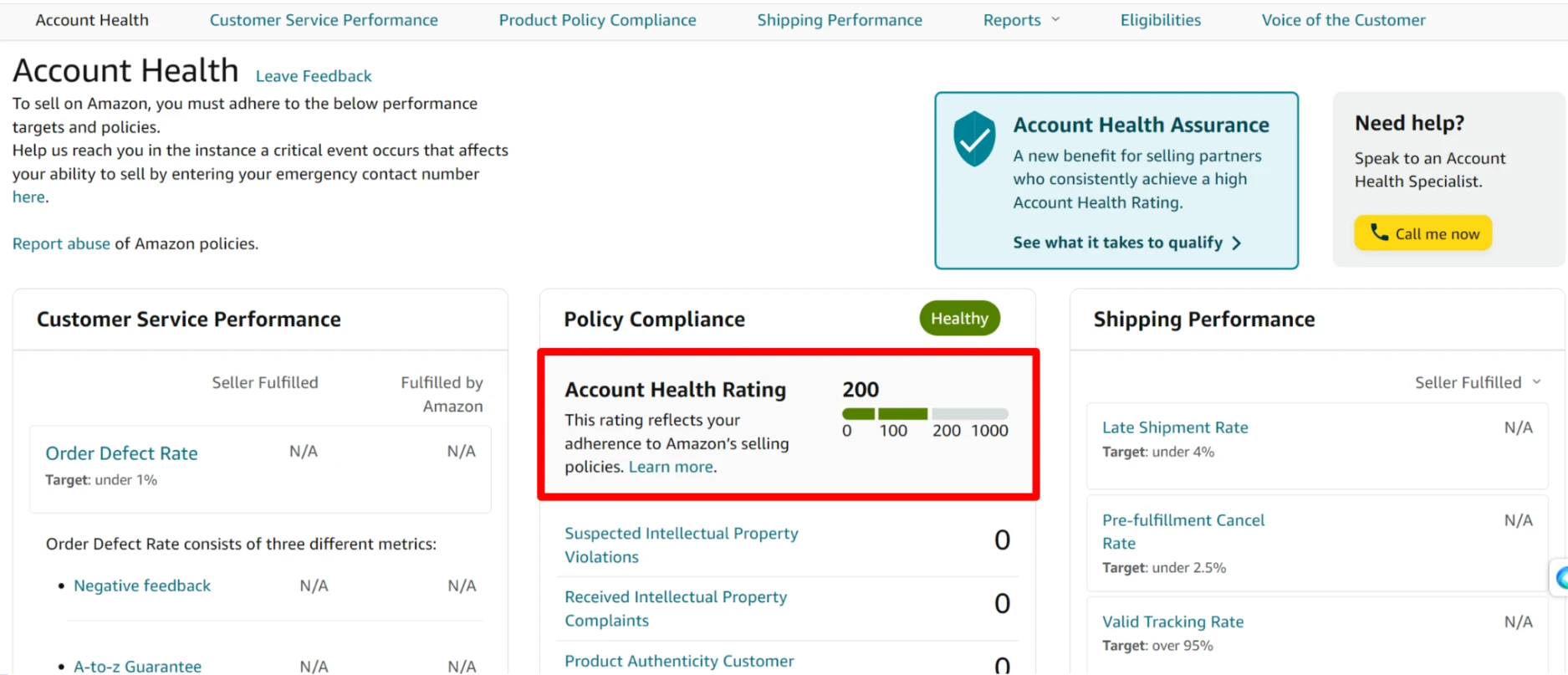 Note that Amazon is upgrading the Account Health rating to a score of 0-100, and some sellers are already seeing the new format.
3. Policy Violation - Level of Severity
Amazon sellers will now see a list of policy violations with the severity level. This is handy because it means you can prioritize the violations that pose the most risk to your account. Furthermore, you'll know what violations you should focus the most on avoiding in the future.
Important Amazon Account Health Page Metrics To Keep an Eye On
Now let's take a deep dive into the Amazon account health page metrics. We share what they mean, Amazon's desired threshold to pass the metric, and how you can improve your score for each one.
We have broken up this section into 3 parts, just as they are presented on the Account Health Page.
Customer Service Performance
The Customer Service Performance metrics are on the left-hand side of the page, and they focus on customer satisfaction levels when dealing with your business. Optimizing the metrics should increase your product review scores and potentially result in repeat buyers.
Order Defect Rate (ODR)
This metric measures your ability to keep customers happy within the last 60 days. The metric is based on a few areas, and the aggregate ODR must be less than 1%. Note that orders with a defect in them are based on:
We will take a closer look at what each of these means below. However, to reduce ODR, you need to improve your product quality and consistency. This means choosing a reliable supplier and hiring a trustworthy product inspection company.
If the ODR is too high, you may want to invest more in a product inspection company until the consistency is improved.
Negative feedback
Most sellers already know that customers can leave feedback after buying a product of between 1 and 5 stars. However, you might not know what Amazon classes each star rating.
4 and 5 star ratings are positive

3 star ratings are natural

1 and 2 star ratings are negative
Therefore, 1 and 2 star ratings count toward the ODR rating, which means you must aim to get a feedback score of at least 3 stars. However, in reality, you'll need as many 5 star product review ratings as you can get to compete in your niche.
How can you improve your feedback rating? You should research your niche and create a list of common complaints from 1 and 2 star ratings of competitor products.
You'll see common themes and you can avoid making the same mistakes to reduce the chances of generating those unwanted low ratings.
A-to-z guarantee claims
Amazon provides an A-to-z guarantee for buyers and they can trigger a claim for various reasons, including if they did not receive the product in time or are unhappy with the quality.
Successful A-to-z claims count toward the ODR rating, so reducing their number is important. You also need to watch out for buyers that abuse this claims system to get free products.
Chargeback Claims
Chargebacks happen when buyers contact their bank and request that a charge be reversed. These are called "charge disputes" and can be requested for several reasons, including not receiving the product or the buyer not recognizing the transaction.
In practice, chargeback claims are similar to A-to-z claims, but here the buyer is contacting their financial institution instead of Amazon. However the result is similar as a successful chargeback claim counts toward the ODR metric.
Invoice defect rate
Back in June 2020, the Invoice Defect Rate was introduced, which according to Amazon is the:
"share of orders placed by Amazon Business customers for which you have not provided a downloadable VAT invoice (or a receipt) within one business day after shipping confirmation in line with the Amazon Business invoicing policy."
It's recommended that this metric should be below 5%, and there is no penalty when this target isn't reached. Therefore, it's a guideline and not a hard rule.
Policy Compliance
Amazon sellers must follow a comprehensive range of policies to ensure they abide by the rules whilst selling on the platform. Therefore, avoiding policy violations is key to maintaining a healthy Amazon account.
The Account Health Page allows you to see each of these violations separately, so you can quickly figure out what steps you should take to return your account to good standing.
Suspected Intellectual Property Violations
Suspected intellectual property violations can occur when the in-house AI bot flags a product listing because it mentions a brand that isn't yours. This could be in the title, brand field, keywords, description, or SKU.
You should avoid adding product identifiers to hidden keyword attributes, even if it's your own brand. That's because it's classed as a misuse of search and browse.
However, if you believe that the AI bot has flagged an IP violation by mistake, you can contact the customer support team to resolve the issue or receive clarification on the problem.
Received Intellectual Property Complaints
Lawyers, brand owners, or Brand Registry users can contact Amazon with an IP complaint. However, you can successfully resolve the issue if you aren't violating IP. You must sell authentic products to ensure that IP complaints don't become a problem.
We understand that IP can be a confusing topic - especially for new Amazon sellers running a business for the first time. Therefore, to leave the guesswork out of the equation, it's a good idea to hire an IP lawyer to look at your business and spot potential red flags.
Product Authenticity Customer Complaints
Customers can make complaints about the authenticity of your products, or Amazon's bots can generate them based on buyer messages, feedback, listing descriptions and keywords. Furthermore, it's not unheard of for competitors to use shady tactics by making false claims.
To remedy a product authenticity customer complaint, you can do the following:
Provide proof that your supplier is an authorized seller

Ask your distributor to vouch for you with documented proof

Organize and share itemized invoices
Product Condition Customer Complaints
You can receive a product condition customer complaint even if your products are sold as new and are new. This is usually due to damaged packaging, missing parts, or product faults.
Here is what you can do to reduce the chances of these complaints:
Review the Condition Guidelines for your product category

Request an Amazon FBA bin check or check your self-fulfilled inventory

Make changes to your item packaging

Improve the product quality control procedures
Food and Product Safety Issues
The product safety team at Amazon is tasked with handling complaints and incidents. Their policies are updated constantly because of new cases and as safety standards improve across different product categories.
Typically, safety violations can come in waves, for example, when many toy listings were removed because of new safety standards. You'll be asked to submit an Amazon policy violation appeal letter if you receive a violation. Here is what might happen as a result of the issue:
You'll need to add warning labels or setup instructions

Execute testing from a certified laboratory

Get rid of your current products

Move the products to other Amazon Marketplaces

Acquire an ISO accreditation

Get liability insurance
Listing Policy Violations
Listing policy violations usually happen when a product's attributes are tampered with. This could be a genuine mistake on your part or a hijacking attempt by another seller. If you receive this violation, you'll need to go through the appeals process and submit a plan of action (POA).
Assuming this is not a case of listing hijacking, here are the type of things you can do to get rid of this violation:
Send Amazon the ASINs and product details of all times when they are sold in bundles

Using the product's USP, show that the product is not a duplicate

Send documentation such as inventory photos and supplier invoices

Highlight why the product matches the listing, which includes the UPC code, brand name, description, and images

Provide details about the supplier

Get the distributor to vouch for you via a document you can share with Amazon
Restricted Product Policy Violations
Products in restricted categories must comply with the law and Amazon's rules. This includes drugs, alcohol, fine art, composite wood products, and much more. If you're brave enough to sell a restricted product, you'll need to register them with a local authority.
For example, pesticide products in the United States can only be sold with an EPA registration
number. Also, some products can only be sold in "New" condition.
Note that restricted products can become banned altogether on Amazon, which means the only course of action is to get rid of them.
Customer Product Reviews Policy Violations
Amazon places a lot of emphasis on customer reviews - after all it's one of the key factors in Amazon's success as a global marketplace.
Amazon does not allow sellers to leave reviews on their own or competitor products. Also, sellers cannot ask buyers to make, change or remove a review. If your listing is suspended because of a customer product reviews policy violation, here is what you can do:
Make a case for why your reviews are verified and genuine
Contact the local Seller Support team to report a reviewer
Other Policy Violations
In this section, you may see violation notices that do not fall under the categories above. A wide range of violations can occur, which could be something specifically related to your account or product.
You should contact an account health specialist if you need more clarification when receiving a new violation for the first time.
Delivery Performance
It's no real surprise that Amazon expect amazing delivery performance from it's sellers, with the billions that they've invested into their own fulfilment structure.
Hence, if you want to sell under Amazon's brand, you're expected to maintain excellent delivery standards. Make sure to meet desired performance for the following metrics, which can be found on the right-hand side of the Account Health page.
Late Dispatch Rate
The LDR (Late Dispatch Rate) is measured over a 10 and 30 day timeframe, and it's the percentage of orders that were shipped past the expected ship date. This number has to be kept under 4%.me.
Valid Tracking Rate
The VTR (Valid Tracking Rate) only applies to FBM or seller-fulfilled orders. The rate is expressed as a percentage and measured over a 30-day period. It measures the number of orders that received a valid tracking number, and it's expected to be above 95%.
Pre-fulfillment Cancelation Rate
The pre-fulfilment cancellation rate is the number of orders that the seller canceled. It's expressed as a percentage of the total orders, and it must be below 2.5%.
The most common reason for cancelling an order is when the item is out of stock. So inventory management is key for this metric.
What Happens When the Health Account Metric Targets Are Not Met?
Once health account metric targets are not met, the best action to take will vary based on the specific problem. For example, if you are experiencing poor customer reviews, your supplier may need to improve quality consistency.
However, if the issue is with delivery performance, you should figure out why deliveries are not processed optimally. Note that you can avoid negative delivery performance metrics by choosing to sell using Amazon's FBA program.
Amazon may reach out and require a Plan of Action submission. However, many policy compliance violations can get removed without a POA if specific actions are taken to remedy the problem.
To prevent and overcome violations quickly, you'll need to source products from a reputable distributor/supplier and keep a record of invoices/receipts. This allows you to prove product authenticity and quickly remove violations without merit.
How Shopkeeper Can Help You Improve Your Amazon Account Health
Shopkeeper has recently introduced a new Health and Alerts module, including a Listing Health page.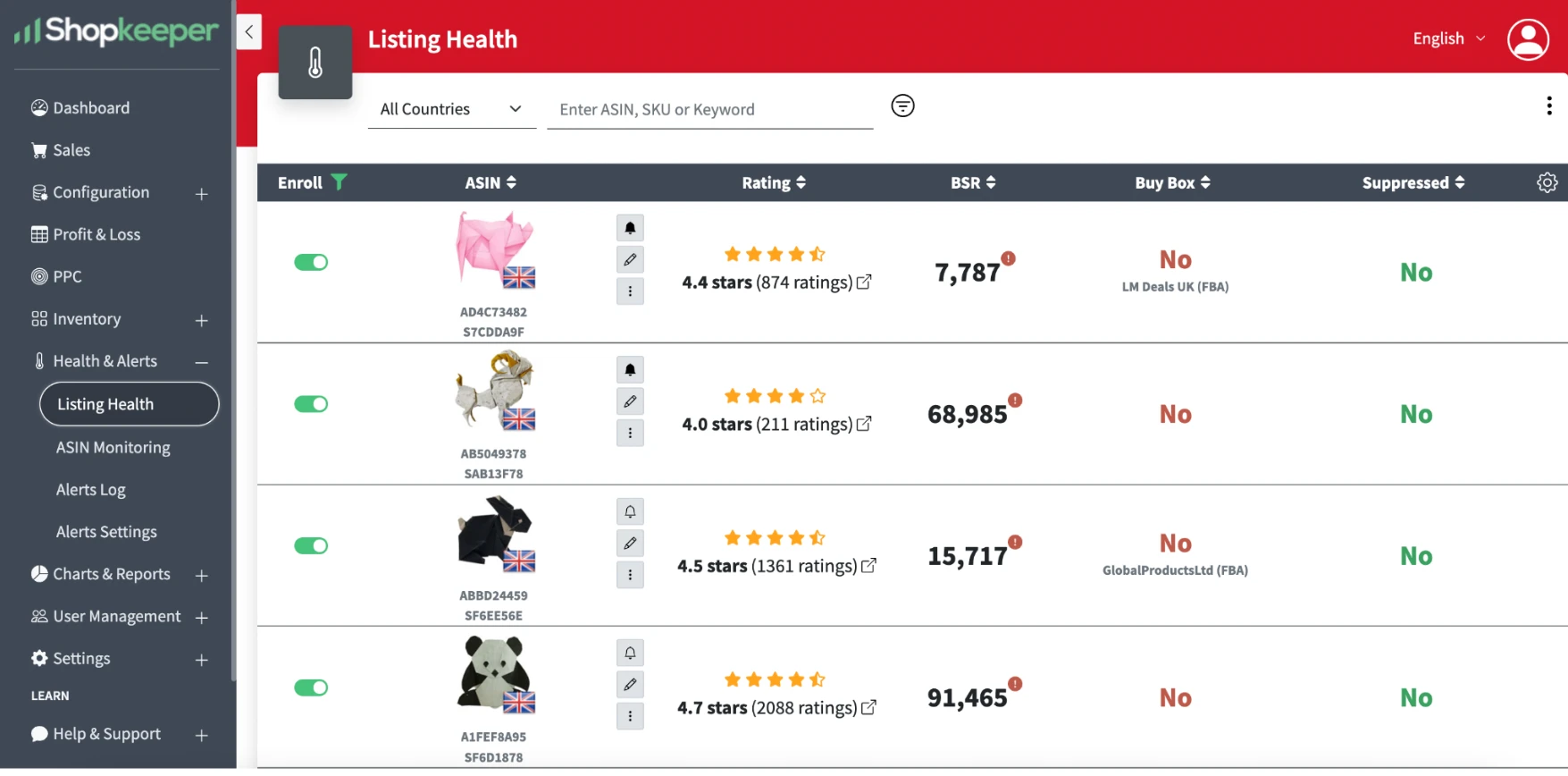 This page allows you to enrol certain ASINs and have key metrics tracked for you automatically, including:
This gives you an immediate overview of the health of your Amazon listings and can help you spot potential problems before they impact your account health rating.
And speed is an integral factor when it comes to keeping on top of account health issues on Amazon. That's because some violations may suspend your listing, which leads to a loss of sales and potentially your organic rankings in Amazon's search results.
So head to the Listing Health page now to start enrolling your products.
Final thoughts
The list of factors you need to optimize above might seem overwhelming initially, but eventually dealing with these problems will become second nature. After dealing with each violation once, you'll understand the process of getting them removed.
Also, it's good business practice to complete the steps that keep your Amazon Account Health page in good standing order. The page is designed to help sellers improve the quality of their products and customer service experience and that's how you should try to view it.
FAQ
Will improving my Account Health page metrics increase sales?
Yes, improving the Account Health page metrics will lead to more sales in the long term. That's because you'll have a lower chance of getting a product listing suspended. Also, you're encouraged to improve product quality, which may result in better review scores.
Is Amazon account health page support free?
Yes, the Amazon Account Health page is free since there is no extra charge for the service. This includes using the phone helpline to call the Account Health page specialists.
Can I lose my Amazon account with a bad account health page?
Yes, you can lose your Amazon account if the Account Health page becomes bad enough. You need to keep an eye on this page and deal with violations as they come up. However, Amazon wants sellers to improve, so they provide support to aid this process.