Amazon Seller Fee Changes 2023
The Amazon FBA fee changes for 2023 are significant, and with the changes in effect as of January 17th, 2023, it's important to ensure you're using these updated fees for all your product profitability calculations.
In this article, we'll go through all the Amazon seller fee changes with before and after tables so you can see exactly how much higher Amazon's FBA fees will be in 2023.
We also share what you should take into account when considering Amazon's removal, disposal, and liquidation services in order to avoid the hefty FBA storage fee increases.
2023 US FBA Fulfillment Fee Changes
Let's start by looking at the US FBA fulfillment fee changes for non-apparel products, apparel products, and dangerous goods. As you can see in the tables below, there is extra granularity with more weight tiers, and the fees are generally increasing, as to be expected with Amazon.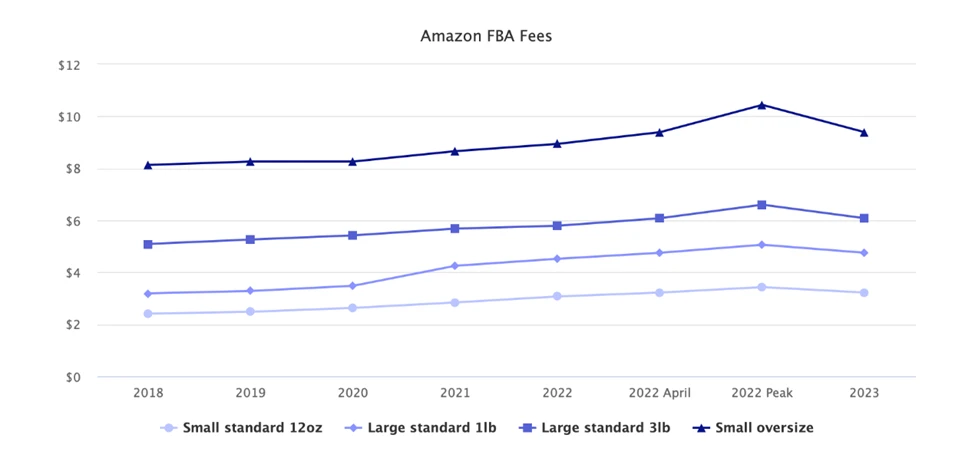 Non-Apparel FBA Fulfillment Fee Changes
These fees are for products that are not apparel or dangerous goods. On average, the fees are going to increase by $0.22. Also, you'll notice that peak and non-peak fees have merged into a single fee structure. You should incorporate this change into your strategy if previously you prioritized using FBA during non-peak periods to save money.
Also, here is what Amazon has to say about how the fees will be calculated: "greater of unit weight or dimensional weight will be used to calculate the shipping weight for all large standard-size and oversize units, except for special oversize"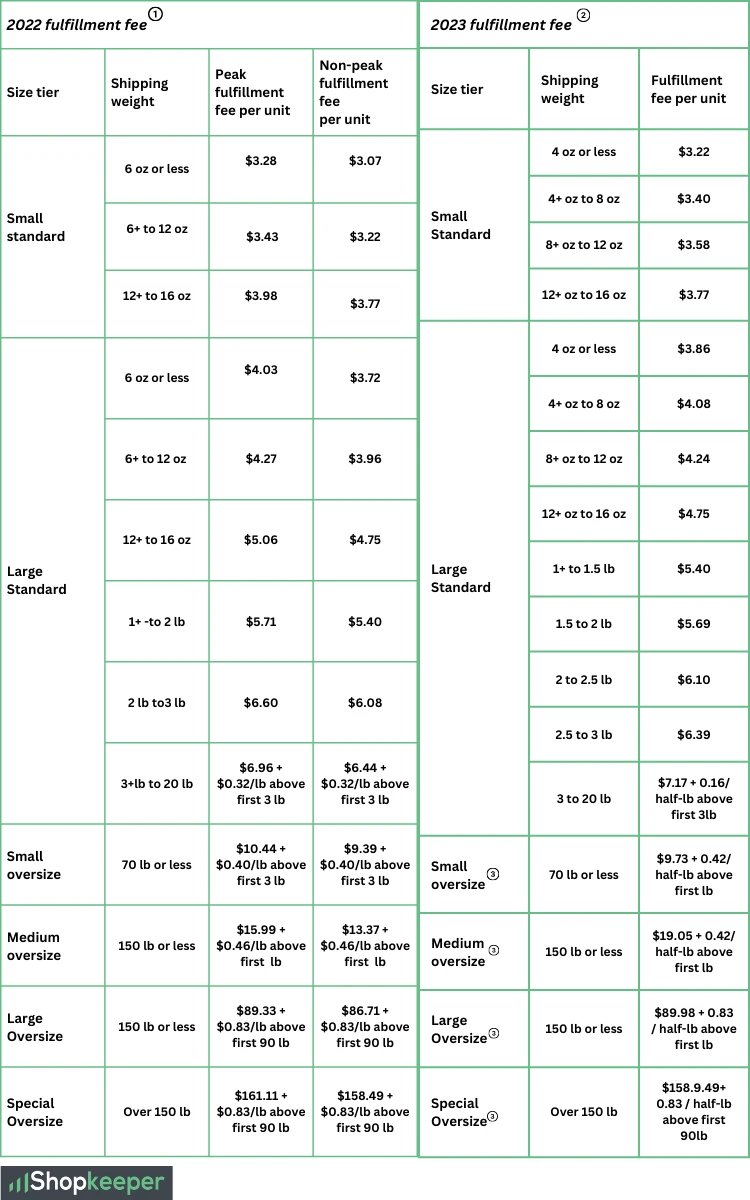 Apparel FBA Fulfillment Fees Changes
Note that the way shipping weight is calculated will change, as mentioned in the last section. The fees below mean that apparel sellers will generally pay more to use Amazon's FBA service.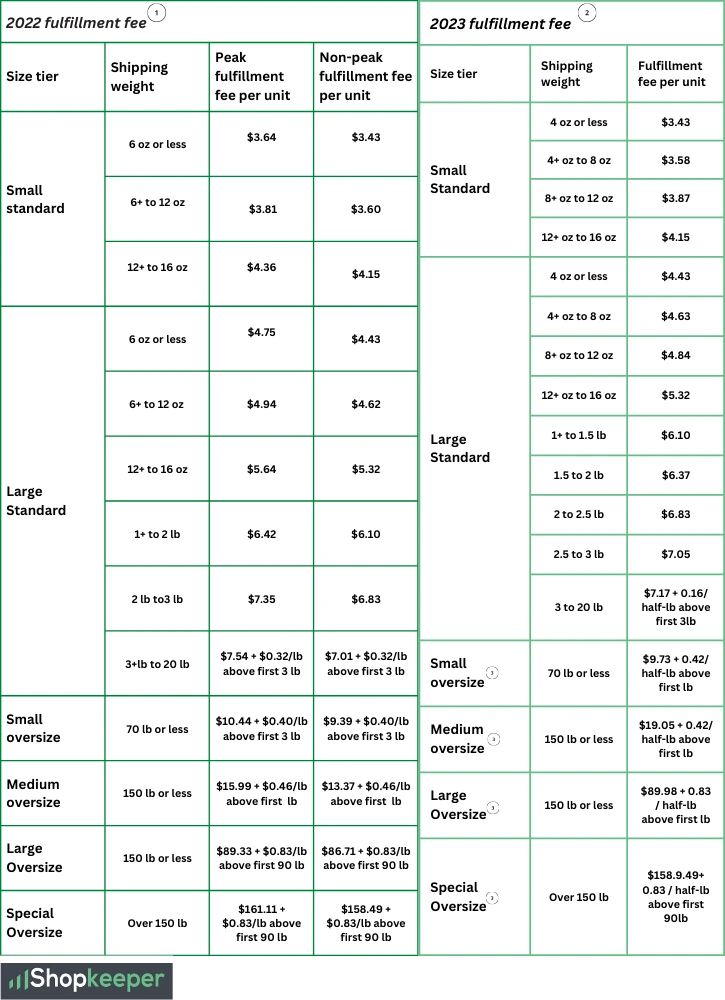 Dangerous Goods Fulfillment Fee Changes
Dangerous goods have a separate category on Amazon, and fees are higher than for regular products. That's because extra care needs to be taken when handling them. The table below indicates the fees are increasing - for example, large standard products of 1.5-2 lb will increase from $6.00 to $6.29.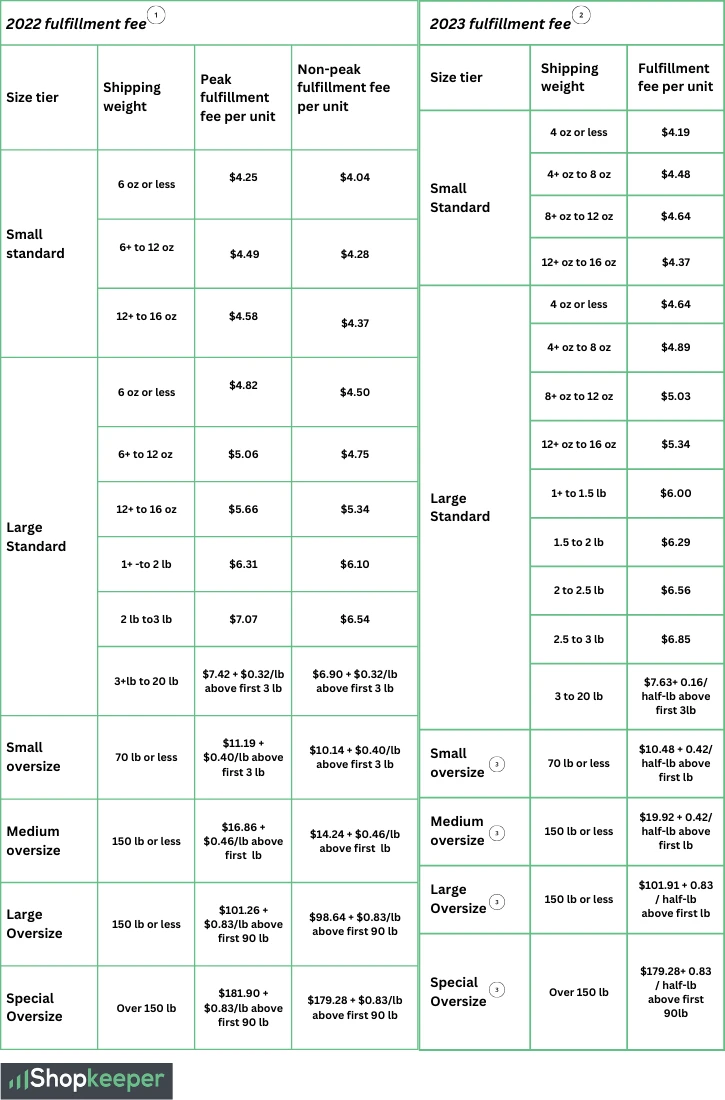 2023 FBA Monthly Storage Fee and Aged Inventory Surcharge Changes
This section focuses on the fee changes surrounding the cost of storing goods at Amazon warehouses. Overall, this is where Amazon has focused on the more drastic fee increases, and that means that inventory management is now more important than ever to retain profitability.
The changes will come into effect throughout 2023, so pay attention to the dates to determine when your Amazon FBA business will be impacted.
FBA monthly storage fee changes
On February 1st, 2023, Amazon will increase off-peak (JAN-SEP) inventory storage fees:
For standard-size products by $0.04 per cubic foot

For oversize products by $0.03 per cubic foot
The change will only be reflected in March 2023 for storage that takes place in February.
Furthermore, from October 1st 2023, the peak inventory storage fees (OCT-DEC) will increase for oversize products by $0.20 per cubic foot, and they will come into effect in November 2023.
Here is a table to summarise the FBA monthly storage fee changes: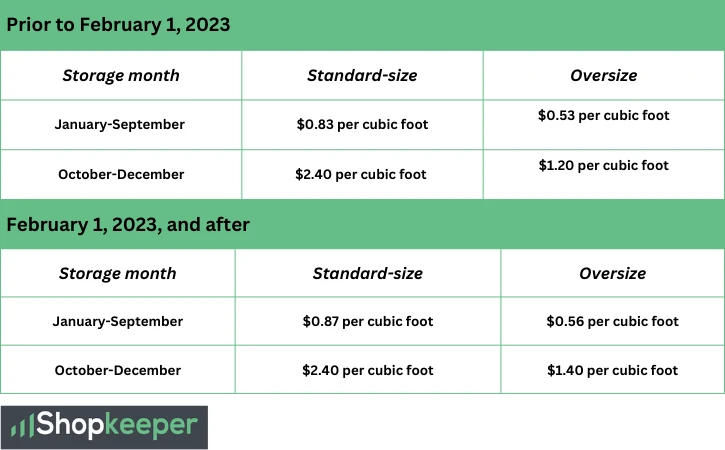 Furthermore, from April 1st 2023, the Storage Utilisation Ratio will come into effect, which is a monthly storage fee surcharge. The fee is aimed at sellers taking up a large amount of space in Amazon warehouses compared to the amount they sell.
Amazon states that this fee will only affect around 7.5% of sellers.
To avoid this fee, you should ensure that the amount of cubic feet you use for storage is proportionate to the number of sales you're generating. According to Amazon, here is how it will be calculated: "ratio of your average daily inventory volume stored in cubic feet divided by the average daily shipped volume in cubic feet over the trailing 13 weeks".
Note that the storage utilisation ratio only applies to Professional sellers above 26 weeks. Once you qualify for the surcharge, it will be added to your base monthly storage fee.
The tables below show how the fees affect standard-size and oversize products.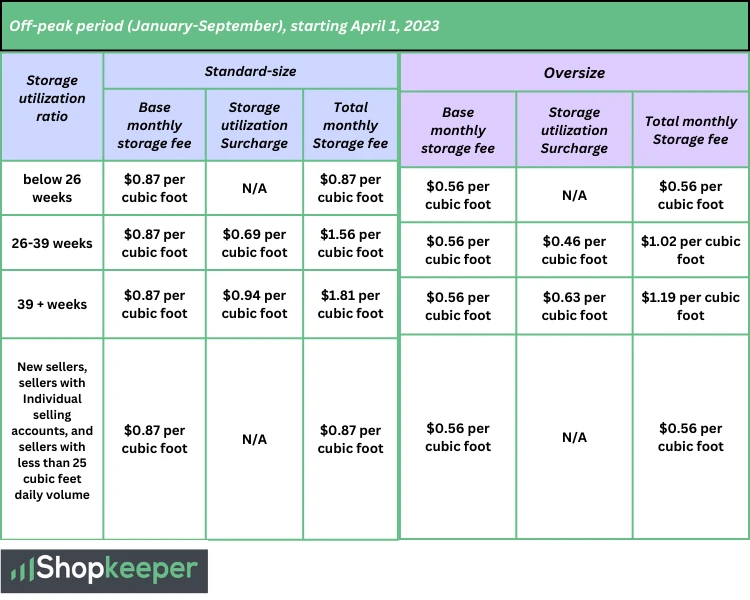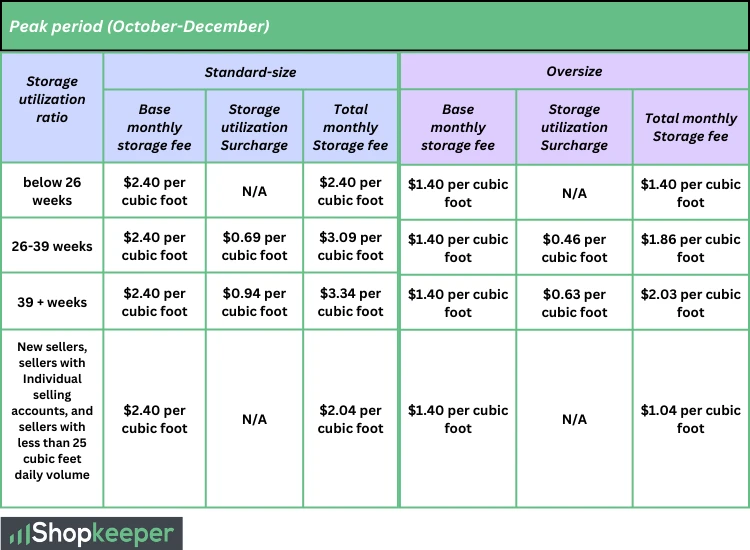 FBA Aged Inventory Surcharge
On April 15th, 2023, long-term storage fees will be replaced by an aged inventory surcharge and once again, there are some significant fee increases here, as seen in the table below:
Previously, long-term storage fees started when the inventory age reached 271 days but it now applies from 181 days onwards.
And not only that, the same time periods have seen an extensive increase in storage fees under the new aged inventory surcharge.
Inventory aged 271-300 days will now cost $3.80 per cubic foot, an increase of more than 150%.
Inventory aged 301-330 days will cost $4.00 per cubic foot—an increase of 167%.
And finally, inventory aged between 331-365 days will now cost $4.20 per cubic foot—a huge 180% bump!
It should now be clear why so many Amazon sellers are re-thinking their inventory management plan, as it's become vital to ensure your stock doesn't fall into the aged inventory surcharge.
And as always, Shopkeeper is here to help with our dedicated Inventory page, which has a number of features built to help you plan and track your Amazon FBA inventory.
Aging inventory alert flags

This will show you at a glance when inventory reaches 91 days (orange) and 181 days (red), allowing you to react before the aged inventory surcharge kicks in.
2. Inventory alerts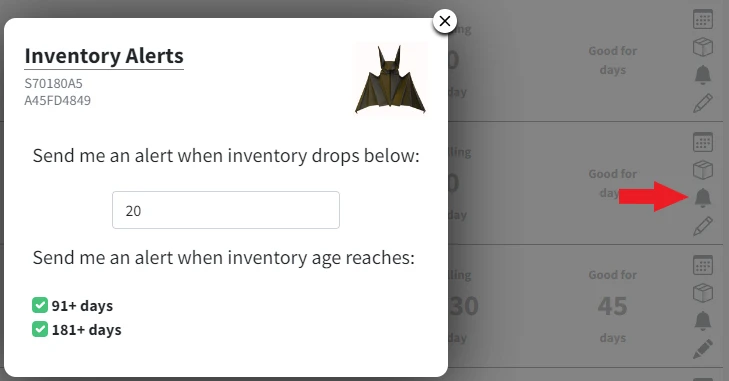 Clicking the bell icon will allow you to set up alerts for when your inventory drops below a certain level or reaches a certain age.
3. Re-order estimator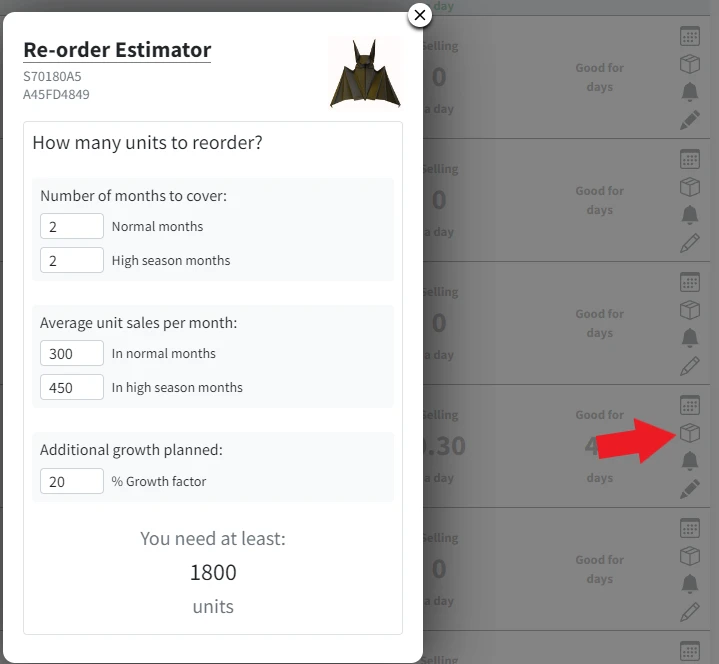 Clicking the box icon will give you the incredibly simple but powerful reorder estimator tool. All you do is enter the number of normal and high season months you want stock for and your estimated sales for each, as well as a growth percentage to factor in, and we'll tell you how much stock you need to order.
4. Order scheduler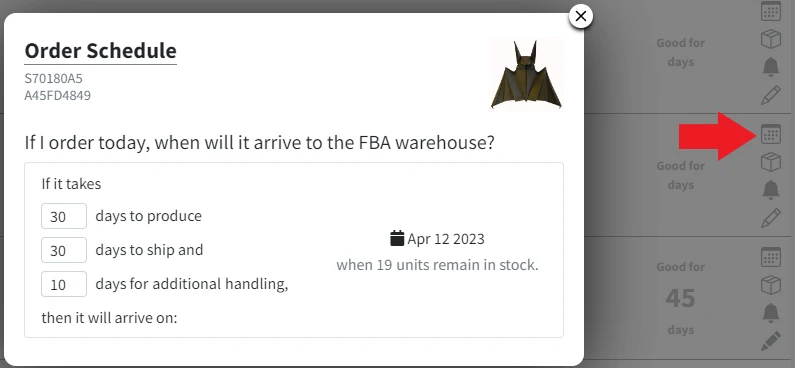 Last but not least, we have the calendar icon and order scheduler.
Using this tool, you enter your manufacturing time, shipping time, and add on a number of days for additional handling, and we'll work out exactly when your order is expected to arrive at Amazon's warehouses (and how much stock you'll have left by that time!).
Used in conjunction, these tools give you a powerful inventory management system, all included as part of your Shopkeeper subscription.
2023 FBA Removal and Disposal Order Fee Changes
On January 17th, the removal and disposal order fee changes will occur, which Amazon says are driven by the increased costs of these services. Some of these fee changes are significant. For example, removal or disposal of standard-size products with a shipping weight of 0-0.5 lb, the cost increases from $0.52 to $0.97, almost double! 
Here is a table to summarise the fee changes: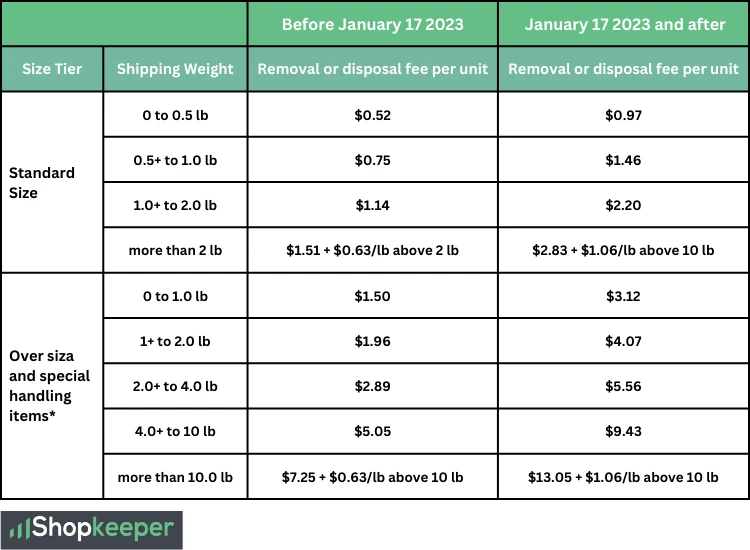 Returns Processing Fee
The returns processing fee relates to Apparel and Shoes categories. And it will on average be reduced by $0.20 per return— at last, some good news about this year's fee changes. Here is a table of the new returns processing fees: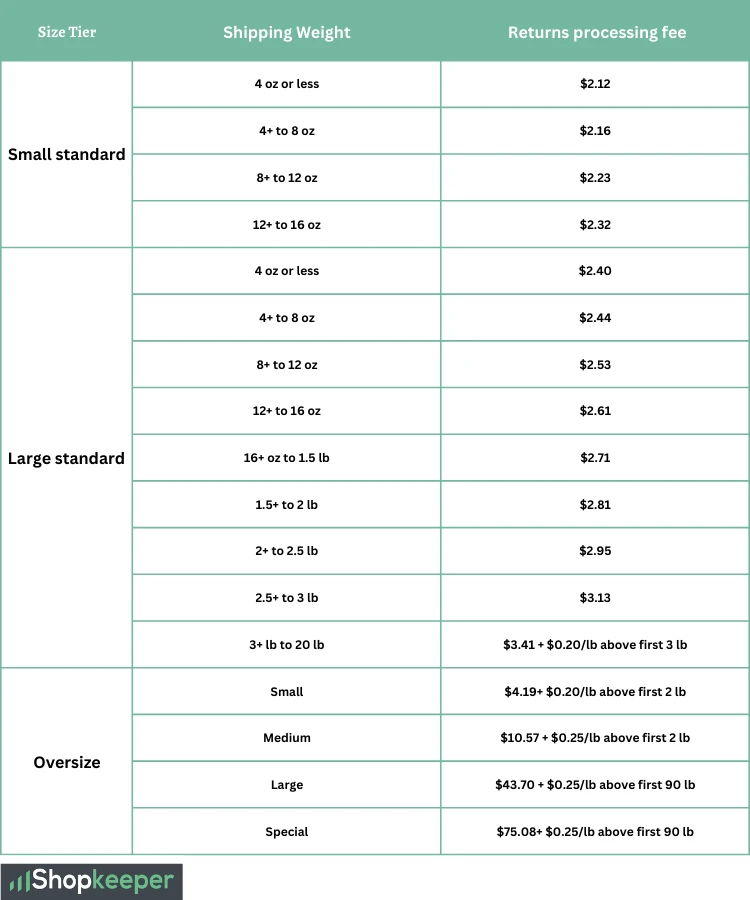 Furthermore, from January 14th of 2023, sellers will get charged for customer returns of seller-fulfilled orders when a carrier shipping correction is required.
According to Amazon, your account may get charged if:
The dimensions, weight, or both of the returned products do not match the product listing.

The outbound shipping label or the return address is incorrect or undeliverable.
Also, a charge of $18 is applied to packages that cannot be returned because the return address is not valid. 
Returns and refunds on Amazon can be a real minefield in itself. Take a look at this blog post if you want to delve more into the financials and understand exactly how it works: Amazon Refunds and Returns for Sellers.
2023 FBA Small and Light fee changes
The FBA Small and Light program is also seeing changes. Here's a summary:
The items eligible for the program will increase from a maximum of $10 to $12.

Some size tiers under 1 lb will be broken up into 4-ounce increments.

Size tiers over 1 pound will increase in 0.5 lb increments.
The price increase for eligibility to $12 can be a game changer for Amazon sellers that have products around this price point. For example, if you sell products for $10.99, you can now enter the program and enjoy the much lower FBA fees for Small and Light.
Here is a table to showcase the fee changes: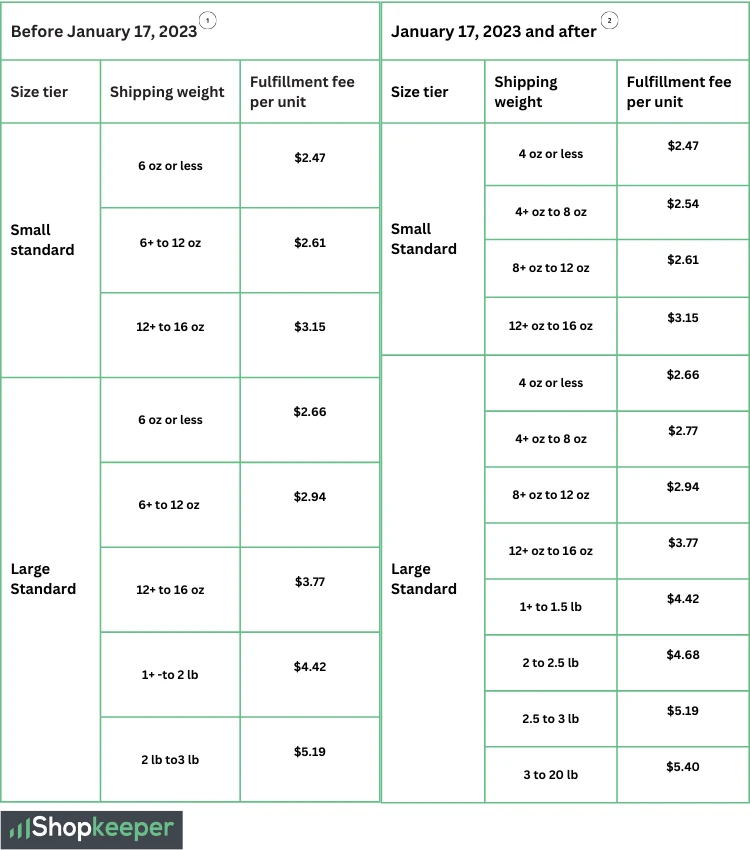 2023 FBA New Selection Program Changes
The FBA New Selection Program is a great place to start for beginners who want to take advantage of reduced fees. Amazon says that they will continue to improve the program in 2023 for eligible sellers.
Here is a summary of the confirmed updates taking place on March 2023:
Benefits will be provided by up to 120 units per parent ASIN for storage, liquidations (only 100 ASINs), and rebates.

Rebates will be increased from an average of 5% to 10%, and they are available to sellers who complete the Brand Registry process.

The rebates apply to 30 units per parent ASIN for up to 90 days on oversize items, and they apply to 100 units per parent ASIN for up to 120 days, on standard-size items.
Avoid Increasing Costs With Removal, Disposal, or Liquidation Services
The fee changes give you some food for thought regarding the best option when you want to get rid of Amazon FBA stock. Whether you choose removal, disposal, or liquidation, it all comes down to cost.
This section provides an example for each case for when it would be the most cost-effective solution.
Removal 
The cost of Amazon's Removal Service includes a size-based tier system that costs $0.97–$2.83 per standard-size unit and $3.12–$13.05 per oversize unit. These costs can quickly add up when you need to remove a large batch of items.
Furthermore, you'll need to consider the storage cost of the location where the stock is being moved to. This might be a 3PL service, or you can store the products at home if you have the space.
On the bright side, you'll avoid the increasing Amazon FBA storage fees, which you get penalised twice with the aged inventory surcharge. Also, you can recoup some of your investment by selling the items through another channel.
Disposal
When Amazon stock is no longer sellable, disposing of the inventory might make the most financial sense. However, you need to consider Amazon's disposal fee, which has pricing based on size tiers. Note that the disposal fees are identical to removal.
However, with this option, you will of course not be able to sell your stock, so it makes the most sense if they don't have a lot of value outside of Amazon or if the resell price simply isn't worth it in comparison to the cost of storing and shipping the items yourself or via a 3PL.
Liquidation
Liquidation might be the best choice if you want to get some of your investment back, but there will be a 15% referral from the gross recovery value and a fee per item. You'll need to compare these costs to the price you'll pay for the removal route.
You should choose the liquidation route if the 15% referral and fees are lower than Amazon's removal fee plus storage fees until you sell the goods through another channel.
Final Thoughts
To summarise, these Amazon seller fee changes will affect almost every seller.
Most notably, the increase in long-term storage fees for aged inventory surcharges means you must get your inventory management right and time your re-orders so that incoming stock replenishes your virtual shelves just as the products are about to run out.
Here at Shopkeeper, we provide incredibly accurate sales forecasts, using real previous sales data, that you can depend on to mitigate the impact of Amazon's fee increases. Register today!
Frequently Asked Questions
Are Amazon fees increasing?
Yes, Amazon's fees are increasing in 2023 for various categories, which include fees for FBA services, removals, monthly storage, aged inventory, and more.
How do I reduce my Amazon fees?
You can reduce your Amazon fees by improving your inventory management by sending a smaller number of products, correctly forecasting when stock is about to run out, and by optimizing your product packaging.
Is it still worth selling on Amazon after the fee update?
Yes, it is worth selling on Amazon after the fee update; after all, Amazon is still the biggest e-commerce platform in the world with thousands of markets. The fees make profitability slightly more challenging, but in the long run, Amazon sellers should not be put off by these changes.