Inventory Aging On Amazon: What You Need To Know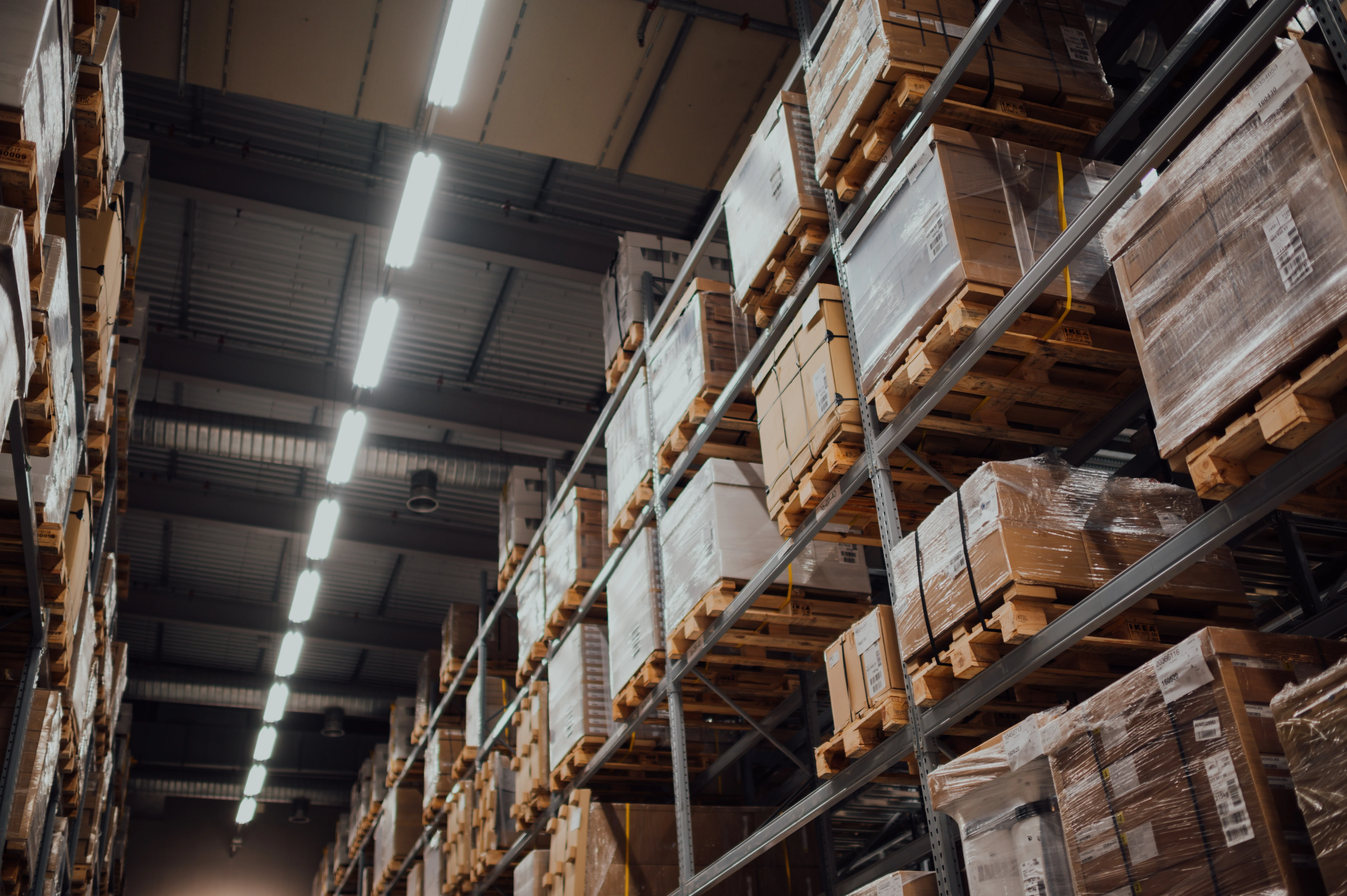 If you sell on Amazon, you know that maintaining healthy stock levels is one of the keys to success. This includes keeping enough product with Amazon to avoid costly stockouts, which directly loses you sales and profit, and can also have a long-lasting negative impact on your listing's search ranking!
However, there's a flipside to this, and low inventory levels is only one side of the problem - too much inventory can also damage your Amazon business.
In today's post, we will go over aging inventory, reveal why it's a problem on Amazon, and how to manage your inventory to maintain a high IPI (Inventory Performance Index).
Let's get started!
What Is Inventory Aging on Amazon
Inventory aging is a metric that measures how long an item has been in stock and available on Amazon without selling.
Amazon split this into: 
0-60 days

61-90 days

91-180 days

181-330 days

331-365 days

365+ days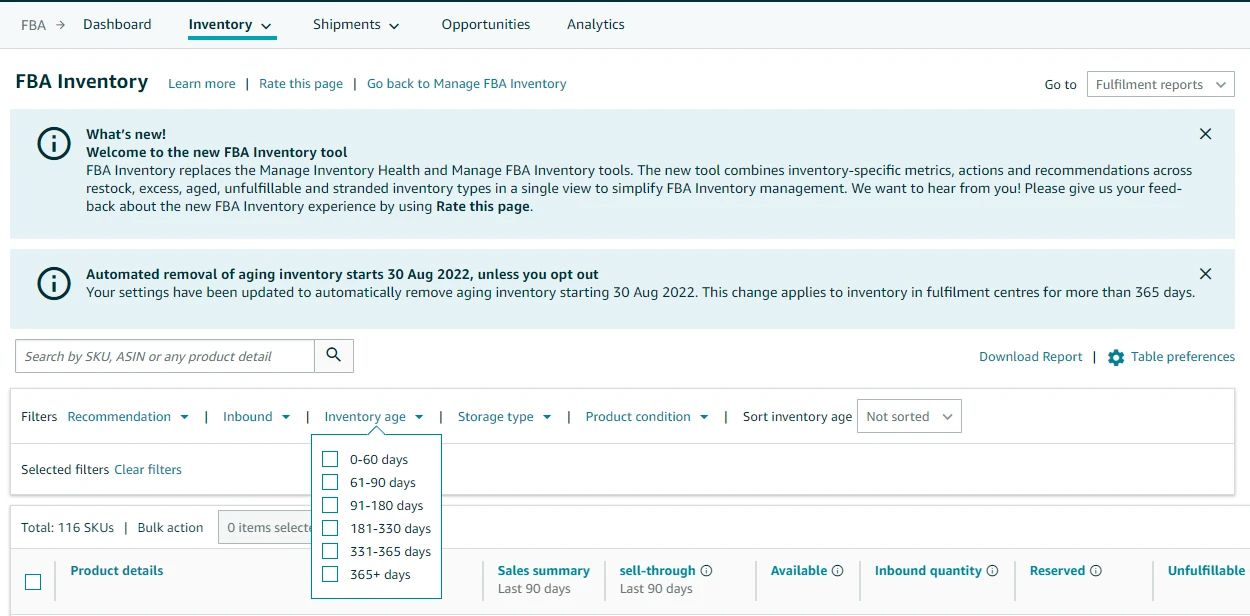 You can see full details of your inventory age by downloading an Inventory Report from within Seller Central:
Head to https://sellercentral.amazon.com/home and login

Click the menu icon

3. Click "Inventory"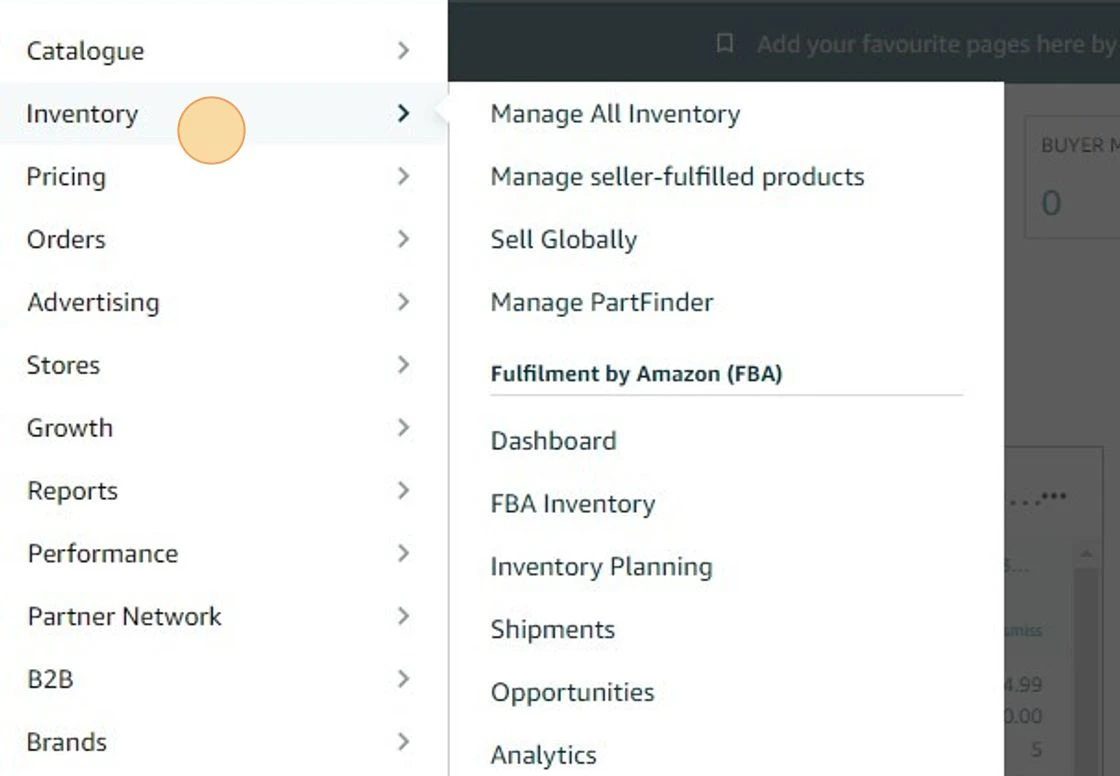 4. Click "FBA Inventory"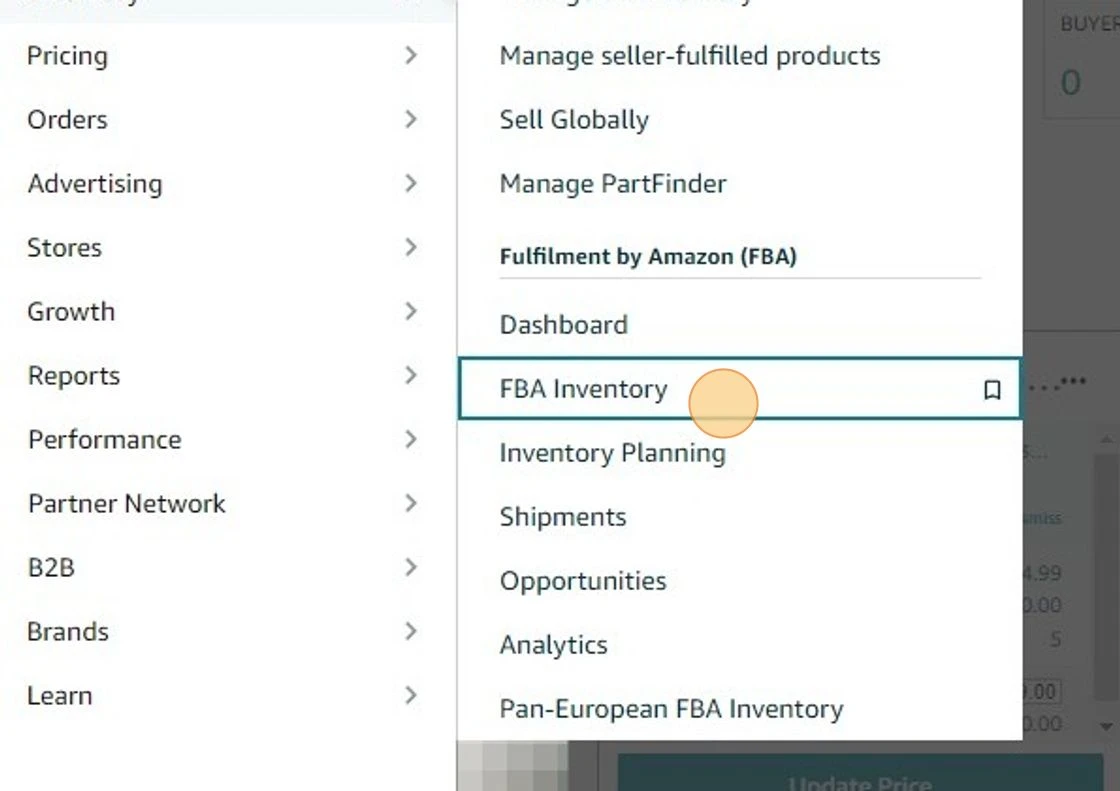 5. Click "Download Report"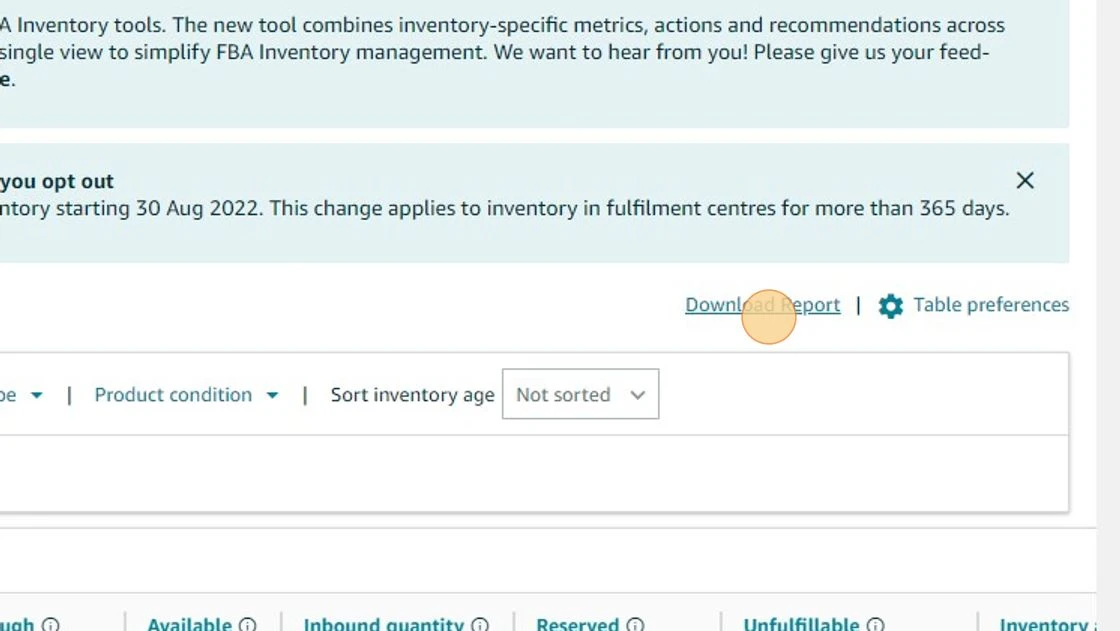 What is the problem with Inventory Aging on Amazon?
Aging inventory is a problem for any business, but it can be especially problematic for businesses that sell through Amazon. Not only can aging inventory lead to long-term storage fees and other penalties from Amazon, but it can also hurt your listing's sales rank, and damage your IPI score.
How Does Inventory Aging Affect IPI?

Inventory aging can significantly impact Amazon Seller's IPI (Inventory Performance Index). The IPI is a metric that measures a seller's inventory performance, and it takes into account multiple factors, including how well you balance inventory levels and sales, fix listing problems that make your inventory unavailable for purchase, and keep popular products in stock. As a result, inventory aging can have a direct bearing on a seller's IPI score.
There are two main ways that inventory aging can affect a seller's IPI score. First, older inventory is more likely to be obsolete, and this can lead to increased write-offs. Second, older inventory is also more likely to have higher days of supply, which serves as a drag on sales velocity. Both of these factors can lead to a lower IPI score.
Amazon enforces a minimum IPI score threshold that all sellers must meet. If your rating falls below that criteria, Amazon will impose storage restrictions on your account until your inventory levels recover
Fortunately, there are a few things you can do to avoid or minimize inventory aging on Amazon.
The easiest and most effective way is to manage stock levels so that you keep only 2-3 months' worth of stock at Amazon at a time.
But with manufacturing time, shipping internationally and locally, as well as check-in times at Amazon's warehouses, there are a lot of factors for you to take into account, and maintaining that perfect level of stock is easier said than done.
That's why you should consider using an inventory management tool like Shopkeeper. 
Shopkeeper Tools To Avoid Inventory Aging On Amazon
At Shopkeeper, we offer you essential tools that will assist you in managing your inventory in all aspects. You will have more accurate inventory forecasting and will be able to time your next order from your supplier more efficiently, preventing stockouts and excess inventory. 
Dedicated Inventory Panel
With Shopkeeper as your profit dashboard, you can easily keep track of all your aging inventory. With a dedicated panel on our inventory page, you can keep track of all aging inventory ranging from 0 to 90 days, 91 to 180 days, 181-271 days, 271-365 days, and 365 days or more.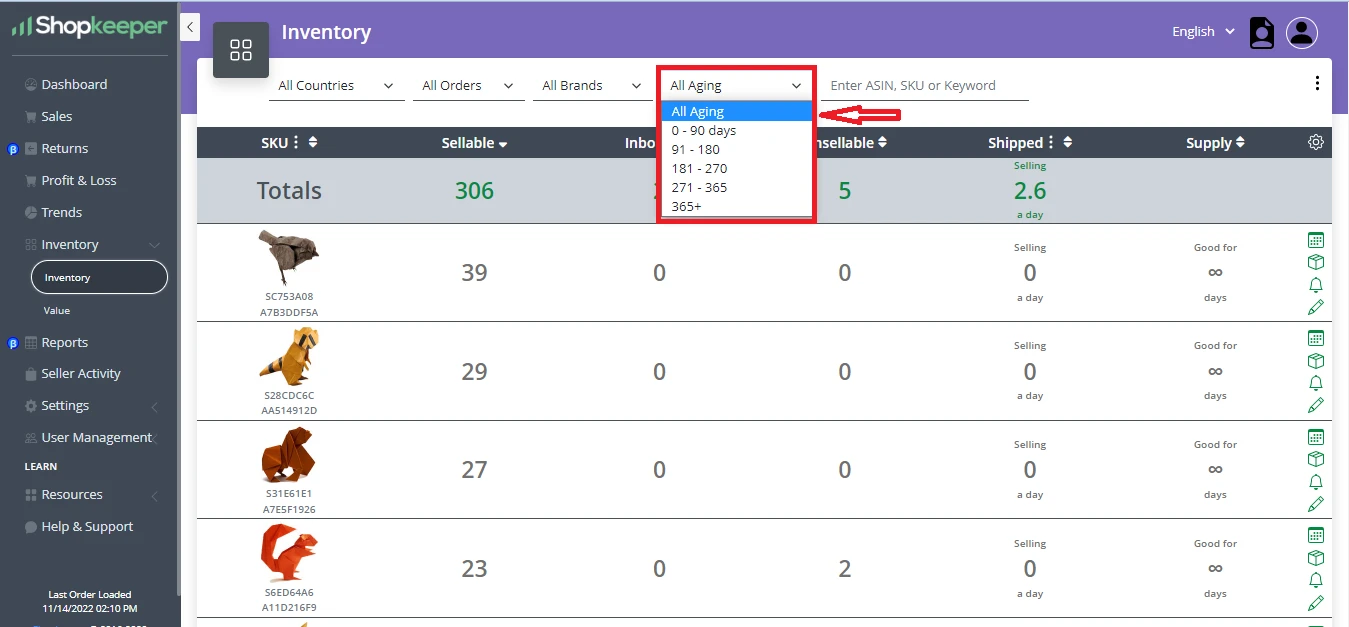 Simply click the top of the inventory aging range for the product you wish to verify to use this feature, and the inventory for that category will then show up.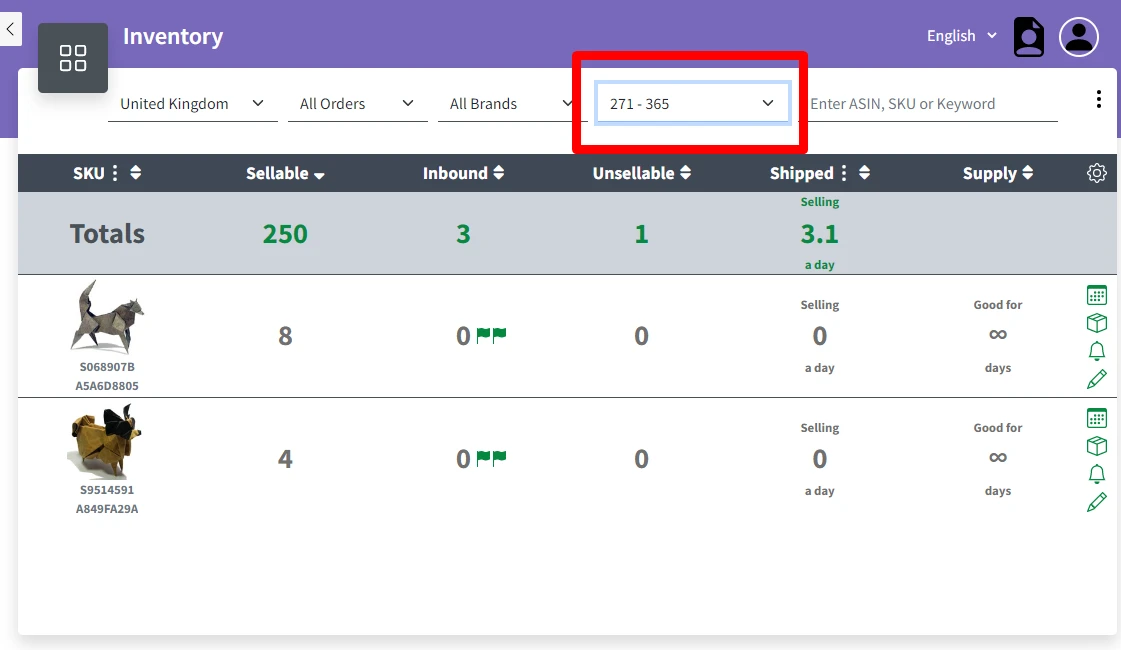 Inventory and Aging Alerts
On Shopkeeper, you can also set up Inventory Alerts, a powerful tool that sends you an alert email if your inventory has been in fulfillment centers for more than 91 or 181 days.
To set these alerts up, simply click the bell icon on the right side of your screen and then check the boxes to turn on the inventory aging alarm.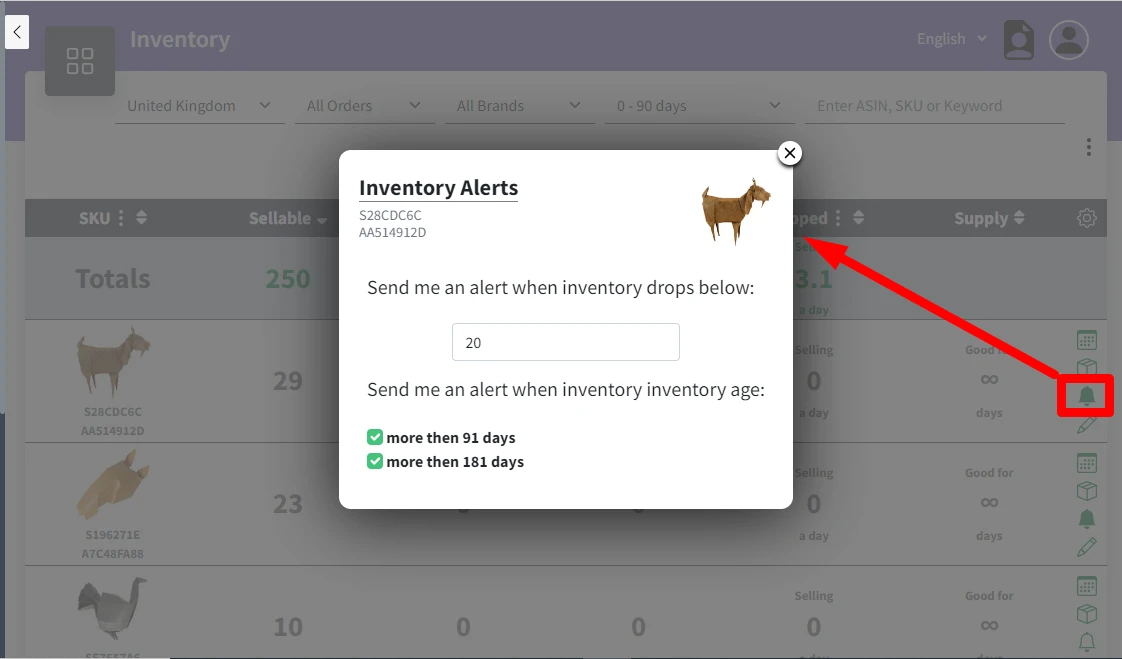 You can also configure an alert that will notify you when your inventory falls below a certain level. As shown in the image below, I've set an alert for when my inventory level for this ASIN falls below 20. This way you'll know exactly when your stock reaches your minimum threshold and it's time to replenish
Re-Order Estimator
It is crucial to maintain track of your inventory as it runs out, which is why the all-in-one dashboard that Shopkeeper provides has a Re-Order Estimator included.
By choosing the number of months' worth of sales that you wish to cover (split into normal and high-season months) as well as the amount of growth that you anticipate each month, this tool will assist you in determining exactly how much inventory you need to order.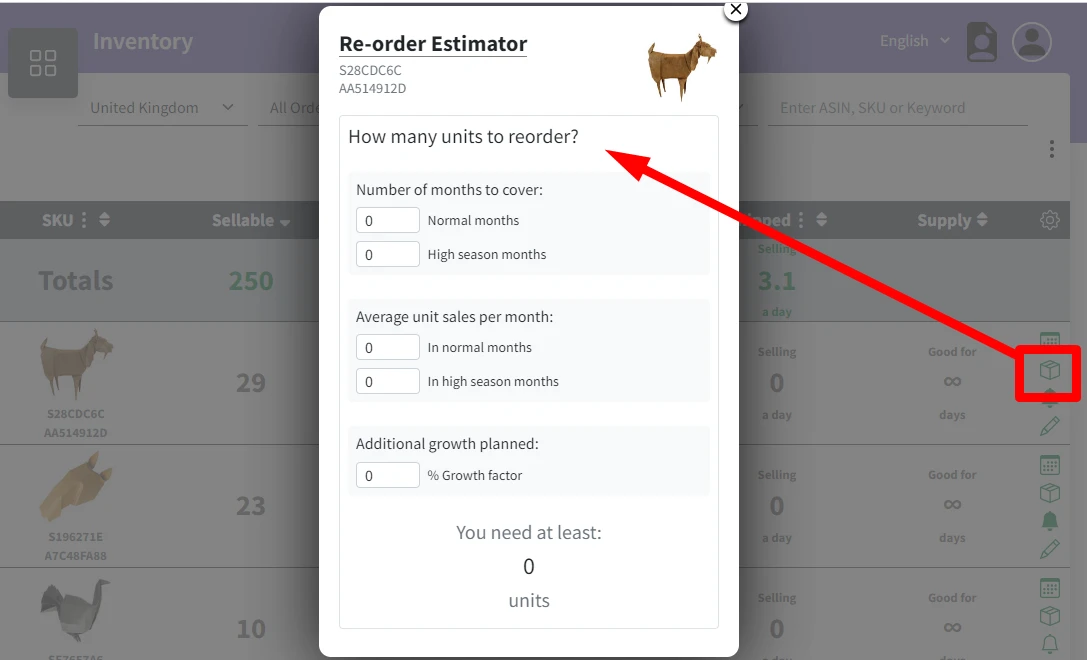 Order Schedule Tool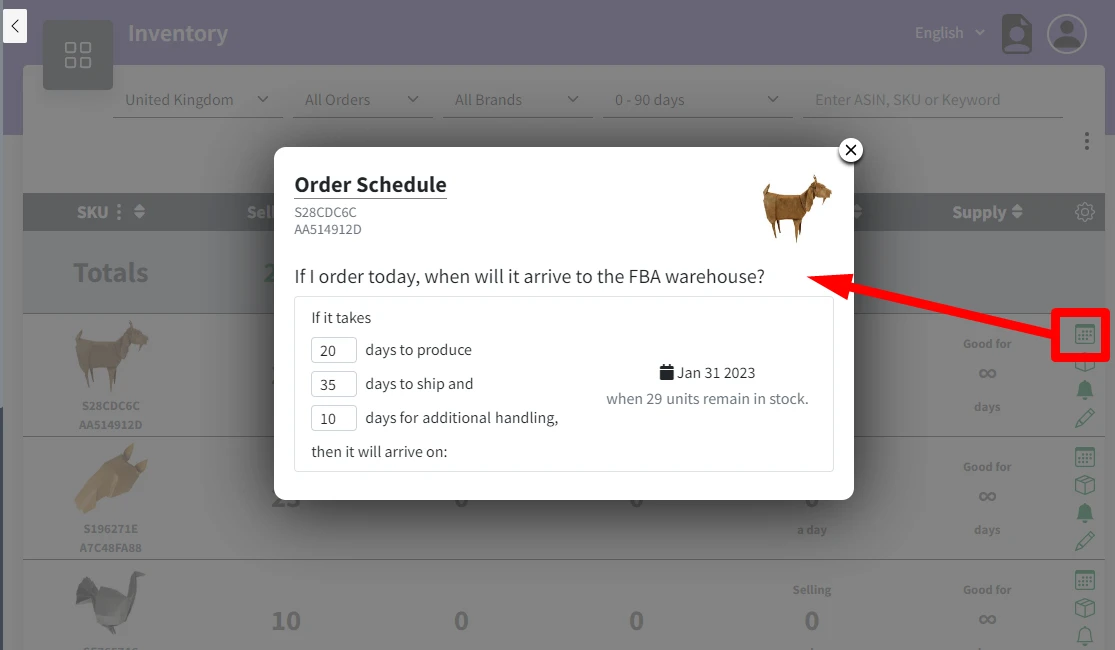 Not only does Shopkeeper help you calculate how much stock to order, but we also show you when you need to place this order by, using our Order Schedule Tool.
Simply enter some basic order information, such as manufacturing time and shipping time, and we'll tell you when your order is estimated to arrive at Amazon's fulfillment centers and how much stock you'll have left at that point. 
With Shopkeeper as your profit dashboard, all these powerful tools are at your disposal and will allow you to stay 2 steps ahead when it comes to inventory management on Amazon. To see these and our other amazing tools for yourself, start a free 2-week trial of Shopkeeper now.