Dashboard Widgets
One of the key points of Shopkeeper is the ability to get, at a glance, the information you want about your Amazon business.
And that's exactly what our Dashboard page was designed to do, with its full customizability and multiple widgets. 
Let's go through these widgets one by one so you can see exactly what each one does: 
Sales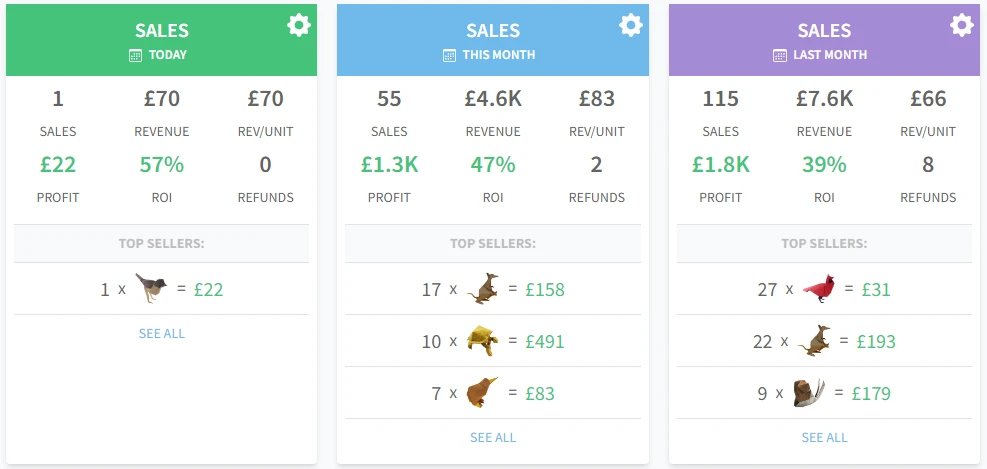 With the Sales widget, you can see a snapshot of your sales for any time period you want. 
Using the gear toggle on the top right allows you to filter by marketplace, order type, and date: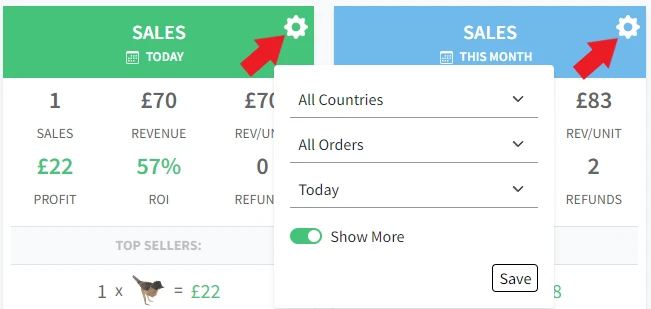 And the "Show More" toggle allows you to set whether you just want to see sales, revenue, and profit, or if you also want more detailed financial info.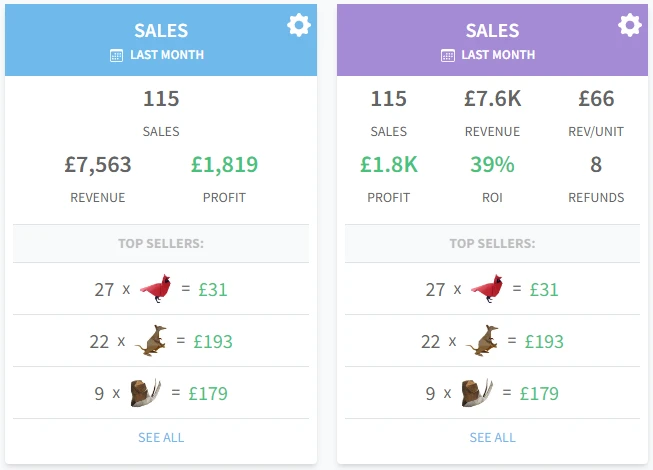 Clicking on a Sales widget will take you directly to your Sales page on Shopkeeper, with the same filters automatically selected.
Sales Growth 
The Sales Growth widget plots your Units Sold / Revenue over your selected time period.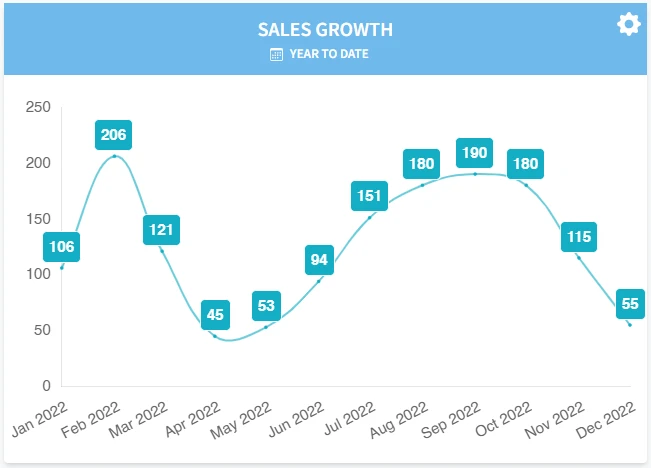 And once again we offer full customization via the gear icon, where you can set the marketplace, order type, and date range.
You can also choose whether to have a bar graph or line graph, whether to show data labels or hide them for a cleaner look, and whether to split FBA and FBM orders.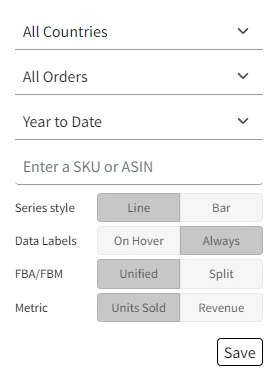 Listings
The Listings widget shows you your number of active, inactive, and incomplete listings, and can be filtered by marketplace.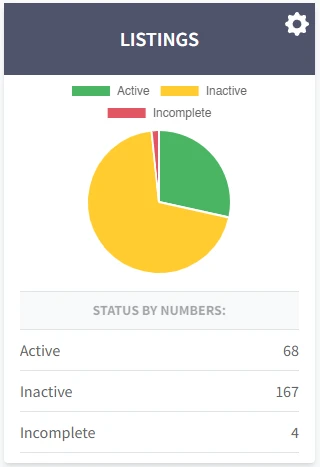 PPC
The PPC widget shows your PPC spend, split into Product, Brand, and Display campaigns, which can also be filtered by marketplace and date range.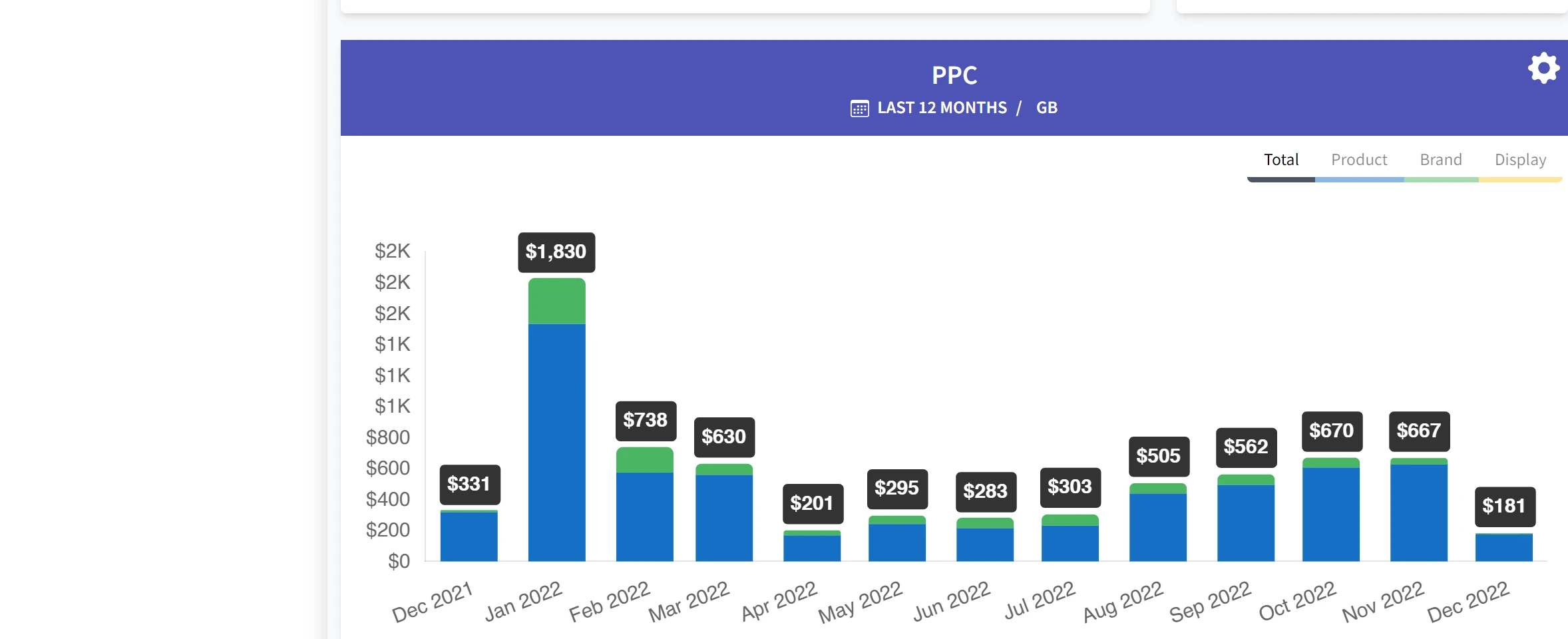 ACOS & TACOS
This widget shows you your overall ACOS & TACOS percentages, which can once again be filtered by marketplace and time period. You can also choose to see this data for one individual ASIN/SKU if you want to track any trends in your advertising spend for a specific product.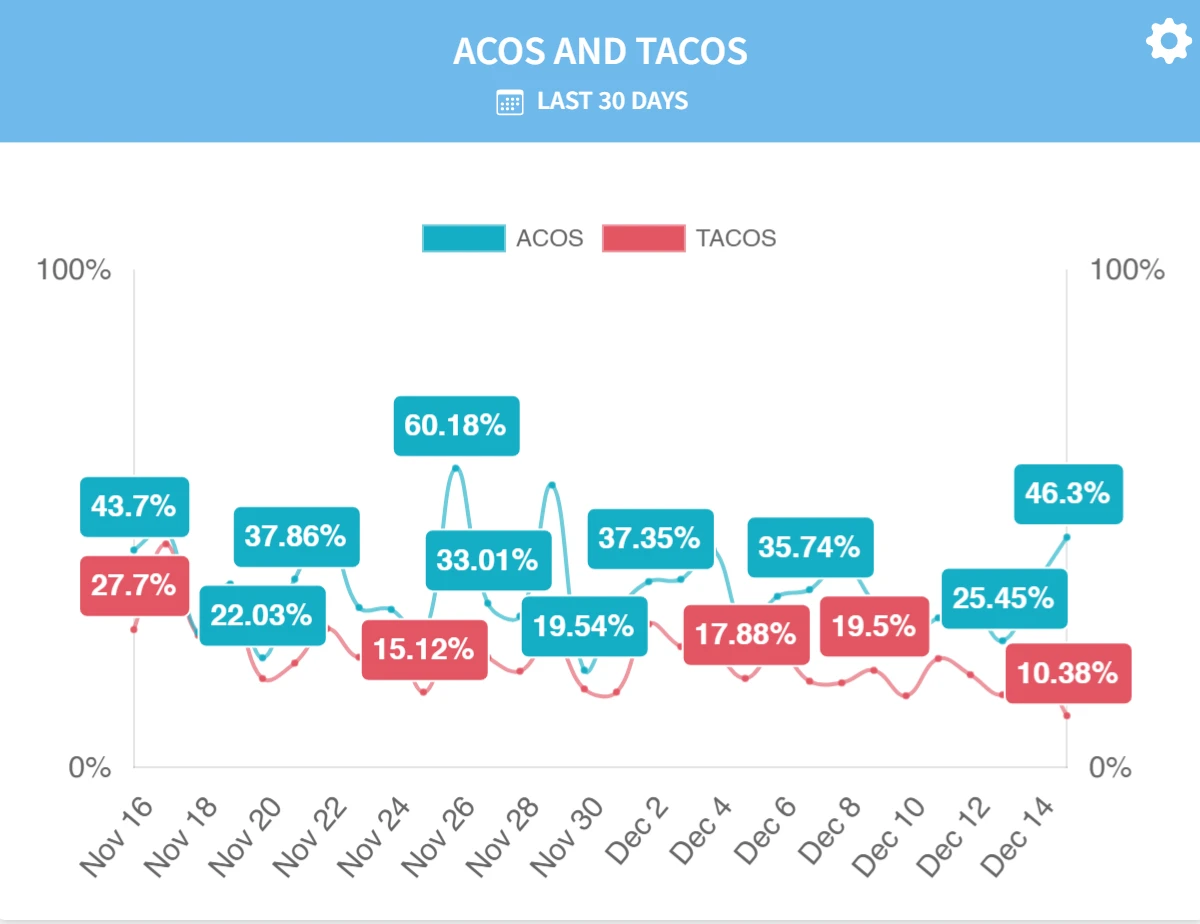 Top 10
The Top 10 widget lets you see your top-performing ASINs over your selected time period, by Sales, Profit, or ROI (for our arbitrage sellers).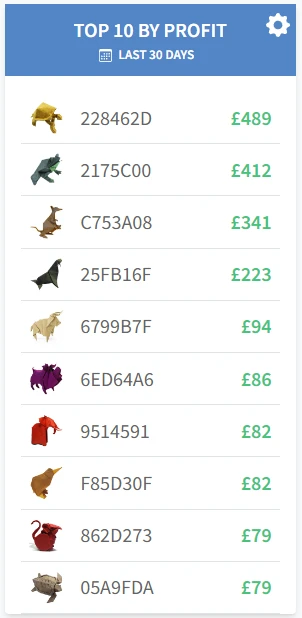 Record 
We also have our Record widgets, to help you track milestone days in your Amazon business. 
You can choose from record revenue, profit, profit margin, and units sold, and we're always looking to add more. 

Marketplace Comparison
The Marketplace Comparison widget lets you easily compare all your active marketplaces in two key metrics. You can choose between sales or revenue, and profit or profit margin.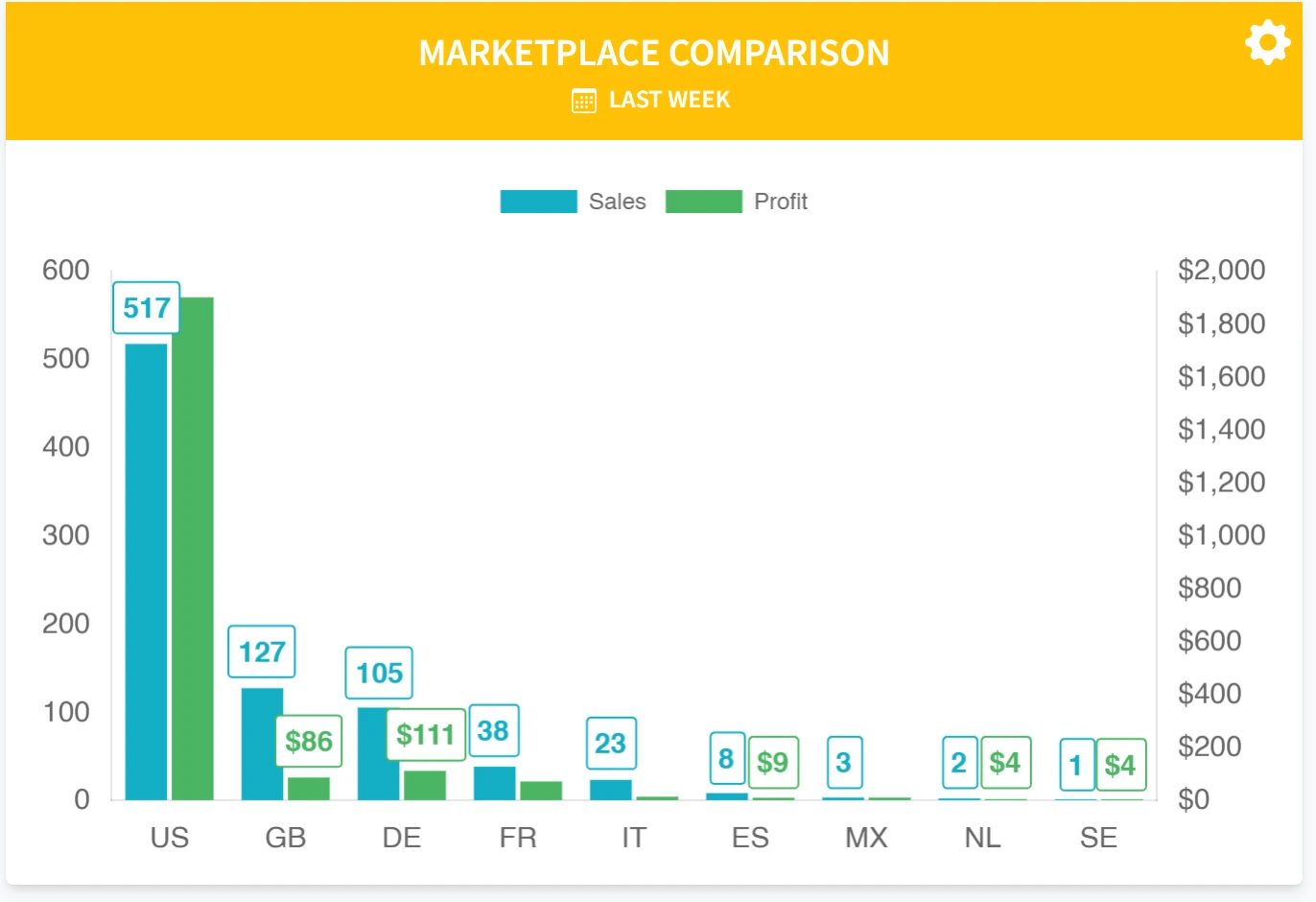 Available Cash
Last but not least we have the Available Cash widget, which shows you how much cash Amazon is holding for you in each marketplace, when each payout date is, and your total balance in your home currency.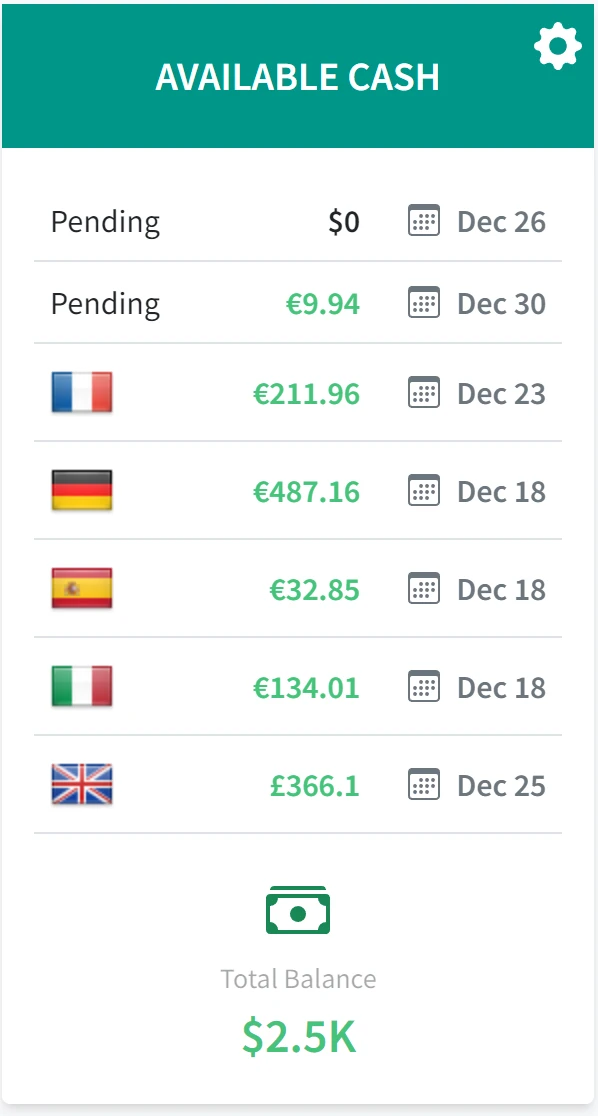 And there you have it! A full list of the Shopkeeper dashboard widgets. 
As always at Shopkeeper, we're constantly looking to improve and add more useful widgets here, so if you have an idea for a metric you'd like us to track, don't hesitate to get in touch!