Shipping from China Down 70% for Amazon FBA Sellers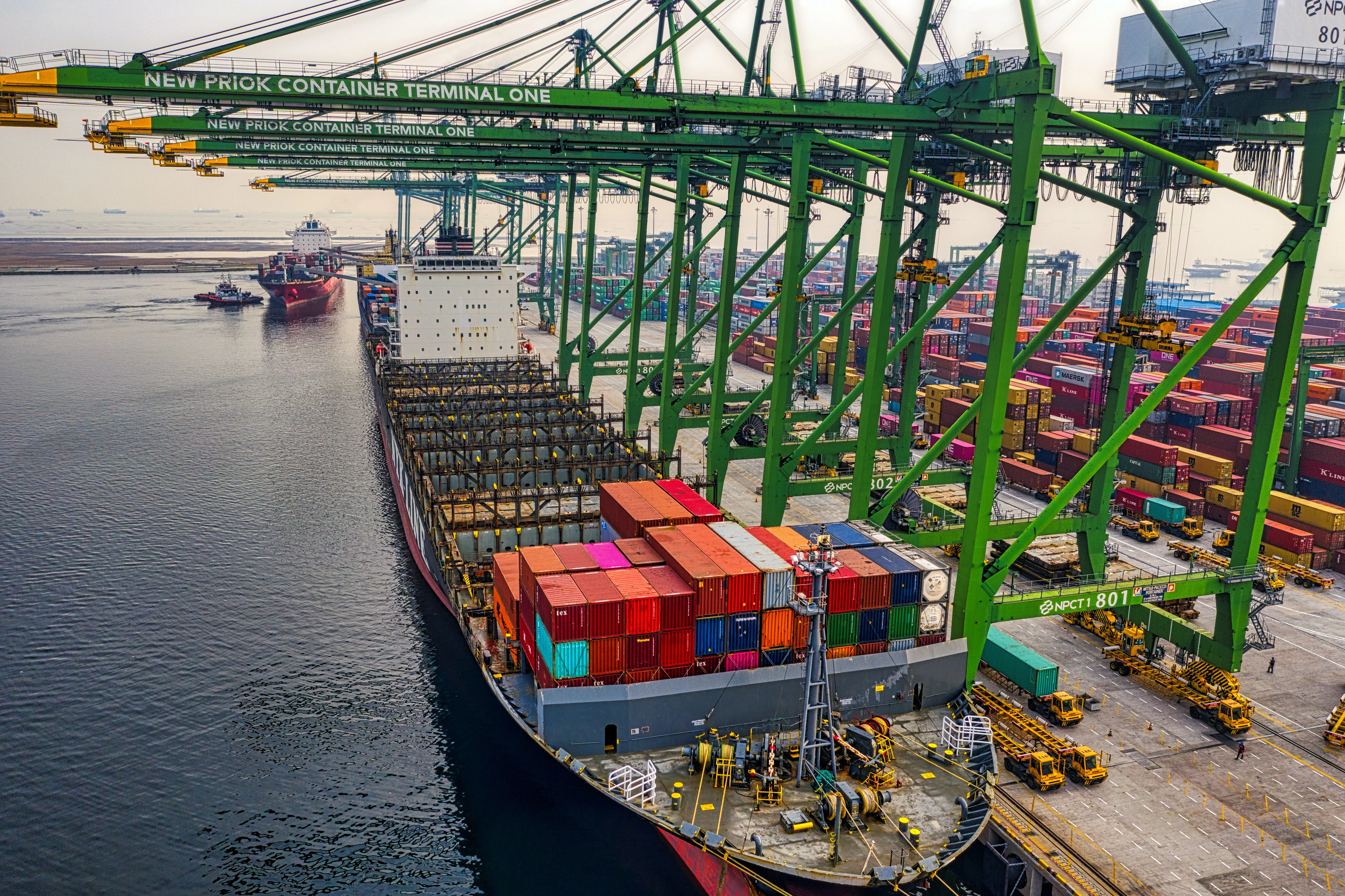 For once there is some very good news for Amazon sellers as freight costs from China have dropped significantly, and are now well below their inflated pandemic levels, with strong signs that they will continue falling.
But is this all good news or is there a worrying reason for the drop? And most importantly, how will it affect you as an Amazon seller? We'll cover all of that and more in today's post, so let's get to it!
What caused freight costs from China to increase during COVID-19?
To understand why they're dropping now, let's quickly go over what caused freight costs to increase so much during the pandemic.
This was due to a number of factors:
Increased demand for goods (particularly ecommerce and Amazon FBA)

A drop in the production of new containers

Port delays caused by lower productivity due to COVID-19
Basic economics tells us that an increase in demand and a decrease in supply will lead to higher prices, and that's exactly what happened, with typical freight rates for a 40ft container rising from $1,500-$2,000 to $10,000-$15,000 and even more!
But as predicted, 2022 has seen these rates start to return to normal and according to the Freightos Baltic Index Asia to US West Coast container freight rates were $5,405 for the first week of September 2022, down more than 70% from its peak of roughly $20,000 a year ago.
And there's still room for this to drop more as it's still around double the pre-pandemic freight rates: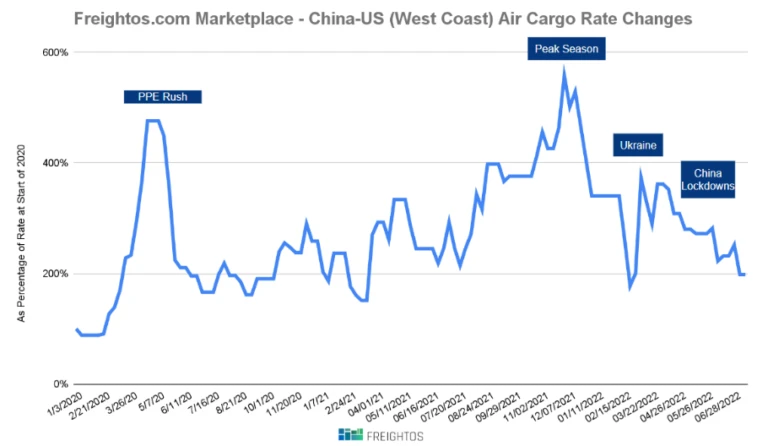 Even in September alone we've seen this tend continue with rates dropping a further 20%, now down to just $4,300.
Unfortunately these decreases haven't been as pronounced for either Asia to US East Coast or Asia to Europe freight rates.
| | | | |
| --- | --- | --- | --- |
| | Asia to US West Coast | Asia to US East Coast | Asia to North Europe |
| Rate | $5,405 | $9,073 | $9,579 |
| Change vs Last Year | -71% | -55% | -31% |
Why are shipping costs to Europe still so high?
China to Europe freight rates are still 7 times higher than their 2019 pre-pandemic level, which is a big problem for any Amazon Europe FBA sellers.
This is due to severely increased fuel costs as a result of the war in Ukraine, as well as persistent labor shortage problems in Europe, with the Felixstowe port strikes being the most recent example. What's caused the overall drop in freight rates from China for Amazon sellers?
Well simply put, reduced demand as a two year online spending spree is retracting amidst fears of inflation.
And once again there's a much more negative outlook here for sellers on Amazon's European marketplaces with inflation and energy prices in winter in particular a big concern.
What should you do as an Amazon seller?
Of course the most important question is how you should react as an Amazon seller?
Increased freight costs meant many sellers had no choice but to increase their prices in the past year to maintain margins and profitability, so the question arises of whether you should now decrease your prices as freight costs go back to normal? And the answer here is almost definitely not!
With so much volatility in shipping and manufacturing costs at the moment, and with big question marks over consumer demand with recessions and high inflation rates, and you really need some leeway within your margins, and you shouldn't be changing prices on a weekly basis to compensate.
So as always it's incredibly important to know your costs and margins down to the cent, and that's where Shopkeeper comes in as we allow you to enter each and every cost associated with your product, to give you the most accurate P/L possible.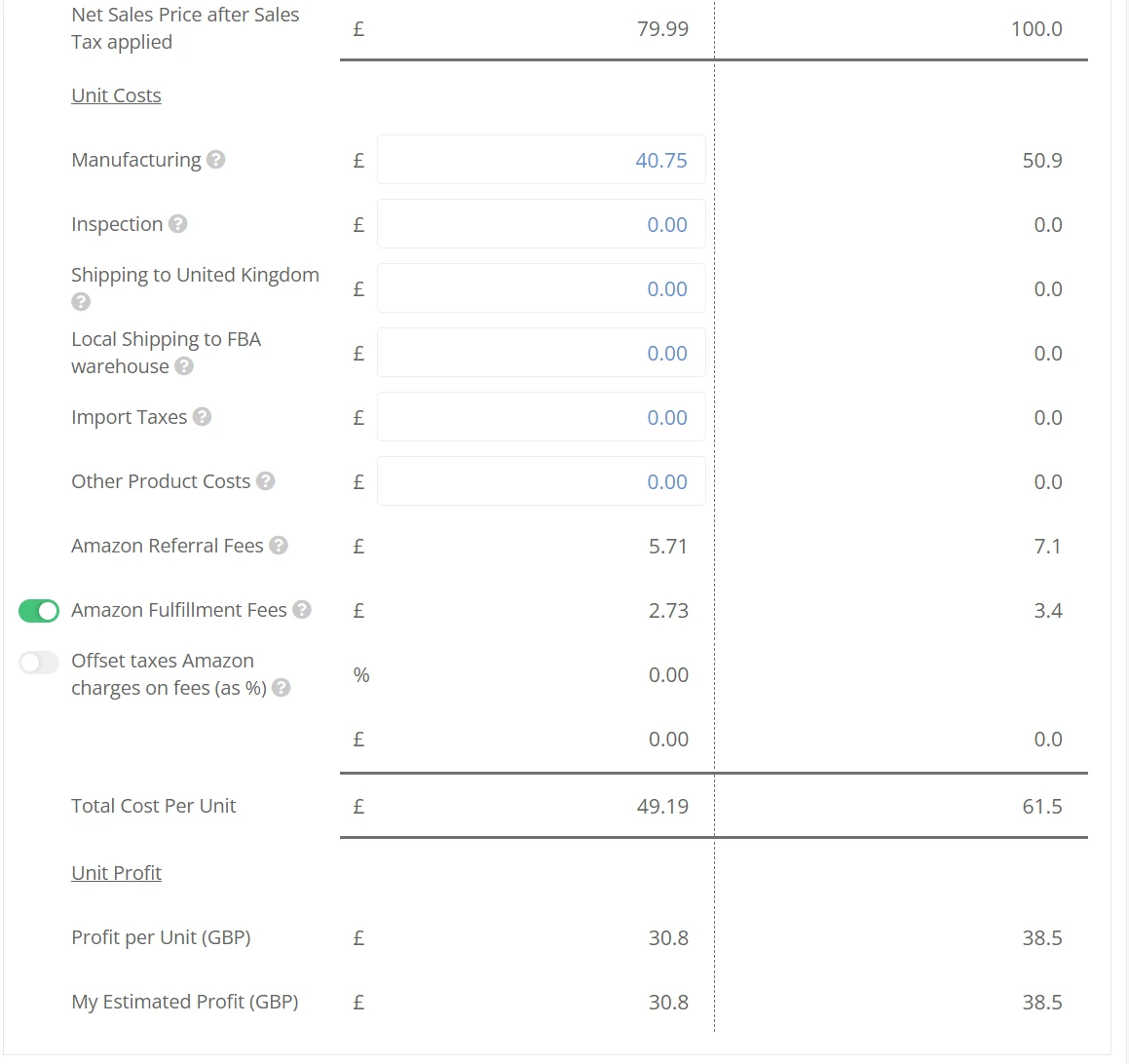 This way you can see the exact affect a change in your costs has on your profit and margin, in real time, without having to do any tedious calculations yourself!
For a free 2 week trial for you to see exactly how Shopkeeper takes away all the guesswork and let's you spend time on the parts of your business that really matter, click here.