Most sellers have had to deal with Amazon FBA storage limits over the last year. There was no advance notice given before the shift from ASIN-based limits to category-based limits, which caused significant issues for many Amazon businesses. 
This is a wild situation and seems completely unfair. But let's focus on objective metrics instead of emotions and find a way to avoid these problems. Below is an overview of what you need to know and how to deal with these changes.
As long as you keep your IPI score at 500, you won't have to deal with storage limits. We recommend you take a peek at a recent entry on this written by Andrew Minalto on inventory performance index (IPI) and how to get it above 500.
The problem is that Amazon's instructions for improving one's IPI in four important areas don't affect your restock limits. So all your hard work on one doesn't necessarily help the other. So let's quickly go through the distinction between the two.
According to Amazon's stated policy on restocking, IPI plays no role. The maximum number of units that can be sent to and stored in Amazon fulfillment centers is "based on past and expected sales" instead. But of course, this cannot possibly imply that larger sales equal higher restock restrictions. And we've been told about restock limits lowered at organizations with millions of dollars in revenue!
So what really matters is the age of your inventory.
You may see this by looking at the age of your goods kept with Amazon in six different ranges:
This may be found in Seller Central, selecting the Inventory tab, and then visiting the new Manage Inventory Health page, which combines the old Inventory Age and Manage Excess Inventory pages.
Amazon wants this number to be as low as possible, and they really start penalizing you for any stock that goes outside of the first category of 0-60 days, as we've discovered from a lot of conversations with sellers.
Remember that since they are running fulfillment centers rather than storage facilities, Amazon doesn't want vendors to retain merchandise for lengthy periods of time. Quite the opposite, in fact. Their profits are driven by fulfilling as many orders as possible, as quickly as possible.
So, what does this mean for Amazon Sellers?
Bottom line: you should expect to keep 2 months of supply at Amazon, and no more. This tight window, when combined with the delays and incredibly high pricing we're presently seeing with air and sea freight, definitely makes inventory planning more challenging.
For example, if you typically purchase six months' worth of goods from your supplier in China at once, you may now be considering smaller, more regular orders. After all the only other alternative is to hold your stock in another warehouse before sending it to Amazon. But this could be a costly mistake!
Don't reduce your FBA order sizes
The vast majority of the time, it's simply not worth reducing your order size due to the obvious impact on your cost per unit. And even more importantly you run the huge risk of running out of stock at Amazon. Not only will this cost you money directly from lost sales but it will also negatively impact your listing and your Amazon search rankings.
All in all, it's just not worth considering this option. 
As a result, you should instead focus on finding the best way to store your product before sending it in to Amazon, and there are several solutions available. 
Keep your products in your own house.
There are several variables that come into play here, such as your own setup and the size of your merchandise. However, this is the "cheapest" alternative if it's a small side business and you have a spare room or garage access.
Keeping goods in a warehouse
This is a more practical alternative for most individuals, although it does come at a higher price. Again, the cost per sf will vary hugely depending on where you live but simply search for self-storage options in your area and get some pricing. 
Seller Fulfilled Prime 
Seller Fulfilled Prime is an additional "add-on option" that can work in conjunction with keeping your stock at home or in an Amazon warehouse.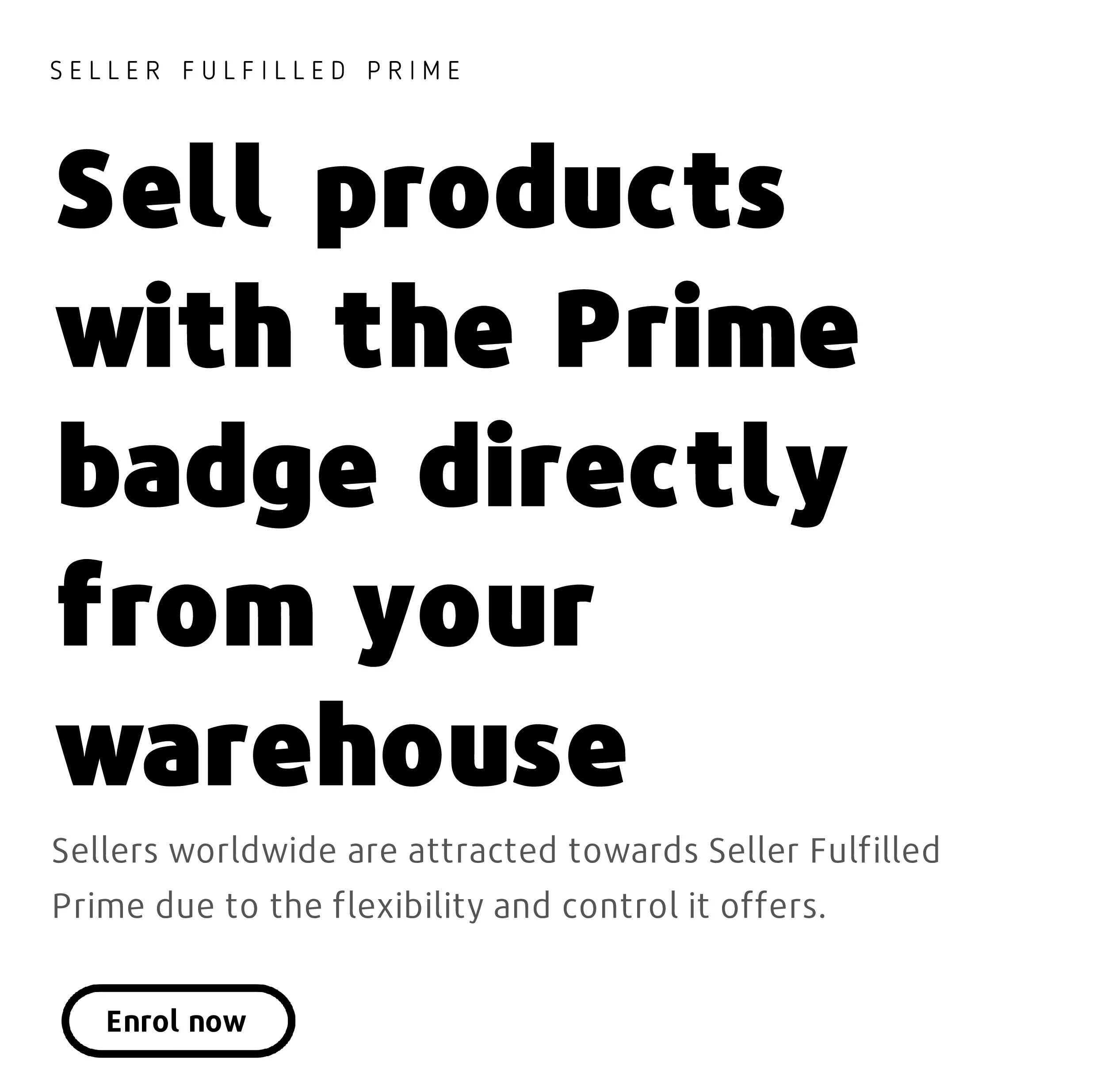 I only recommend Seller Fulfilled Prime as a last resort, as it means taking responsibility for your order fulfillment. No more checking your phone at the end of the day to see Amazon has shipped out hundreds of orders without you having to do a thing! 
But if Amazon FBA restock and storage limits leave you with no choice, then Seller Fulfilled Prime is still far more preferable than losing that Prime shipping badge and taking a hit to your sales. 
Most Amazon sellers should have little trouble meeting the SFP qualifying performance metrics:
Your warehouse (default shipping address) must be located in the mainland UK.

You must have an account with a professional selling plan, and the account must be active and in good standing.

You must meet one of the following criteria:

You must be able to ship at least 10-20 packages a day (50-100 a week) with Amazon Shipping.

You must have a Royal Mail Business Account with access to Royal Mail's Tracked 24 and Tracked 48 services.

You must be able to ship at least two parcels a day with DPD.
If you meet these requirements then you can register for the Seller Fulfilled Prime trial, where Amazon asks you to "demonstrate your ability to meet the requirements of the programme." 
And that's the real challenge long term, as it's certainly not easy to keep up with Amazon's shipping requirements! 
A 4 p.m. cut-off time and a weekend delivery requirement have been added to the Seller Fulfilled Prime program as of June 2021. This is a major issue for companies that are traditionally only operating Monday through Friday, as well as for anyone who utilizes Royal Mail, which does not provide a Saturday collection. 
This implies a six-day workweek and a lot of money spent on employing staff, which brings back memories of my days selling on eBay!
Seller Fulfilled Prime fulfillment centers, fortunately, provide an additional option.
Theoretically, this is on par with utilizing Amazon FBA. Fulfillment centers store and mail out your products for you and from the customers' point of view, it's exactly the same as you get the coveted Prime Shipping badge and they can even track their packages like normal. But you don't have to deal with any restrictive restock and storage limits.
It sounds almost too good to be true, doesn't it?
Well, let's find out! I've gotten quotes from a number of fulfillment centers in the UK that offer seller-fulfilled prime shipping. To find out if SFP is a feasible alternative for Amazon sellers, I've called a number of fulfillment facilities in the United Kingdom that provide the service. So let's get this party started!
A total of 15 fulfillment facilities were contacted regarding shifting my Amazon FBA inventory to them under SFP. Surprisingly the majority of them got back to me saying they can't offer Seller Fulfilled Prime, usually due to the same-day delivery cut-off times. I immediately disregarded these options as maintaining that the Prime delivery option is crucial and really is the whole point of this
I then dismissed a few more companies due to poor reviews online.
Finally, I attempted to focus on fulfillment centers that were neither too small nor too large, as I've had some terrible experiences with fulfillment centers that were too large and corporate and exclusively dealt with large multinational corporations in the past.
Just to make it more difficult for Amazon, I'm going to disregard these charges, but the overall fulfillment cost is still £4.
So clearly some very disappointing results that show it's definitely not as easy as just switching from Amazon FBA to Seller Fulfilled Prime. 
To be fair though, it is possible that the item used for this test was too difficult for the fulfillment centers to compete with Amazon on, as their shipping rate is so low and for larger and heavier items the pick and pack fee charged by fulfillment centers would have added less to the overall cost.
But the results have to be taken as they are as I did use a real product of mine to make the test as fair as possible. And there's no question here - Amazon FBA remains king and appears unmatchable. 
So, what are our options now? As far as I can tell, it's not all bad news.
I envision Amazon FBA restock and storage limits becoming less and less of a problem as we move forward. Amazon has invested heavily in its fulfillment capacity and we've already seen the fruits of this with increasing storage and inventory limits and I only see them getting better and better from here. 
Other than that and for now the only real alternative is to store additional stock yourself and replenish your FBA inventory as and when needed, ideally keeping 1-3 months of stock at Amazon at any given time.