How to Switch from a Sole Trader to Ltd Company on Amazon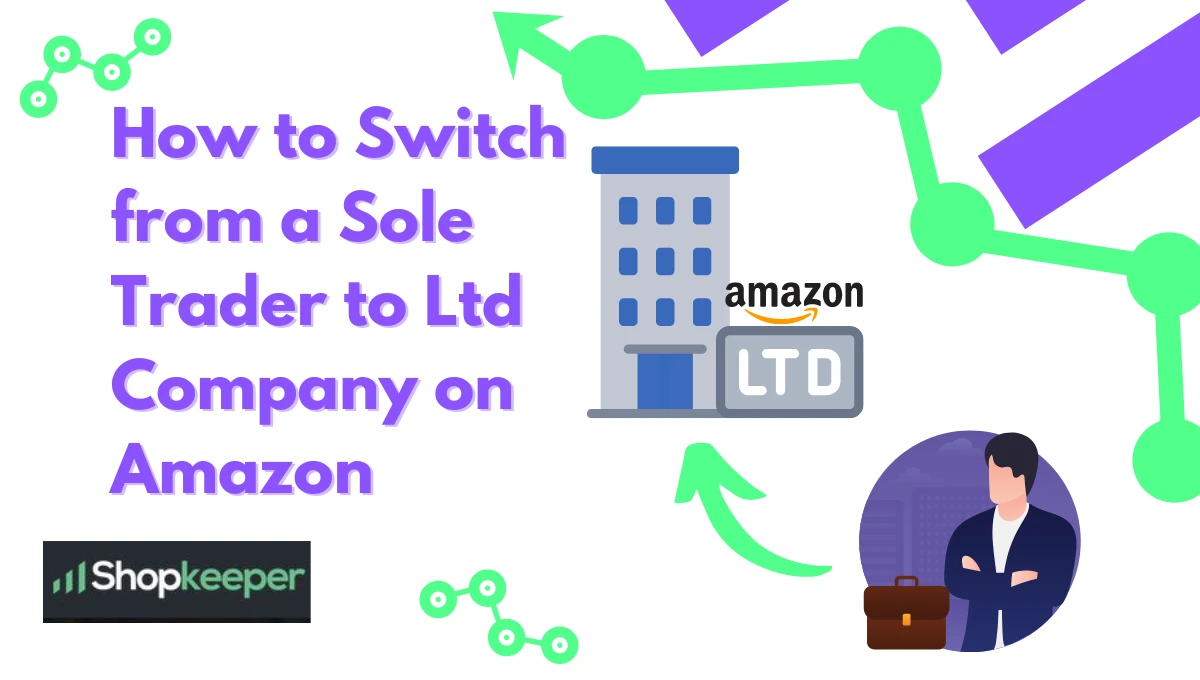 One of the scariest things as an Amazon seller is any time you have to update your details in Seller Central, which can trigger the dreaded re-verification and leave your account suspended – costing you money in lost sales and giving you countless sleepless nights as you wait for your account to be reactivated!
Many Amazon sellers face this exact scenario when switching from a sole trader to a Ltd company, but it doesn't have to be so difficult.
In fact, in today's post I reveal the exact process I use to avoid any account downtime and ensure the switchover is seamless.
Let's get to it!
I'm not going to get into the whole sole trader vs limited company discussion here, as that's been covered in depth previously. You can take a look at this great article on the topic by Shopkeeper user Andrew Minalto: Sole Trader vs Limited Company for Amazon UK sellers
I'm assuming you're now at the point where you've decided a Ltd company is the best choice for your business and you have successfully registered a company with Companies House. Again, Andrew has covered this process in detail on his blog so if you need any help take a look at this post: The Best Limited Company Formation Agents
As well as this you also need to set up a business bank account for your Ltd company. You can't simply use your own bank as if you're a sole trader and it's very important you have this sorted out BEFORE you make the change on Amazon.
So once you've:
Registered your company with companies house

Set up a business bank account
It's now time to update your details on Amazon! And most people logically assume you do this by going to Account Info in Seller Central, clicking on Identity Information and submitting your new details for verification…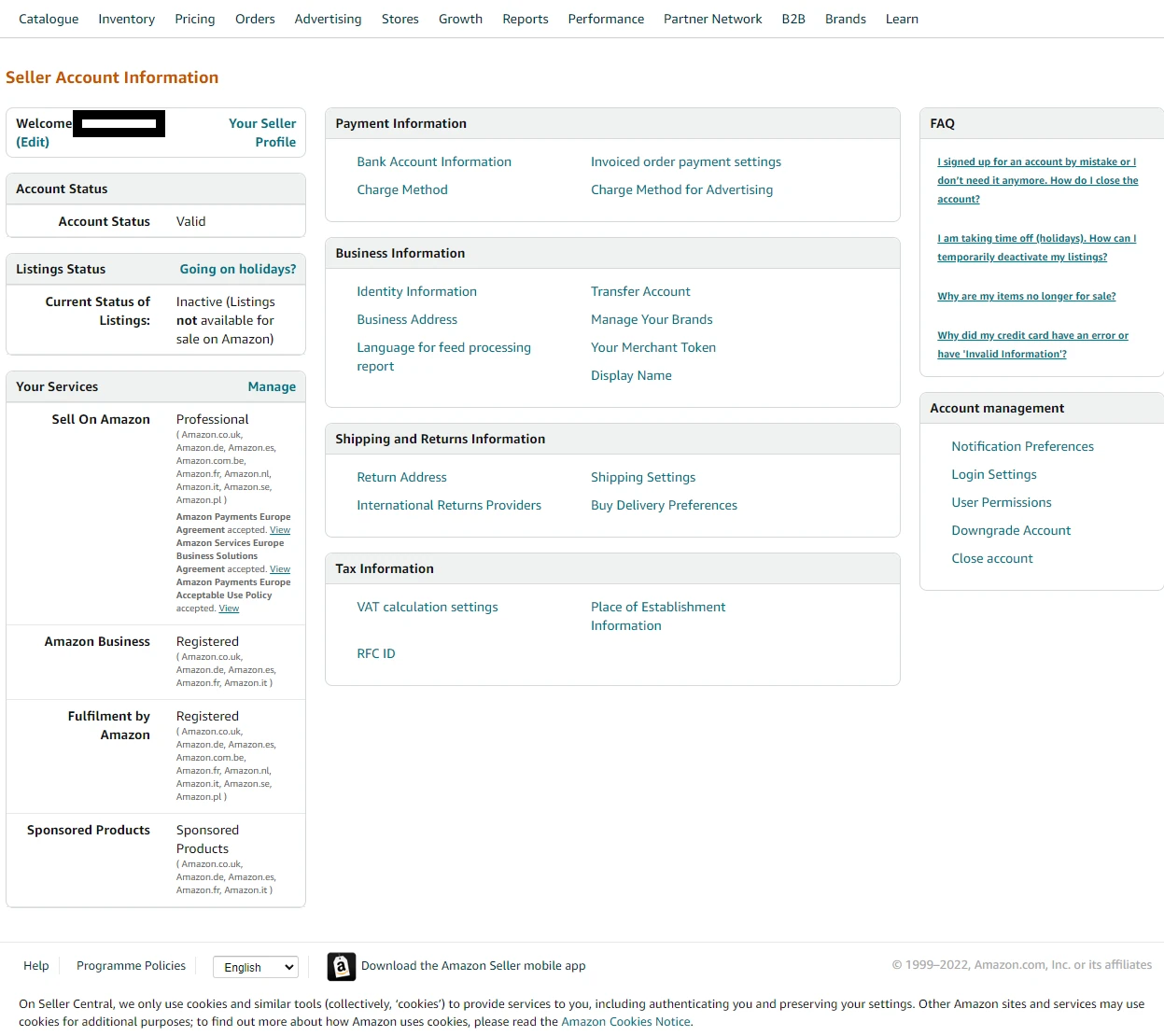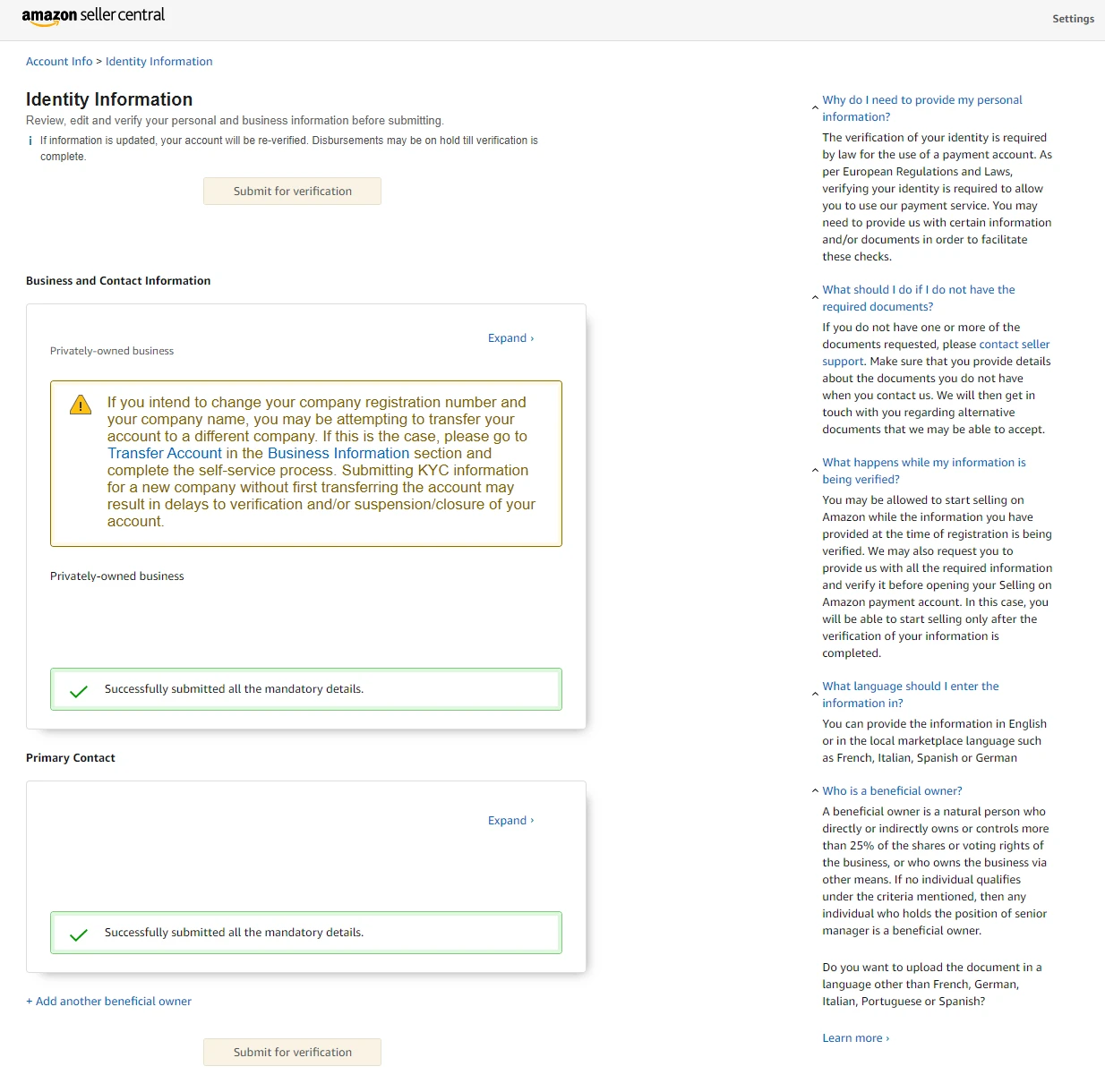 But this is not the best way to do it! Because changing your details directly on Amazon will trigger security and your account will be suspended while they verify the new details. Now this could be a quick process but we've all heard the horror stories where it may take up to weeks and sometimes even months.
And in that time you can't receive any disbursements and you can't sell!
So just don't risk it!
Instead what you should do is contact Amazon beforehand and let them know you would like to switch your account details.
You can do this by emailing seller-verification-enquiry@amazon.co.uk (from your Amazon seller account email), saying something along the lines of:
Hi,
My name is John Doe and I am currently trading on Amazon as a sole trader under this email (johndoe@gmail.com).
I would like to switch my selling account details to a Private Limited Company under the name John Doe Ltd.
Can you please let me know the correct process to do this and what details / evidence you require from me?
Thank you in advance for your help. Kind regards,
John Doe
I recently helped a Shopkeeper us with this and they sent basically this exact email, almost word for word, and received this response from Amazon two days later.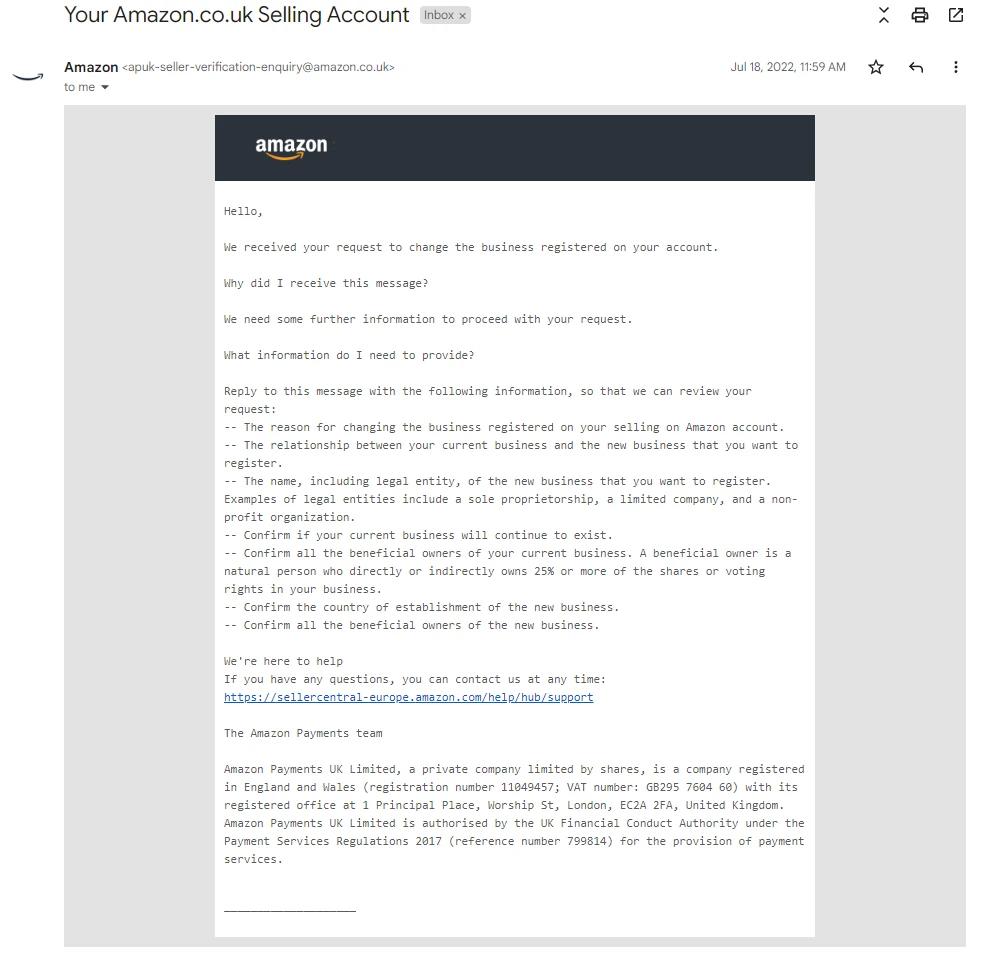 Of course your answers will depend on your own business and circumstances, but to give you an idea let's go through the reply email we sent to Amazon so you can see each question and answer one by one.
Hi, 
Thank you for your email. Here is the information as requested: 
-- The reason for changing the business registered on your selling on Amazon account. I have created a Limited company specifically for my selling on Amazon business, as advised by my accountant. 
-- The relationship between your current business and the new business that you want to register. I am the owner of the current business and am the director and owner of the new business. 
-- The name, including legal entity, of the new business that you want to register. Examples of legal entities include a sole proprietorship, a limited company, and a non-profit organization.
John Doe Ltd (a limited company)
Company Number: 11111111
-- Confirm if your current business will continue to exist. It will no longer exist. 
-- Confirm all the beneficial owners of your current business. A beneficial owner is a natural person who directly or indirectly owns 25% or more of the shares or voting rights in your business.
Beneficial owners of current business: 
John Doe
-- Confirm the country of establishment of the new business. United Kingdom 
-- Confirm all the beneficial owners of the new business. John Doe (Director and 100% shareholder) 
I have also attached the Certificate of Incorporation for the business for your reference. 
Please do let me know if any further information is required. 
Thank you,
John Doe
If you don't already have a copy of your Certificate of Incorporation, you can download one easily from this page: https://find-and-update.company-information.service.gov.uk/
You simply enter your company number / name, then click on filling history and download your incorporation document: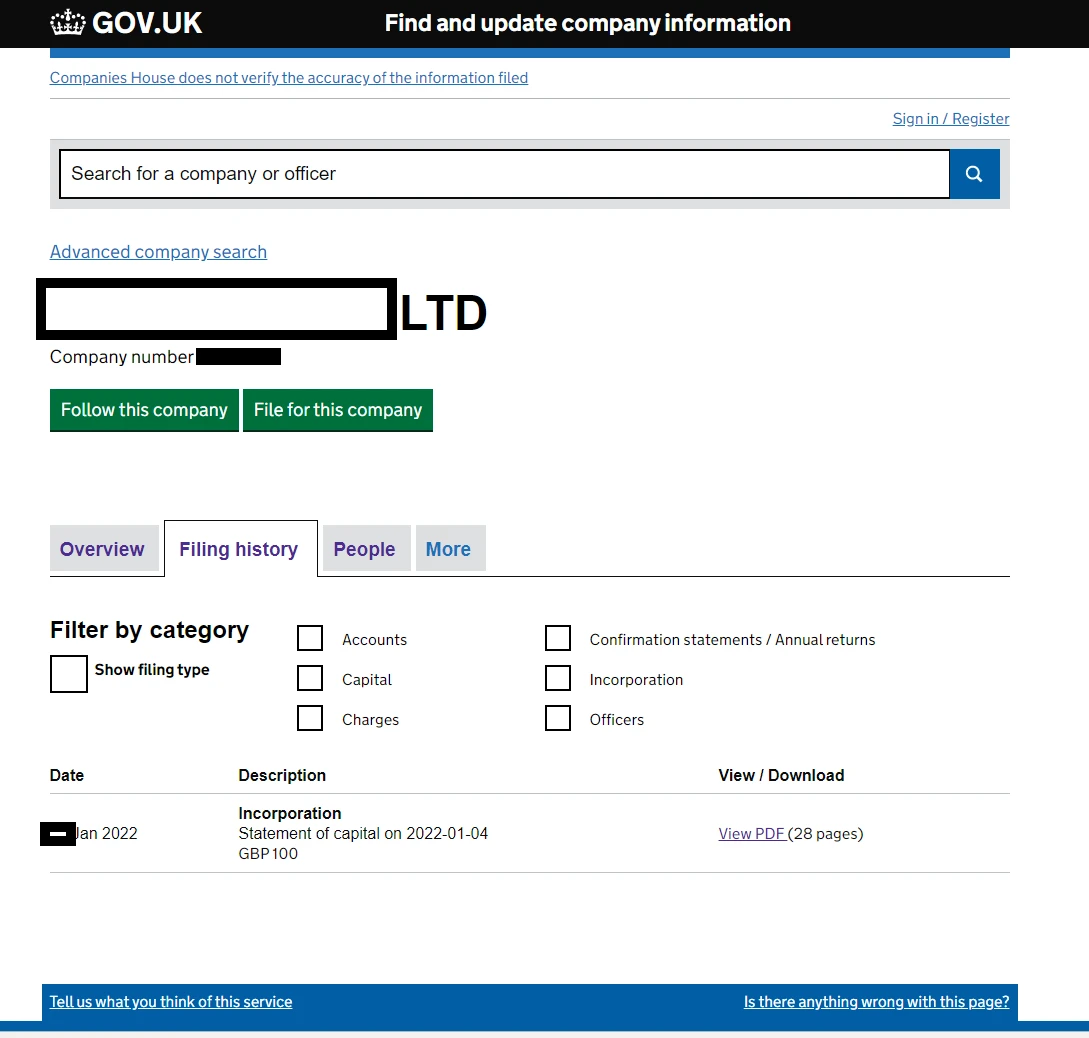 After sending this to Amazon, along with the answers to their questions, they replied within two days saying the account could now be transferred via Seller Central.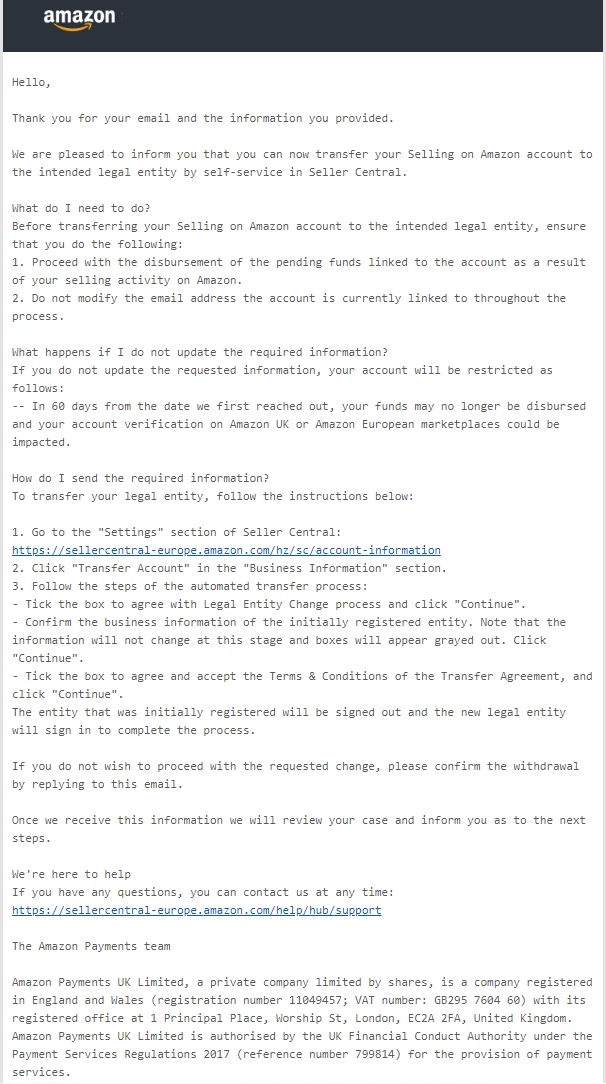 Hello,
Thank you for your email and the information you provided.
We are pleased to inform you that you can now transfer your Selling on Amazon account to the intended legal entity by self-service in Seller Central.
What do I need to do?
Before transferring your Selling on Amazon account to the intended legal entity, ensure that you do the following:
Proceed with the disbursement of the pending funds linked to the account as a result of
your selling activity on Amazon.
2. Do not modify the email address the account is currently linked to throughout the process.
What happens if I do not update the required information?
If you do not update the requested information, your account will be restricted as follows:
-- In 60 days from the date we first reached out, your funds may no longer be disbursed and your account verification on Amazon UK or Amazon European marketplaces could be impacted.
How do I send the required information?
To transfer your legal entity, follow the instructions below:
Go to the "Settings" section of Seller Central:
https://sellercentral-europe.amazon.com/hz/sc/account-information
Click "Transfer Account" in the "Business Information" section.

Follow the steps of the automated transfer process:
Tick the box to agree with Legal Entity Change process and click "Continue".

Confirm the business information of the initially registered entity. Note that the information will not change at this stage and boxes will appear grayed out. Click "Continue".

Tick the box to agree and accept the Terms & Conditions of the Transfer Agreement, and click "Continue".
The entity that was initially registered will be signed out and the new legal entity will sign in to complete the process.
You may now be wondering what the point of all of this was, if in the end we still have to update the business info within Seller Central?
Well there's a big difference as now the seller verification team has pre-approved the change so your account verification will be minimal! A lot of people report it taking only a couple of hours, but for us there was actually no downtime at all and the account stayed fully active even during the verification.
Remember that as well as updating the business information, you will also have to add your new banking details and verify that, so again make sure you have all of that ready beforehand. And that's really all there is to it. All things considered it was a fairly easy and pain free process and once done, you're now ready to sell on Amazon as a Ltd company.
One final point to end today's post. There are some accounting implications to being a Ltd company vs a sole trader and this isn't something you should try and deal with yourself. Get a good accountant, preferably someone who specialises in online sellers and Amazon specifically, and let them take care of this for you.
As always, if you have any questions or need further advice, then feel free to post a comment below and I'll personally get back to you.
Otherwise, until next time!